Sunday 13 August 2023 at Hollywoodbets Scottsville will go down as a day to remember for 18 year old SA Jockey Academy apprentice Brevan Plaatjies.
With his much-loved Granny Essie leading a crowd-swelling group of family and friends on course in the KZN Capital City, the Pretoria-born rider realized a dream at just his fourth ride under rules.
The pressure was on and expectations were running high! Granny Essie had travelled the hour plus from Ixopo and Brevan had two rides on the sunny afternoon.
"I knew my family and friends would be there and told myself behind the starting stalls as I focused – 'set your heart ablaze, Brev!' I naturally wanted to get my first winner icebreaker behind me , but was so desperate to also make the family proud and show appreciation to the trainers and the owners that have given me the early rides and so repay their faith."
Brev, who is one of five children, spoke to the Sporting Post in a break between his Grade 11 lessons on Monday.
The former Ixopo schoolboy, who became a jockey when his Uncle Jules Bezuidenhout pointed him in the direction of a sport that would ultimately change his life, has some interesting thoughts on self-motivation.
"Set your heart ablaze means your love for something or someone burns so brightly in your heart that it feels like a flame. For me that's horseracing. I am very motivated. I believe that no matter how devastated you may be by your own weaknesses or feelings of uselessness, set your heart ablaze. I grit my teeth and always look ahead," he adds as he chats about the difference that racing has made in his life – and he's only been in the game for five minutes.
"I was always shorter than average. Today I stand here weighing 48kgs. My Uncle Jules was a racing fan and he kept telling me to ignore the 'shorty' jibes and chirps, and make my size count in my favour. He put us in touch with the SA Jockey Academy and after covid had delayed matters, I started  in April 2022. It's tough – it's not easy being in a routine, but today I wouldn't want to be doing anything else and have made amazing friends," he adds.
The Plaatjies family moved to KZN from Eersterus in Pretoria when Brev was very young. They moved around and sadly his Dad died when he was just 10.
"My Mom Vanessa wasn't there on Sunday as she lives up in Gauteng. And Uncle Jules is up the North Coast in Richards Bay and couldn't make it, although he watched it live. But Granny is my biggest fan and my aunts, uncles, cousins and the rest of the group made sure I had enough support!"
Granny Essie was racing for only the second time in her life. She also had a bet on her Grandson's winning mount.
"She said that's her way of showing confidence and belief in me. Talk about pressure!" he laughs again.
Brev tells how Sea Vista was always going well and how proud he felt that he could ride his first winner for a legend like Michael Roberts, who booted him his own first winner, Smyrna, on the same course 55 years ago.
"I jumped him and he was in a rhythm and under the hands. I am not inclined to use the crop, so I pushed him out and he accelerated smartly. Wow, what a feeling as we went through the line. I wanted to laugh, cry and scream at the same time. But I had to keep my wits and be professional!"
At the pull-up, Brev tells how his SAJA Head Boy Siphesihle 'Sphe' Hlengwe, who has been a source of inspiration and support, congratulated him and said he was so very happy for him.
"It's a bit of a blur now but I also remember Richard Fourie saying at the pull-up that it's a pity that I had been disqualified. I looked at him in horror and thought, no ways! Then in the next moment, Richard laughed and said well done and that he was proud of me. Maybe that's an initiation of sorts and I can only aspire to being as great a rider as Richard in 20 years from now, and making my own jokes with the new guys!"
While his family is behind him every stride of his professional journey, Brev said that Summerveld trainer MJ Odendaal had been a source of guidance and inspiration.
"Mr Odendaal spoke me through my first rides. He was a great jockey, and, as in the case of Mr Roberts, I try and absorb every word of input and criticism that these top horsemen are prepared to give me. I would also like to mention my good friend Justice Gregory, who is a mentor and guiding light. I'm very fortunate to enjoy such great support. Thank-you Sporting Post for contacting me. I'm determined to ride many more winners," he concluded.
Brev needs just one more qualifying ride down the straight before being authorized to accept engagements around the turn at Hollywoodbets Greyville.
Enjoy the replay:
‹ Previous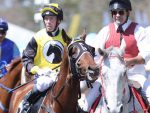 Ronnie's Happy To Be Back In Saddle