One of our greatest riders of the modern era, five-times SA champion jockey and a man who was awarded his national colours in 2008, Mark Khan has not renewed his jockey's licence for the new season but will not be lost to the game he loves.
A powerful and impeccably balanced rider, the internationally experienced Mark Khan, who earned regional championship titles in three provinces, was also Mauritius champion jockey in 2000, and honed his skills abroad in Malaysia, Singapore, Germany, Australia, Macau, Dubai and Zimbabwe.
His name is inexorably associated in our history books with many champions and Gr1 winners, and one that comes to mind is Yard-Arm who won the 2004 J&B Met.
After an association with leading trainers like the Australia-based Gary Alexander, multiple champion Geoff Woodruff, and in his earlier days, Mark Watters at Milnerton, the 55 year old horseman is now learning the fine art of training racehorses as an NHA licenced assistant trainer to Grant Maroun at Randjesfontein.
We caught up with him when he led in an impressive winner at Turffontein recently.
Philasande Mxoli booted home the Jace Chetty and Grant Maroun owned Rattle Bag for a good win in the eighth race on Saturday 12 August.
For owner Jace Chetty, a good friend of Mark's, it was a memorable day that was worth the trip up from Cape Town – his Fire Away filly Explosive Bond won the second race earlier under Wes Marwing for Paul Matchett, to give him a great double.
"I am so thrilled for Jace. He loves the game and is an investor in the Maroun yard. All credit must go to Grant Maroun. He found the perfect race for Rattle Bag and Philasande Mxoli is growing in stature. He put the cherry on top with a polished ride. It's really and truly an honour and privilege to be a part of a winning team!" the former champion jockey told the Sporting Post.
Pressed for the rationale behind his decision to switch to the training side of things, Mark says that after 39 years, racing is the only pursuit he knows.
"I don't want to sound cliched, but it's in my blood. The game actually gets under one's skin. One high is all it takes to drown the many lows. For which we are always grateful."
He is quick to add that he is fortunate to be in good health, but it's a fact of life that race riding is exacting and physically demanding.
"I am so looking forward to the new challenge and this step is a natural progression in my professional life. And what more accomplished exponent of his art than Grant Maroun to learn from? When I spend time around a genuinely skilled and passionate horseman like Grant, I realise just how demanding running a racing yard is. In comparison to life as a jockey, there are so many variables and multi-faceted components to the training role. I have been around horses for close on four decades and every day working alongside Grant has seen me learn more," he muses.
Mark is also a racing manager for John Maroun, who is an owner in the yard and Grant's brother.
"John Maroun, the CEO of Bulldog Abrasives, has invested further in the yard to support me and loves the game. He also has a string of horses with the Paul Matchett team. The Bulldog Abrasives philosophy that their customers always come first is also something that held true in in my own professional life. And it's that all-encompassing quest for excellence and attention to detail that makes my learning experience all the more rewarding here at the Maroun yard."
Mark explains that they have 20 horses at their Randjesfontein base, including a spread of nice youngsters and the Gr1 SA Classic hero, Anfield's Rocket.
"There is definitely a turnaround in racing since the damage done by the covid pandemic and other events of the past ten years. And one feels the buzz at the sales. Cycles are a part of life in any industry, and I believe we are on an upward curve."
‹ Previous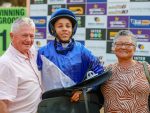 Brev's Heart Is Ablaze