On reflecting back in sixty years from now to the most bizarre matriculation year in living memory, 18 year old Callum Dixon might not be reminiscing to his Grandkids about lockdowns, home schooling, no matric dance or social distancing.
He is more likely to be proudly holding a framed Candiese Lenferna masterclass photo of Light That Loose, his first winner as a workrider.
Callum, who has just five exams left of his schooling career, steered the Team Valor International-bred 3yo Jay Peg gelding Light That Loose to victory in the opener at Hollywoodbets Scottsville on Sunday.
It was a watershed moment for the young man, who lives, eats and sleeps racing.
He is at pains to thank the Woodhill Team and John Buckler, who had been key to his memorable win on Sunday.
Watch the win here
"I phoned for the ride when the nominations came out. Mr Kotzen said that they would let me know once they had galloped Light That Loose. The rest is history, as they say, and I am truly thankful to Green Street Bloodstock and all the owners for placing their faith in me," he smiles broadly.
It was a smart win by the Glen Kotzen charge, who was returning from a 127 day rest.
After three good grass gallops in the build-up, the 3yo was too strong under a confident and composed ride and went on at 5-2 to beat the low flying Father's Frost (10-1) under Tristan Mustard by under a half length in a time of 64,09 secs.
"I rode Bindi for the Kotzen team in the August race that was won by Rachel Venniker. But things didn't work out that day. On Sunday Light That Loose was always travelling sweetly. He jumped well from his inside rail draw. I was 2 or 3 lengths off the pace and enjoyed a clear passage. He started picking it up at the 400m. I just felt that in the last 100m he was coming back to me – but I kept shouting and he stayed on relentlessly – and even though Father's Frost was finishing strongly down the outside, I sort of felt I had it in the bag, without wishing to sound overconfident," he adds with a broad smile.
The 3-1 second favourite Yessiricanboogie was ridden by Aron 'Bonji' Xabendlini and finished 7,55 lengths downfield.
Callum tells how in the build-up weeks, the spirit and banter amongst all the staff at Summerveld is buzzing.
"I feel these races are so important. They create a platform for morale building, ribbing and friendly sportsmanship. Aron is a legend when it comes to hype. He was telling me all week he was going to win it. But like a true sportsman, he came to me afterwards and complimented me on the ride and wished me well. I can't wait for the next race, to be honest," he added.
Xabendlini, who works for Dean Kannemeyer at Summerveld, was the man who famously made himself 'available' for the Durban July ride on Hawwaam last year.
Callum Dixon grew up amongst horses and has been riding ever since he can remember.
His British-born Dad Mark, a former jump jockey, and accomplished horsewoman Mom Hayley, who is a South African, run a powerful string out of Summerveld. His sister Ceryf is the only member of the Dixon clan who is not focussed on the horses.
"She is a good ballet, tap and modern dancer, and that's her focus and life's passion," Callum adds proudly.
While he is employed as a workrider with the Sabine Plattner string, and works most every day, he is looking forward to completing his Hillcrest High School career in a matter of weeks.
He says that it is a great feeling that he has just five exams left – his Afrikaans paper 3 is his last on the 11th.
We asked him about his academics, and whether he would pass matric as well as he had ridden Light That Loose – sort of with flying colours!
He modestly says that, like a decent horse, he does 'just enough to win'.
"I have never been a star pupil exactly. I am confident that I will pass though, and then can focus on building a career in racing."
The Sport Of Kings is clearly in the young man's blood. He enjoys the a-z of stable management, including caring for the horses, and can bandage and inject.
He would have considered a career as a professional jockey, but his weight and height make him a less than suitable candidate.
"I walk around comfortably at 62kgs – In fact I weigh 59kgs at the moment, and with commitment can get down to 58kgs. But it's above the SA Jockey Academy parameters. Like my Dad, I could go to the UK to become a jump jockey. But that prospect doesn't really appeal to me."
"I have been around the jockey room at races since I was 13. It's a great vibe. I have done kit for Anton Marcus, Donovan Dillon and Keagan de Melo. They have all also been instrumental in giving me advice and guidance. Racing is a great team game, and I don't think it's as tough and ruthless as people may perceive. I have been fortunate to be involved with top stables and professional training operations. I have learnt so much and am keen to absorb everything."
Callum's determination to stay involved in racing has been fuelled by an offer from his current employers, the powerful Andre Nel yard, to join them at their magnificent Rondeberg Training Centre on the Cape West Coast.
"Andre Nel has kindly offered me a stint in Cape Town and I'm keen but need to sort out some housekeeping items here first – like getting my Drivers Licence!"
So what happens when that final examination is written? Plett Rage here we come?
"We will definitely be celebrating the milestone. But not at Plett Rage – that will rather be right here at home. I intend to keep on working so there is not too much time for partying!"
‹ Previous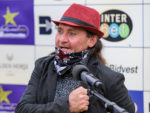 MJ – Hoping For A Thriller!