The golden voice of Rouvaun Smit, a popular feature of Cape racing for 25 years, has called champions from Durbanville and Kenilworth, to one of the world's greatest racemeetings at the historic Epsom Racecourse in Britain.
The born-and-bred Capetonian was the first international racecaller invited to Dubai, the year of Meydan's champagne opening.
Rouvaun has also had the passionate crowd on the edge of their seats at the Champ de Mars in Mauritius, and is the voice on virtual racing on Tellytrack after hours.
That's an impressive racing CV with a strong radio broadcasting background, that makes him an instantly recognisable personality in his home city of Cape Town.
But in February 2019, the dulcet tones of the veteran broadcaster and commentator, South Africa's only racecaller of colour, faded quietly from the canvas of Cape racing. The volume switch had been turned to zero, the air-waves were quiet and nobody was saying anything.
Following inquiries from our readers and his legion of fans in a community passionate about horseracing, we contacted Rouvaun at the time for a comment.
While he co-hosted the Supersport broadcast of the 2019 Vodacom Durban July with Neil Andrews from Hollywoodbets Greyville, the experienced communicator was reluctant to speak about his quiet exit from Kenilworth eagle's nest months earlier.
He just didn't feel that an outporing of his emotions in the media would be the honourable action for his own professionalism and dignity. And, more importantly, he didn't see it being of any benefit for racing in a trying climate.
"I have always taught my children to deal with issues with consideration and to take cognisance of all the angles and implications. Yes, I was retrenched. Yes, I wasn't happy. I'm only 52, after all and nobody had ever said I was doing a bad job. So it was a blow from left field and I tried hard to negotiate and to try and correct what I perceived were the wrongs. But, life goes on and, while I miss the racing terribly, I have had great pleasure in getting involved with the Governing Body at my son's school in the Southern Suburbs. It has kept me busy. Education is a very dynamic and fascinating area in these times," he laughs.
Watch Rouvaun's Epsom feature call:
Rouvaun has been married to Rachelle for 26 years.
He lives five minutes away from Kenilworth and is proud of the achievements of his offspring. His daughter, Lyndall, is a grade 6 teacher at a primary school in Plumstead and son Davin – who would also one day like to follow in Dad's footsteps in the commentary box  – is nearing the end of his high school career. What a trying time to be in matric!
"Children define our lives. We are a close knit family. The retrenchment has been a traumatic event that caused stress and tested our faith at times. Cynicism and anger can be draining emotions, as we have all experienced, But the human spirit is amazingly durable. Look at the trauma that so many are going through during the coronavirus pandemic right now. That tends to put the 'smaller' issues and obstacles in our lives – which appear so daunting at the time – into proper perspective."
As to the possibility of hearing him call the champions home at Kenilworth again, Rouvaun is philosophical.
Watch this great call in one of the finishes of the century at Kenilworth:
"The racing industry is evolving. There has been change – I believe, for the better. I'm here, passionate as always and ready to call when they give me the thumbs-up. I have always been from the school that suggests that life is too short for grudges. Forgive, forget and move on. Racing is bigger than any one individual. And the sport needs us all right now. In fact, more than ever it is time to bury the hatchets and ego's."
Let's hope that local racing and the Cape's top racecaller will be back on our tracks sooner rather than later!
‹ Previous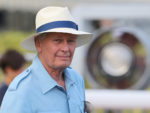 Moore In Cruise Mode?