Professional jockey GERRIT SCHLECHTER (48) is a true Capetonian. He began his apprenticeship in the 'mother city' way back in 1980 and just over three decades later, he is still based at home. Of course, he briefly travelled abroad to Mauritius and Korea, the latter being the country in which he claimed their National Jockey's Title along with two listed races. The veteran jockey has enjoyed a distinguished career in the saddle, which has seen him amass more than 2000 winners, the most special of which have surely been winning the 2006 July aboard the Dean Kannemeyer trained Eyeofthetiger as well as the 2011 J & B Metropolitan on Past Master for the Darryl Hodgson yard. He has been Cape Town's champion jockey 5 times and has finished as high up as 3rd on our National Jockey's log. His career has been quiet over the past few seasons but he remains upbeat and is as determined as ever to ride as many winners as possible. He rides comfortably at 52kgs and his wealth of experience is a great asset to any trainer wishing to call upon his services. We wish Gerrit everything of the best in his future endeavours.
What is your name? Gerrit Schlechter.
What is your star sign and birthdate? Aries. I was born on 24 March 1965.
Where were you born and where did you grow up? Malmesbury.
Where do you live? Plattekloof.
Tell us about your family? I have a 23 year old daughter, Dana. My son Gary is 26 years old and my stepdaughter, Ashleigh is 23.
Do you have a 'nickname'? Gert.
Favourite food? Curry and rice.
Favourite drink? Coffee.
Favourite music? Rock.
Favourite holiday destination? Anywhere warm.
Favourite sport? Football, rugby and Formula 1.
Favourite soccer team? Liverpool.
Who is your favourite author? I am not much of a reader. I read racing formguides.
Which characteristic about yourself do you like the most? I like to think that I am a generous person.
Is there anything the public don't know about Gerrit Schlechter that they would be interested to know?  I am a regular Mr. Fixit.
Who is the one person that you would love to meet and why? F1 driver Fernando Alonso. I have always admired his ability.
Where did you go to school and what qualification did you achieve? JG Meiring and I got to Standard 8.
Who was the main person that influenced you to become a jockey? A good school friend of mine.
In which year did you begin your apprenticeship, where were you based and who were your fellow apprentices at the academy? 1980 based in Cape Town and Fareed Anthony was my fellow apprentice.
Which senior people in racing had a major influence on you early on in your career? The late James Lightheart had a great influence on my racing career.
You have enjoyed an illustrious career in horseracing. Tell us about it? Yes. Winning the July and winning the Met were my highlights as well as representing SA in Korea and winning the championship there.
Can you remember your first winner? Yes. Advocate was its name.
Total winners to date, including overseas? Over 2000.
Best finishing position on National Jockey's Log? 3rd.
How many times have you won the Cape Jockey's Title? 5 times.
Have you won Jockey Title's in any other provinces? I have won the title in both Kimberley and Port Elizabeth.
How many July's, Met's and Summer Cups have you won? I have won 1 July and 1 Met.
Best finishing position in the July? 1st on Eyeofthetiger which was a really special moment for me.
Which is your favourite Grade 1 race to ride in? The July is a really special race and the atmosphere at the course has to be felt to be understood.
Apart from the above three, which other Grade 1 races in South Africa have you won? Cape Flying Championship twice, Daily News and the Cape Guineas.
Best racehorse you have seen in your life, either in the flesh or on the television? Horse Chestnut was phenomenal and not many like him come along in a lifetime.
Mention the different countries you have ridden in? Mauritius and Korea.
Overseas achievements i.e. Jockey's Championships, Grade 1 winners etc.? I have won the championship and 2 listed races in Korea.
Most competitive jockey you have ridden against? All of them are competitive. When the winning post is in sight they all put their heads down and ride for their lives!
Best friend you have made within horseracing? Eddie Powell.
Best advice you have received about this wonderful sport, from whom did it come and more importantly, what was it? Work and you will succeed. You are never too old to learn – James Lightheart.
Most famous racing person that you have met? Lester Piggott.
Favourite South African racehorse? Rabiya.
You won the Durban July aboard Eyeofthetiger for Dean Kannemeyer in 2006. Tell us how it feels to win a July and what sort of horse it takes to win it? You need a horse with stamina and a good turn of foot in the straight. It is every jockeys dream to win this race so it's great to be able to say I have won it.
In 2007 you went to ride in an International Jockey's Challenge in Korea. Tell us about the racing in the country and how does it compare to South African racing?  The standard of horse in Korea is not as good as in SA but the prize money is excellent. They have seen some improvement in the calibre of their horses in recent years and it is very competitive.
You used to do a lot of racing in the Northern Cape and in PE. Tell us about the racing there and name some of the better horses you were associated with?  Hear The Drums in PE was a great horse and I won quite a few on him. In Kimberley I rode for the late Peter Miller. There were many good horses in his stable. It would be difficult to pinpoint one horse because I rode many winners there.
Why did you stop racing in those parts of the country and will you ever start riding there again? Sadly, Peter Miller passed on. Also flights to Port Elizabeth are too expensive for it to be profitable.
In 2011 you won the J&B Met with Past Master for trainer Darryl Hodgson. How does winning this race compare to winning the Durban July?  I would say they are very much on a par. Both are prestigious but Past Master was very special because he was an outsider in the betting.
Who are the trainers that are giving you support at the moment? Dean Kannemeyer, Andries Steyn, Greg Ennion and Vaughan Marshall.
How often do you ride work? 4 times a week.
What is your most comfortable riding mass? 52kgs.
On Saturday you have two rides at Kenilworth. Please give us your opinion of those rides:
Race 4: SHAKARA (6): To date Shakara has been disappointing but she does have some scope for improvement.
Race 5: NORTHERN CONQUEST (4): He never really had a chance last time as they went much too slowly for him early on. He is coming back to himself and I would give him an outside place chance.
The Cape season will be in full swing soon. Which horses do you think will be worth following during the season? Capetown Noir.
Gerrit with the Cape season in mind have you earmarked  any rides for the Cape season? Of the horses I work with I don't have a particular horse in mind that I could ride but I must say that the horse I would love to ride in the Cape Guineas is Red Ray. He looks an outstanding horse and it is going to take something special to beat him.
Tell us about some of the promising 3 year olds which could be worth following from the Dean Kannemeyer stable? I think Power King and Speed Rocket, who both ran on Sunday 3rd, look like good Derby prospects. Dean has a cracking unraced 3 year old in the yard but I do not know his name.
Are there any unraced horses that have caught your eye that will be worth following when they race? Seen a few but we are not told their names.
South African breeders have some great stallions. Which is your favourite stallion? Dynasty.
Do you think the attitudes of apprentices has changed since you were an apprentice? Yes, some are not quite as dedicated as we were in the old days.
Which of the current apprentices do you think will hold their own once they qualify? Jason Smitsdorff.
Do you have a sponsor and how important do you think it is for jockey's to be sponsored? No I don't, but it is a big help if you do have one.
What are your short/long term ambitions? To be injury free so that I can carry on with my career.
What is your preferred way to celebrate a big win? Drinks with family.
What advice can you offer to youngsters who wish to become a successful jockey? Work at it and don't expect everything on a plate. Listen to your senior jockeys as they will give you good advice.
Does the old maxim, "Behind every successful man is an equally successful woman," apply to Gerrit Schlechter?  Yes, especially as she is an accountant!
‹ Previous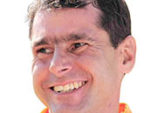 Fanie Chambers