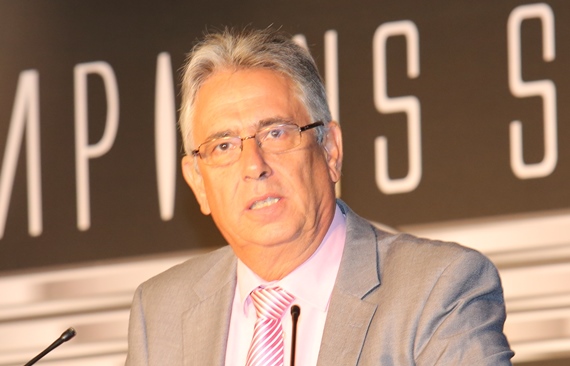 "The grey hair is very much a Hawkins family thing but I have no doubt that being involved in horseracing my entire life has sped up the process!" Gold Circle's Racing and Marketing Executive Graeme Hawkins is South Africa's foremost racing administrator. After an intimate love affair with the sport of kings spanning some fifty years, he has learnt to both laugh and cry – but always to bounce back boldly and positively, and get on with the job.
Punter, owner, bilingual race-caller, racing journalist, television presenter, auctioneer, track expert, race programme planner, pedigree researcher, marketer, salesman, administrator – it's no wonder that, for many of us, Graeme Hawkins is Mr Racing.
At this stage, the only roles he looks unlikely to fulfil in this lifetime are riding or training a July winner!
And what a pleasure it is to talk to a racing official who actually readily admits to reading what is being said in the media and whose door is open to constructive criticism.
The man is one of a rare breed!
Communication
"Yes, I do read all media reports – good and bad! One can't run this business without knowing what everyone is thinking," he says with a refreshing sense of genuine sincerity.
But if that is Graeme the individual – what of the industry's general attitude to communication?
"If I may blow Gold Circle's trumpet, I do believe we handle our PR and engage with the media in a competent manner. But as a collective, I think we can do a much better job. Being honest and open is always a good way to start."
On the subject of the Vodacom Durban July, and with the big race just three weeks away, was he expecting any fall-out again from connections and the public when the final field is announced?
"Understandably, the VDJ final field announcement is always emotive. We issue logs to give all stake-holders and punters an idea of who is likely to make the cut and who not, but somehow there is always a measure of controversy. I am on the panel along with Jay Harrielall and the handicappers and for 2015 – so far – we all seem to be on the same page. Our deliberations are overseen by Neil Butcher, Chairman of Gold Circle's Racing Committee, to ensure 'fair play'."
He added that the 2015 Champions Season had gotten off to a cracking start and that they were especially pleased with the public support and extensive media coverage.
"The Vodacom Durban July is of course the highlight and we are again expecting a complete sell-out for this great race."
Clairwood Closure
Overseeing the day-to-day operations of the country's most vibrant and exciting horseracing jurisdiction, Hawkins has a massive job, and while inevitably respected, he is not always popular.
Like being the man who oversaw the closure of the historic Clairwood Racecourse in August 2014.
"One always regrets closing race courses – but we don't have time to dwell on regrets and we need to move forward – boldly and positively!"
Despite that consolidatory manoeuvre on their balance sheet, rumours abound of financial troubles at Gold Circle. While Graeme is not the financial director (well, not yet, anyway!), we asked him if these were founded?
"My pet hate is the often baseless rumour mongering that seems to bedevil our industry on a regular basis. Also, negative people are certainly not my favourite," he said.
"The current financial year has been a difficult one from an operational point of view. Costs are rising faster than turnover and this puts the current business model under pressure. Also, a lot of energy and money has been expended in trying to resolve internal disputes with very little or no reward. We are always looking to generate new revenue streams but we anticipate the next financial year to be another tough year – disposable income is at a premium and the economy is not being kind to the man in the street.  All that said, Gold Circle has a very strong balance sheet and is certainly not financially unsound," he pointed out reassuringly.
Politician
Graeme is an energetic and enthusiastic spirit.  It wouldn't be too difficult imagining him being the inspirational leader of a political party. He seems to say the right things.
There is talk of a seven year itch in most relationships. Having just crossed that threshold with Gold Circle, has he felt the need to scratch?
"I enjoy every minute of every day – my position at Gold Circle focusses on both Racing and Marketing and I enjoy a lot of freedom to get on with running the show. Racing for me is an absolute passion and I am blessed to be earning a living doing something I love! Racing is about people and horses and, being a people's person I am very comfortable with the profile of my responsibilities."
So, is it a walk in the park?
"No, not at all. Naturally, I get great job satisfaction when things go well – I am surrounded by good people and it's a great team effort. But things do go wrong from time to time – it's part of life and how one bounces back is important."
On the positive side, we have noted that there have been KZN success stories – like the new track at Greyville, Summerveld and innovations to stimulate interest in racemeetings.
On Track
We put it to Graeme that the Polytrack debate appeared to have died down a bit as public and user acceptance appears to have kicked in.
"As far as the Polytrack is concerned, we are generally very happy with it. Getting the maintenance regime right under differing climatic conditions and temperatures is important and, to be frank, we still have a bit to learn. The kick-back has been a bit excessive in recent weeks and Martin Collins' team will be in attendance during the month of June to assist. But I remain of the view that Polytrack racing is the way of the future and has the potential to be more consistent, and thus ultimately better, than turf racing."
The response from trainers like Joey Ramsden and Dean Kannemeyer to their first season at Summerveld has been very positive. But it is not yet complete, we hear.
"William Gittus from Newmarket in England described Summerveld as 'horse's heaven on earth'–and he's right! There is always plenty to do when you are housing 1500 racehorses but Summerveld is a world-class training centre."
The blitz, or 20-20 meeting, appeared to have gone down well when it was tried on the one Friday evening.
"It did. We really enjoyed the 20/20 meeting and we are planning a few more in the next racing season – it was pleasing to see that turnover was not materially affected! I am also very excited about the launch of the The Interprov Rider Cup on 18 July – it should make for a great contest and a terrific day's racing."
Dad's Influence
The Johannesburg born Hawkins has walked a long road in this game.
He grew up in Cape Town and matriculated at Cape Town High School at the top of the company gardens – a favourite spot for a milkshake and feeding nuts to the squirrels and pigeons on a Sunday afternoon in the Mother City of yesterday.
"My racing interest was developed by my father who enjoyed having a few rand on the ponies but my brother and sister have never shown any interest whatsoever," he says with an almost puzzled expression.
Graeme attended his first Cape Hunt & Polo Club race meeting at the tender age of 8 and was immediately totally smitten. Those were the amateur meetings in the Cape that was to be a nursery that produced the likes of Mike Bass, Greg Ennion and Geoff Woodruff into the professional ranks.
"From then on most of my very limited pocket money was spent on Charles Faull's Turf Guide. I started racing regularly from the age of 15, illegally at first and spent hours with Charles Faull and the late Naomi Carr on the grandstands learning about the sport and what to look for in a thoroughbred racehorse."
But life was not only about horseracing as the young Hawkins was also a talented sportsman, who would go on to achieve national recognition and a world record.
"I was a pretty good soccer player during my younger days and an avid Hellenic supporter. The derbies against Cape Town City were always great occasions – but no love was lost between the two teams. Would you believe that I also excelled at Putt-Putt, when competitive and professional Putt -Putt was a national sport.  I believe I still hold the world record for a single round – 21 shots, that is 15 holes-in-one and three two's which I scored on Course 1 at Three Anchor Bay when I was but 15 years old. I became National Champion a year later and was very proudly honoured for my efforts in America. Interestingly, the first time I met Garth Puller socially was at the very same Putt-Putt course."
Racecaller
Once one of our leading race commentators, we don't hear Graeme's voice too often anymore.
"Yes, I miss being a race-caller – but the youngsters coming through are top-drawer and I couldn't compete today. To stay at the required level it is important to call continuously. That said, I will call the odd race from time to time – for the fun of it."
He broke into commentating in 1977 when the late Hennie Pietersen was transferred to Durban.
"For the first two years of my commentary career I was confined to calling races in Afrikaans! Sandy Bickett was the chief caller at that stage but when he retired I was joined by Jehan Malherbe and we both then called in English. As a result of my commentating, I started doing pedigree research for Selwyn Simpson and he also gave me my first break into auctioneering, giving me ten lots to sell at the 1979 Goodwood Yearling Sales – where Grand West Casino stands today. My first appearance as an auctioneer at the National Sales followed two years later."
Apart from his commentating and auctioneering duties, he was Sales and Marketing Director for the TBA of SA in the 80's and 90's; General Manager of the Racing Association from 2000 to 2002 and Racing Executive for Phumelela from 2002 to 2008.
In between times he also had a spell as a racing journalist at the Citizen in 1987/88. No wonder, he understands what makes us tick.
Five Years Left
He turns 60 this year and says that he hopefully has another 5 years before retirement.
"Succession planning is very important and I am looking forward to mentoring the right people to take over from me. I enjoy seeing people I have appointed or assisted doing well.  There is a pool of talent at Gold Circle and the future of the company looks secure."
And what of the private individual out of the glare of the Greyville floodlights?
"As my growing waistline will attest, I love food! Red wine and whiskey are my preferred drinks but never in excessive quantities. I enjoy a round of golf and am an avid Tottenham Hotspur fan. Country music and good ole fashioned voices such as Elvis Presley; Neil Diamond; Engelbert Humperdinck rank amongst my favourites. I really enjoy Karaoke and in some ways I think I am a frustrated 'wannabe Rockstar'! I also enjoy movies, but hate going to the theatre because people's bad habits like talking; eating and generally making a noise, drive me crazy."
Graeme has enjoyed a life lived to the fullest. Does he ever reflect and wonder where the years have gone?
"You know you are getting old when your daughters are planning their weddings. Robyn gets married in August and Nicolene early next year, so we are in for a pleasantly hectic few months. I am blessed with two ex-wives; six children between myself and my life-partner since 2000, Babette – and shares in a few racehorses – what more could a guy want?"
‹ Previous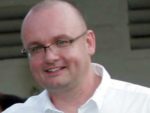 Rob Scott