At the age of 32, and with 18 Grade 1 winners under the belt, Cape-based jockey Grant van Niekerk is primed for his biggest season yet and his first under the SplashOut Print Branding and Media banner.
Announcing the new sponsorship on Tuesday, Eugene Naidu, General Manager of SplashOut, said that the signing of the talented Grant van Niekerk as their first sponsored jockey was an important step in the further involvement in the sport of racing by the signage and branding company, SplashOut .
"Winning Media was established in 2015 and our Cape Derby sponsorship six months ago was a key step in our rebranding as SplashOut Print, Branding and Media. Adding our name to a historic race like the SplashOut Gr1 Cape Derby underscored our philosophy of always striving for excellence. Now, we have great pleasure in welcoming another winning partner in top-level jockey Grant van Niekerk," he added.

SplashOut offers a wide range of branding solutions, from static signage to digital LED screens and has provided the signage for sports stadia across South Africa. This includes Hollywoodbets sponsored venues Hollywoodbets  Greyville, Hollywoodbets  Scottsville, Hollywoodbets  Kenilworth, Hollywoodbets  Durbanville, Hollywoodbets Kingsmead and Hollywoodbets King's Park. The company also provided all the branding material for the past two renewals of the Hollywoodbets Durban July.
"I am very honoured and proud to be riding under the SplashOut flag from the start of the new season. I have set myself serious goals of making it my very best ever," added an upbeat Grant van Niekerk, who is now also first call rider for the newly crowned SA Champion outfit, Snaith Racing.
A born and bred Capetonian, Grant van Niekerk joined the SA Jockey Academy in something of a vintage intake in 2007, that included Gareth Wright, JP Van Der Merwe, Tshwaro Appie, Athandiwe Mgudlwa and Aldo Domeyer.
Known affectionately as 'Big John' or 'Mr Muscles', Grant had his first ride at Clairwood on 11 June 2008 on Combat Leader, when beaten 2 lengths by Anthony Delpech on Yarnmaster.
The defeat meant the young rider had sniffed the irresistible whiff of champagne and determinedly rode his first winner on Combat Leader at Clairwood on 25 June 2008. Three weeks later, he rode his second winner on the same horse – this time at Hollywoodbets Scottsville.
He qualified as a fully-fledged rider in January 2012 and has ridden 18 Gr1 winners across South Africa, including the Gr1 Sun Met on Oh Susanna in 2018. He ended last season 19 winners short of his 1000 winner career milestone.
Grant's perennial competitive streak was fuelled for life when he was agonisingly beaten a short head on the Tyrone Zackey longshot Smanjemanje by a determined Piere Strydom on Sean Tarry's Pomodoro in the 2012 Durban July, when still a greenhorn. Unsurprisingly, the Hollywoodbets Durban July remains number 1 on Grant's professional bucket list!
‹ Previous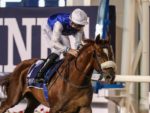 Cosgrave Moves To Saudi