If one were in the habit of judging a book by its cover, it would be easy to miss out on Harold Crawford. Harold is quiet and reserved and he minds his own business. He occupies barn 12, the very last in the 'old' block at Milnerton and is tucked so far in the corner that the manure removal team crew sometimes neglects to collect his bags.
Because he prefers listening to talking, he misses little and commits it all to his encyclopaedic memory. He has been in the game for over four decades and has seen a lot come and go, but whatever his thoughts are, he mostly keeps them to himself.
He prefers the company of his horses to most other things and therefore can generally be found at the yard long after most other trainers have gone home. So if you're prepared to drive the extra few yards, and knock on the office door, you'll always find a shy smile, a hot cup of coffee and some fascinating conversation. With his incredible memory for racing folklore – both what he's experienced first-hand and what he's absorbed by reading – anyone who makes the time to pop in (and it seems everyone does) finds it a rewarding experience.
When he does talk, he does so slowly and shyly, in his heavily accented English. Then, as now, he always had time for everyone and as a result, he remembers racing stories and characters which don't exist anywhere else but in his memory banks. He can recall horses, races, dates and racing faces at the drop of a hat and what he cannot remember he will immediately look up in one of the old racing volumes stored on his office shelf. His collection includes copies of the Irish Horse dating back to the early 50's and one of the earliest SA Racehorse magazines ever printed. He still rates Sea Cottage as the greatest racehorse he's ever seen.
Fascinating History
Pride of place on his office wall is occupied by an old Arthur English portrait of Cookie Amos' 1956 July winner, the Rhodesian-bred Spey Bridge (and namesake of the Zimbabwean Racing Awards). The rest of the office is dotted with racing photos of heroes of the past, each with a special story or connection, such as his unique 3 generation treble of winning with a filly called Maranita, her daughter Wayward and finally her granddaughter Miss West Coast. There are photos of stable stars of old such as War Raider (12 wins), Adarissa (9 wins) and even just sentimental moments, like Joyce Millard leading in her last winner, Capitaine or Mr Millard leading in his horse Esoteric, which Harold trained for him.
About Harold
The small figure with the shock of white hair was born in Durbanville on 27 October 1952 and did his schooling at 'quite a few places'. Somewhat ironically for someone who speaks with a 'brei', Harold's father (Harry snr) was Irish. Harold says he never spoke of it much, but Harry escaped from a Japanese POW camp in Burma. Unfortunately, the getaway boat sank and Harry was eventually found on a raft somewhere off the coast of Africa. As fate would have it, he landed at the Conradie Hospital in Cape Town, where he met a young nurse from Napier who would go on to become Mrs Harry Crawford.
Harry snr was a small man, who Harold remembers only standing as tall as his chin and must have had horse experience in Ireland as he quickly joined the amateur racing set at Durbanville, riding against the likes of Reggie Knight, Terrance Millard and Ralph Rixon.
Harold is the second of six children and the only one of his siblings to inherit the horse gene. The family moved to a smallholding in Philippi and Harold remembers growing up with horses. As a young boy, he would spend mornings before school riding work for Stanley Gorton and credits Gorton's then stable jockey, Freddie Heyman for teaching him to ride.
When Mr Gorton gave up training, Harold rode work for Syd Laird until Laird relocated to Summerveld. He then worked for the likes of Dennis Houston, Frankie Serra and Jackie Bell. "Their stables were all next door to each other, so I rode work for all of them," he recalls.
Harold joined the jockey academy at Mariaanhill in 1968, starting with the likes of Paddy Kruyer, Paddy McGivern, Garth Puller, Steven Shean, Ticky Carr, Trevor Taylor, Bill Taylor, Vince Curtis, Kit Kinsley and Stuart Lennox and he hosts an annual 'jockey party' get together every January.
"I was the heaviest apprentice in our year and I only got in because I could ride. On a Thursday I'd be 124 pounds and by Saturday I'd be down to 99lbs. I'd sleep in the sauna on a Friday night!"
Becoming a trainer
The battle with the scale soon got too much and he stopped riding in 1969. Back in Cape Town, Harold briefly rode in the Cape Hunt before setting his sights on the training ranks. He joined Atholl Fisher and then Reg van Minnen, before becoming an assistant to Basil Lewis in 1972. Basil trained off Neville Ross's premises on Gustro Road in Gordon's Bay and when Basil gave up training, Harold took over the yard and struck out on his own in February 1976.
Harold started his solo career with aplomb on 5 May 1976, saddling two winners in Jester (Mike Ludlow) and Adarissa (Bill Taylor), who went on to win 9 races in total, including the Victress and Diana Stakes. Horses like War Raider, bought for R700 as a riding horse, put him on the map with 12 wins and two course records in PE, along with horses like Native King, who won the JWS Langerman as a maiden. He laughs when recalling that in those days a win was worth R1,200 and keep was R90 / month. A single win would pay more than a year's keep!"
An attempt to relocate to PE proved abortive and he returned to Milnerton in 1980, where he has been ever since. He met his wife, Rosalind, at a polo match and the couple married in 1986. They have two children – Michelle, who assists at the yard and is now married to local owner and businessman William Rix; and son Michael, who has recently joined Kuda Insurance.
The trainer's trainer
Harold has always been respected by his peers, and for many years hosted the Woodruff string during their Cape campaign – last year saw him entrusted with the likes of Louis The King, Tellina and Killua Castle. This year he opens his stable doors to Louis Goosen who will be bringing his sprint star Trip Tease to the Western Cape for a tilt at the Cape Flying Championship.
Harold currently has a string of just over 20 horses, with 5 babies still kicking up their heels out on the farm, waiting to come in. New patron Mario Ferreira (owner of Trip Tease) joined the yard and purchased 5 yearlings for Harold to train from the 2015 CTS March Yearling Sale, including a high quality Gimmethegreenlight colt that has just come in to start his career.
Old guard
Being from the 'old guard' of trainers, it's unsurprising that Harold prefers to break in his horses himself and no detail is too big or too small for him to jump in and take care of by hand. He feeds a commercial pre-mixed concentrate, topped up with old fashioned oats, crushed daily with his on-site hammer mill and each horse's rations are made up individually.
His preferred jockeys are Grant Behr and Lucian Africa and current owners include Mario Ferreira, Mike Mort, Nardus Lottering and Alf Duncan. Harold's daughter Michelle and husband William Rix are enthusiastic supporters of the yard, as is three-year-old granddaughter Courtney, who has inherited her grandfather's love for horses and is a frequent visitor and aspirant assistant trainer!
Harold has forged a reputation for simplicity, honesty and integrity and for always putting the horse first. He may not have big, powerful owners or a big string of fancy horses, but says racing is what he does and the simple pleasure of being around horses is still what gets him up in the morning. Harold has some promising young stock to come, but admits that he can't single out any of his current charges to follow apart from Can Cope, who he reckons still has another win or two in her.
‹ Previous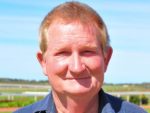 Duncan McKenzie