Former jockey JEFF FREEDMAN (54) was forced to retire due to injury but switched to training in the late 90's. After starting off training at Newmarket Racecourse, Jeff relocated to Durban and Clairwood Park, in particular. He currently has a small string of just 26 horses but the stable have a decent strike rate. The yard sends out two runners to compete at Grade 1 level on the Highveld at Turffontein on Champion's Day, this Saturday and Freedman particularly fancies the chances of his three-year old son of Mogok, WILD ONE who takes on fourteen other rivals in the SA Derby over 2450m.  His charge was runner-up in the recent Derby Trial and is better off at the weights with a few of his rivals and Jeff is confident that the extra distance will suit him down to the ground. With HOLLYWOODBETS.NET offering 13/2 on the colt, punters could be in for a treat. The stable's other runner on the day, GUANTANAMERA takes on the country's best sprinters in the Grade 1 Computaform Sprint and reading between the lines, the yard will be elated if he were to finish in the money. We wishes the stable everything of the best on the 'big day' and will be closely watching both the runners' performance.
 What is your name and age?  My name is Jeff Freedman and I am 54 years old.
What is your star sign and when were you born? My star sign is Cancer and I was born in 1958.
Where were you born? Johannesburg.

Where do you live?  Durban.
Tell us about your family? I have 3 children and their names are Samantha, Jessica and Joshua.

Do you have a 'nickname'?  Yes I have many nicknames.
Favourite food?  Crayfish.
Favourite drink?  Millers.
Favourite music?  Fleetwood Mac.
Favourite book?  Computaform.
What are you reading at the moment?  Computaform.

What is the characteristic you like most about yourself?  My straight forwardness and sense of humour.
What is the characteristic you like least about yourself? There aren't any.
Favourite sport?  Rugby.
Favourite soccer team?  Man United.
Favourite holiday destination? Game Reserves.
What tertiary qualification did you achieve?  Matric.
Where did you go to school?  I went to the Jockey Academy.

Where did your interest in horseracing begin?  With my father's interest in racing.

You started off your horseracing career as a jockey. Tell us about that stage of your life and some of the more memorable achievements? My apprenticeship was done with the Azzie's, most notably George and Herbie Azzie. It was a most memorable time with Herbie Azzie as he treated me like a son and gave me every opportunity to be successful. He also shared his vast knowledge of horses with me. My favourite horse for the Azzie's was a horse called Ambushed which I won the Charles Marx twice on. Those were my first graded wins.
How many graded or feature winners did you ride?  I rode too many to remember.
What caused you to retire as a jockey?  Injury.
When did you decide you would like to be a racehorse trainer?  In 1998.
Who was the first trainer you worked for? How long were you with him and how valuable was that experience?  I never worked for a trainer but rode for the best, O. A Ferraris, H and G Azzie, J. Hemming, but to name a few.
What year did you take out your trainer's licence and how many horses did you start with? 1998 and had I 10 horses.
Where did you start your training career?  Newmarket, Alberton.
Which were the best horses you worked with early on in your career?  Waves Of Argosy.
You made the adventurous move of relocating to KZN. What influenced this decision and did any of your Gauteng patrons support you in your move to KZN?  I love Durban and yes most of them, Van Derbank, D. Reddy and G. Blank.
How different is it training horses on the Highveld as opposed to along the coast? Very different. Horses have to be a lot fitter on the Highveld due to thin air.

Do you recall having your first runner as a trainer and your first winner?  Yes, Lauren Bell who ran third and was also my first winner ridden by Robbie Sham.
Are you a man that keeps up with your statistics? If so, how many graded or feature winners have you had in your career? As a jockey and a trainer, quite a few.
More importantly, how many Grade 1 winners have you had? None as yet.
Have you had runners in any of South Africa's big three races i.e. the July, Met and Summer Cup? None yet.
Where are your stables currently based and how many horses do you have in your care? I am currently based at Clairwood and have 26 horses.

Horseracing has changed a lot over the past two decades as there are many more trainers around, making it much more tougher to acquire loyal support from patrons. In order for a yard to be extremely successful it seems that marketing has become a very important tool. What are your thoughts on this? Great if you have the right team behind you.

Does the Freedman yard have a marketing team or a website?  No.
Does the yard have a stable jockey and a sponsor?  No.
Would you like to pay tribute to some of your loyal patrons that have been with the yard over the years? Yes, Mr and Mrs Van Der Bank and Mr and Mrs Danny Reddy.

What has been your best finishing position on the KZN trainer's log? I have never looked.
What can the Freedman stable offer to any potential clients? As we are a small yard, 150% of individual care and attention is given to each and every horse and owner which is not possible in a large yard.
What training aids does the stable have for their horses?  Now that would be telling!!

How tough is it for a small trainer to make a living in horseracing with a limited string? Very, but I'm doing just fine.
You have had some top jockeys ride for you over the years. Who would be the one jockey that stands out in your mind as being closest to the 'perfect' package? Jeff Lloyd and Anton Marcus.
The Freedman yard is renowned for pulling off massive betting coups like when WILD ONE won his debut at Clairwood last October. Who does the ride work for the stable and how accurate has it been subsequently? My work riders and appies do and with me at the helm, very accurate. Results speak for themselves.
He seems a bargain buy at just R95 000. How did you acquire him? He past at R95 000 so I approached Scott Bros privately.
You obviously rate the son of Mogok highly and he was slightly unlucky not to have won the Derby Trial at Turffontein last time. What were jockey Anton Marcus' comments after the defeat? Very unlucky not to win as he couldn't get through.
He takes his place in this Saturday's Grade 1 SA Derby but with Bernard Fayd'Herbe in the saddle. What is the reason for the jockey change? Anton took another ride as we were not sure if we were going to run him from such a poor draw and with Bernard in the saddle you can't go wrong.
The obvious plus is that Fayd'Herbe partnered him to a creditable run in the Dingaans on Summer Cup day. How confident are you about his chances in the 'big one'? I am very confident about his chances.
The route to the Derby seems to be a carefully mapped out plan. Has this been the case? Yes, everything is always a careful plan.
Most importantly, are the any stamina doubts over the 2450m? No.

Did he stay in Gauteng after that last run? Yes.
How has his preparations gone leading up to this race? Perfectly, as planned.
Tell us about his owner? Shaun is very passionate about racing and loves a punt.
The blinkers really sharpened him up in his last start. Was it an easy decision to keep the headgear on as he goes over more ground now? Yes.
His form has been promising in yielding conditions. Will you and Bernard be hoping for plenty of cut in the ground? He goes well over both.
Has Bernard done any work on him recently? No.
Which horse/horses have you earmarked as your main dangers? Tellina.
What can you tell us about WILD ONE's temperament? He is a wonderful teenager who loves xxx mints.
What are your views on the sire Mogok and are you aware that he recently made the World top-ten for stakes earned? Mogok is a great sire and yes I am aware, just look at The Apache.
You have one other runner on the big day in the form of GUANTANAMERA who runs in the Grade 1 Computaform Sprint. This is arguably one of the strongest fields assembled in recent times. Interestingly, he is also a son of Mogok. Do you think he has the class to beat a field of this calibre'? Guantanamera is a very honest horse and will give of his best.

How has his preparations gone?  Very well.
The KZN season is almost upon us. Which of your horses can the public follow with interest during the season? Wild One and Guantanamera.
What is the most memorable day you have had in racing?  Recently it would have to be the International Jockeys Challenge day at Clairwood in November last year where Silver Age and Guantanamera won both their races.
How do you celebrate a really successful day? With my patrons.
Will you be at the National Sale this weekend? Yes.
Have you studied your catalogue as yet and what do you make of the pedigrees on offer?  Yes I have and there is a lot of quality to be had.
Is there any particular moment in the sport that you regret? YES!!!! The sale of Clairwood.
The Clairwood debacle with regards to My Sanctuary hasn't been good for the game. What are your thoughts on the issue?  No comment.

Your daughter Samantha was an apprentice jockey a few years ago but didn't qualify. What is she doing nowadays?  She is in the hairdressing game.

The saying is "Behind every successful man is an equally successful woman". Does this apply to Jeff Freedman?  Yes.
‹ Previous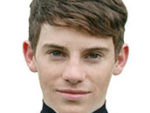 Craig Zackey