Milnerton trainer Joey Ramsden is the toast of South African racing after his sensational Vodacom Durban July success. Piere Strydom piloted the Australian-bred The Conglomerate to glory a fortnight ago, to give the Joostes a memorable first win in Africa's Greatest Horserace.
The dust having now settled on a hectic few months, Joey took a half hour out from his working holiday with daughters Holly and Zara in attendance, to chat to us from his Summerveld satellite base – providing a frank and fascinating peek into a world where a love of the horse and winning is just about everything.
We had to ask – to set the tone before we got thrown out –  whether there was any twisted irony that our multiple champion jockey had ridden Joey's first July winner?
"I would describe this mythical love-hate relationship that Piere and I are supposed to 'enjoy' as complete and utter bollocks.The only disagreement Piere and I have ever had was over engagements – which at the time I probably overreacted to. But I felt extremely strongly about it and saw it as disrespectful to the connections I had engaged him for. This disagreement lasted exactly a week. So make what you want of the sensation. Piere is a superstar and it was one of the highlights of my career to have given him his 5000th career winner with Act Of War."
The July win was a first for SA's champion owners Ingrid and Markus Jooste. Joey confirmed that he and Mayfair Speculators Racing Manager Derek Brugman communicate every day.
"Apart from the fact we are both extremely keen zip liners, we try and speak or text everyday just to run through plans for the Jooste string, their futures, along with the good and the bad news which Derek manages to take like a true gentleman and sport. He is a pleasure to talk to and bounce ideas off."

Joey acknowledges without any hesitation that he is very fortunate to enjoy the patronage of such powerful owners.
"I was extremely lucky through my great friend and champion breeder John Koster to be sent a filly which we purchased together at a time when Markus got involved at Klawervlei."
He says it is 'mind-blowing but true' that Markus Jooste knows everything about every horse he owns in training.
"The boss most certainly has his favourites but believes in letting people do their job.  He loves to be kept informed of exactly what's going on on race day."
On the July jockey allocation, Joey says that it  was always a case of six of one and half a dozen of the other regarding who rode what.
"The Conglomerate just excelled in the last week leading up to the July. It must have been an extremely tough decision for Anton and one I'm very glad I did not have to make."
On the acquisition of The Conglomerate, Joey recalled he was lucky enough to be in Australia with Wayne Kieswetter and Craig Carey of Ridgemont Stud to buy a few at the Inglis Melbourne Sale.
"I felt it was my job to make a complete pain in the arse of myself with Derek Brugman and between us, or probably just to stop me from texting him, Markus kindly let us try and find something we both liked. With the help of the Inglis staff Derek and I managed to come up with The Conglomerate.  We loved his pedigree and looks and with the guarantee to Markus that this was his July winner  – amazingly this is 100% true! –  we were lucky enough to purchase him and the rest is history."
Joey Ramsden is a colourful character, who is not scared to say what he feels. His great July win has come at a trying time personally, but he is a fighter and not scared to dish out self criticism – when he feels it is warranted!
"Sadly on the family front we are currently in a transition period but I am lucky enough to have two stunning daughters in Holly and Zara, aged 9 and 7. They keep me busy between the horses and the surfing and the things that lively energetic children love to do. Now you know why you battled to pin me down for this interview," he laughed.

Joey's sense of humour is legendary – warped, in his own words, and probably not everybody's cuppa.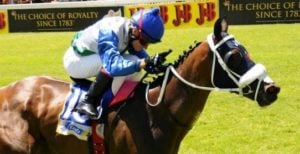 "Annoyingly I am a self flagellator but if pushed I suppose some people would say I have a good but strange warped sense of humour. And I like to think I'm generous. On the flipside, again I'm probably too hard on myself over things I cannot change.  I keep trying to remind myself of the wonderful quote from the recent Tom Hanks spy movie 'Worry, does it help? Does it change anything?'"
Joey came into the game through the pony clubbing, showjumping and eventing route.
"My father Jack has been a victim for the game and a tree of knowledge all his life and when he married my step-mother, Lynda, they decided to get more involved in racehorse training rather than ownership.  She was fantastic and extremely helpful in getting me going and it just grew from there."
After serving his apprenticeship with bloodstock agents and working as a manure forwarding agent, he got into stable management, working for a couple of trainers.
"Vaughan Marshall has been like a second father to me, and showed me the ropes. I then went for some serious mental assessment and managed to fail all reasonable forms of sanity which then enabled me to apply for my racehorse trainers licence!"
He ran various satellite yards for Vaughan Marshall  in Johannesburg and Port Elizabeth – the latter he says is the best grounding for a racehorse trainer in the country.
"In PE I was lucky enough to be reasonably successful and I then went to the Cape for a year or two and back to England to run a satellite yard for my stepmother at Southwell Racecourse which was also successful.  I then had an opportunity to return back to Cape Town, which is the most beautiful city in the world, and I jumped at it, even though we only started with 5 horses."
The Ramsden success story unfolded from those humble beginnings.
His main base is at Milnerton and he has a satellite yard at Summerveld.
"We have had huge success using Randjesfontein with the help of Mike, Diane and Matthew de Kock's generosity with facilities and knowledge, coupled with our top man Alson's natural ability.
"I currently have around 90 horses in work, this increases to around 110-115 when all 2yo's and spellers come in and can decrease to around 60 at this time of year when fillies go off to stud. And we spell a large majority of our horses.  It's something that we are extremely keen on and something my Accountant, Gary Grant, keeps trying to drill into me is totally financial suicide. But it's something the horses love and benefit from immensely. It really is impossible to keep them on the go 365 days a year," he says with sincerity.
Joey is a massive contributor to employment in horseracing – and often appears to have more staff on his books than the NHA and Phumelela combined.
"I have Colonel Avo (Ricardo Sobotker), thankfully with a sense of humour as strange as mine – that is when you can translate his mumblings. Commander Alson, Assistant Trainer Brian Finch, my new Bloodstock Advisor Stephanie Grentell, Jack-Of- All- Trades Colleen Alston- who is a superstar in the office. Then my farriers Dominic Finnis, Gordon Meyer and his hooded assistant Regan Dell. Not to overlook general all-round superstar Bonginkosi Boyce and William Siyabulela Myendeki – surely one of the world's grumpiest assistants – but a fine horseman with a sense of humour as big as his mood swings."
While he can be tough on them, most of the jockeys look up to Joey as a sounding board, a mentor type life coach-in-training.  And  naturally a source of good rides!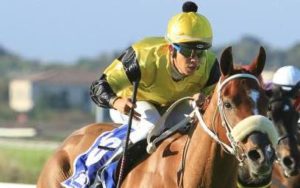 "I rate the young rising superstar Donovan Dillon, who does our work in Cape Town. Anton Marcus is also a big help in Durban and it's lovely to see Morne Winnaar back. And the hugely underrated and general all round smashing fellow Keanan Steyn – plus I am very blessed with a hugely talented work riding team from all walks of life," he says.
Everybody is wondering, where to from here for Joey's July winner.
"Anyone that saw him on the Monday morning after the July would agree with me in saying, what race?  That's how well he took it.  Having discussed it with Derek Brugman over a zip line or two, at this point in time I think we have decided to put him away and have a go at the Summer Cup where he still appears to be running off quite a reasonable mark."
When quizzed on his professional unfulfilled ambitions, he said that like most of his colleagues, simply staying in business was his 'number one priority'.
"Things get harder every year – but, I'd love to win a Met in my hometown!"
We got up to leave and asked him for a one-word solution for the problems facing SA horseracing.
"I have some ideas – have you got the rest of the week? One word for me would be simply, unity – go look it up!" he smiles with a thumbs up.