Legend of the saddle, Tiger Wright was the July's original winning-most jockey with 4 wins aboard Silver Phantom (1942), Brookhill (1947), Milesia Pride (1949) & Preto's Crown (1955).
He was followed by Anton Marcus who wore the sash in 1993 (Dancing Duel), 2000 (El Picha), 2005 (Dunford) and 2007 (Hunting Tower) and then Anthony Delpech who equalled them with Classic Flag (1988), Greys Inn (2004), Bold Silvano (2010) and Igugu (2011).
Last Saturday, the elite club of 3 became 4. Piere Strydom now also counts 4 July victories to his CV starting with London News (1996), Trademark (2001), Pomodoro (2012) and the 2016 winner, The Conglomerate.
The Blonde Bomber, Piere 'Striker' Strydom was driving back to Johannesburg, juggling radio interviews along with a car full of happy, noisy children when we managed to catch up with him to ask about his most recent July triumph. "I've already done three radio interviews this morning, so it's been a bit hectic! But it's nice to know there is still so much interest in the race. I still think the July is a race that has no peers.
To be honest, no other race, or anything else you achieve in your career can compare with winning a July."
How did he get the engagement on The Conglomerate?
"It's actually a long story. To start off with, I was engaged to ride either Black Arthur or It's My Turn for the Snaith stable. I was supposed to ride It's My Turn which ran in the Daily News 2000, but the owners felt I might not be ready after my injury lay off and in the end they opted for someone else."
"When the July weights were published, both horses came in too low for me and Derek Brugman approached me and asked whether he could confirm me for a ride. He said Anton would have first pick and I could choose from what was left. At that stage there was still Legal Eagle, Rabada, St Tropez, Deo Juvente and The Conglomerate in the running, so I thought at least that was something, even though I'd only have second choice. Then I rode Mac De Lago in the Gr1 Rising Sun Gold Challenge and won on him."
"When Legal Eagle came out and Deo Juvente also came out, I realised I wasn't left with much, so I wondered about asking for Mac De Lago, but Brugman said I'd committed to them. One has to ask!" he says pragmatically. "Of course, when Legal Eagle scratched, the weights went up, meaning I could have taken one of the Snaith rides again, but Derek reminded me that I'd committed to them. I said, OK OK, I'm just asking!" he laughs again.
"When the draws came out, Anton chose St Tropez, so I was left with a choice between The Conglomerate or Rabada. When we went through it, Derek confirmed that Rabada would be running in the Breeders Million, so it was a choice of the 20 draw or a horse that would have two runs six days apart. We discussed it and he helped me decide to stick with The Conglomerate."
The form
"The horse's early career was very promising, but he'd had some issues and obviously that dropped his form. Once they got him sorted out and gelded him earlier this year, his behaviour also got better. He always went to the start with a pony and used to be quite naughty in the stalls – he'd try and put his head in the next door stalls and often didn't jump well. On Saturday he had no pony and was quite well behaved, even when loaded into the stalls. He was loaded last, so didn't have time for anything else, thank God, because the start was very important. The track was running fast, there was a tail wind and I had a feeling that many horses would probably jump slowly and come from behind, so I had to be up there and get ahead of those horses."
How the race ran
Once you've jumped well, that's only the first part of the plan coming together.
"It was very nice that he had that early gate speed. They didn't go that hard, so I managed to get in a position fairly easily. Anton (Marcus) gave me a bit of a gap. When I came over, there wasn't quite enough space for me to get in, but obviously Anton rides for the yard and did me a bit of a favour – that helped big time, otherwise I would have been caught wide – and it made it easier for me to get into a good position. What more could I ask for? I was in a handy position, I had It's My Turn in front of me, who was one of the fancied runners, a fast track with a tail wind and I was in a very good position."
"I didn't want to sit and wait for too long though – because of the firm track, I knew horses weren't going to stop easily, so I started asking just before the straight. We passed It's My Turn so easily that I actually had to wait for a few strides as I didn't want to go too early and get caught. Because the race went so smoothly in the early parts and we were ahead of the rest of the field, I didn't need to push the button early. So I sat for a little while and then said 'right, let's go' and he really kicked nicely and ran right to the line. I was quite surprised to see how quickly Marinaresco finished, but I knew I had the race in the bag."
Record
"I didn't realise Anton and Anthony held the record, so it was quite nice to equal that. I remember a few years back when Anton won his last July, just after the line he turned and looked at me and asked 'so how many July's have you won now?' I think I've got my own back," he jibes good-naturedly.
Under pressure
Was there less pressure not being on one of the favourites? "It did make things a little bit easier. You start getting butterflies when you know you have to walk through the tunnel and wait for them to call you up – you know the big moment has arrived. I was quite calm and relaxed and thought if there were going to be any regrets, it would be for not getting to ride one of the horses I originally wanted to be on. If one of them had won, I would have been disappointed, so it was a relief that things worked out the way they did. Crossing the line was quite emotional – considering it was not my first choice ride, being drawn on the beachfront – things could so easily have been different," he muses.
Reminding him that Pomodoro also won from the outside draw, he says, "Actually, there were quite a lot of similarities between the two races. Pomodoro was also a big price and drawn 20. The Conglomerate drew 20. Pomodoro had saddle cloth 14 and The Conglomerate was also no 14. Pomodoro was the first July win for one of the game's biggest owners in Chris van Niekerk and The Conglomerate was the first July win for Markus Jooste. Even weather-wise, it was quite chilly both days."
Prep
"My wife Claudia reminded me that I won on The Conglomerate about a year ago. Maybe I'm getting old – I can't remember riding him, nevermind winning on him! But that's the only time I rode him until I won on him again on Saturday. Joey made it really easy – there was no pressure and no instructions, he just said to give him a good ride because I owed him one! That makes it easy for you as a jockey. When you've been riding for 30-odd years you know what you're doing – you don't need someone to come and confuse you. Derek asked what I wanted to do, I explained and he said that was perfect and that if things worked out the way I hoped, we'd have a chance.
It's nice to have that trust and belief that you'll do the right thing and make the right choices.
Since the race Derek and I have had a little chat, but we'll have a celebratory dinner later and chat a bit more. It sounds as though they had a good party in the private boxes though!"
Full Card
Apart from his July ride, Striker was engaged for a total of 9 rides for the day. How is his shoulder holding up since his fall in February? "Actually I shouldn't be riding so many on the advice of my biokineticist, so I was quite happy that two horses scratched, otherwise I might not have finished the meeting. The shoulder is holding up, but I'm still going to the biokineticist weekly to try and improve it. My right clavicle is 2 cm shorter after all the breaks – it's the 3rd time I've broken this one – so the tendons and muscles have to adapt to the new shape. For a certain movement I've only got 40% of my full strength, so as long as I manage it correctly it's fine, but I do feel it if I overdo things. Mind you, it hasn't affected me too badly – I rode three Gr1 winners last month!"
‹ Previous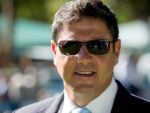 Sean Tarry