JUAN NEL has had a varied career in racing. He started as an apprentice and went on to be a jockey until he got too heavy to ride. From there he went on to work with top trainers like Mike de Kock, Brett Crawford and Mike Bass. Along the way he trained in Dubai, England and Saudi Arabia. Due to the fact that Juan felt he needed to be able to see his young daughter more often he recently took the job of training the Snaith's horses in PE. In his words, "it is a top job" and he is excited about this wonderful opportunity. With the experience he gained by working for such top trainers, PE racegoers will soon have another exciting trainer to follow  in their busy racing centre.

What is your name and age?  Juan Nel, and I am 39.
What is your star sign and birthdate?  Virgo, September 1 1973.
Where were you born?  Germiston.
Where do you live? I am a bit of a gypsy, currently in a lovely fishing village in Port Elizabeth called Seaview.
Tell us about your family?  I have a beautiful 11 year old daughter, Jaime, who lives with her mom in Cape Town. My siblings and parents all live on the East Rand. I am the eldest of five. I have a brother and three sisters.
Do you have a 'nickname'?  No, I don't.
Favourite food? I love all food.
Favourite drink?  Windhoek Draught.
Favourite music?  U2 tops the list.
Favourite sport?  Racing, rugby and cricket.
Favourite holiday destination?  Holi what??? Our country offers a lot.
You grew up in Johannesburg. Where did you go to school?  Noordoos Rand High School and Putfontein Primary.
While at school were there any members of your family involved in racing?  None at all.
You went to the jockey academy at Summerveld. What year did you start there? In 1989.
Who were the other apprentices at the academy with you?  Heinz Runge, Francois Herholdt, Andre Du Preez, Rene Bonham and Craig Arnold were all in the same year.
Did you qualify at the academy? Yes.
From Durban you went to Cape Town. How successful were you in Cape Town? I was champion apprentice there for two seasons.
How many winners did you ride while at the academy and in Cape Town?  They were hard to come by, around 70 I would say.
Your riding career was cut short as a result of weight problems. What was your weight when you had to stop riding? 64kgs.
Which trainers did you ride for in Cape Town?  Crunchy Cronje and Derek Dalton mostly.
Which do you consider was the best horse you won on? Java Jive, Kingspeed and Exclusive Diamond were all on par around black type level.
When you had to stop riding what plans did you have for your life?  It was very hard at first and it took a couple of years to make peace with the fact. Then I got my assistant's licence.
Did you try any other career before becoming an assistant trainer?  I worked for a good friend of mine, Kingsley Green, who has an Electrical contracting business.
Who was the first trainer you worked for as an assistant?  Crunchy Cronje.
How long were you with him and how successful were you with him? We shared some successes with a small string over a couple of years.
You worked with Brett Crawford when he was at Summerveld. How long were you with him? I started with Brett on the West Coast on Sabine Plattner's Farm. I spent 4 years with him and I am grateful to him for a huge learning curve on horses and life. The man has wisdom beyond his years.
Brett had some pretty good horses at that time. Which did you consider were the better horses you worked with at that time?  Angus tops the list followed by Bad Girl Runs, Poly Nation and Reveille Boy.
What did you do when Brett resigned as the Plattner trainer? I had just finished working for Mike de Kock at the time so the only logical thing to do was submit a CV.
You spent valuable time with Mike de Kock in Dubai and in England. While in Dubai did you stay there to look after horses outside of their racing season? No I didn't, that was Mike's right hand man, Trevor Brown's job.
In the off season you must have had quite a lot of free time. What did you spend that time doing? Only April was quiet, then we travelled to England for 7 months.
What were some of the most important lessons you learnt from your time in Dubai? Working with such a professional team meant that everyday important lessons were learnt that will stay with me for years to come.
You also spent three seasons working for Mike in England. That must have been a very different experience to that of Dubai. Tell us about what you did in England?  Racing in England was absolutely amazing and I will always be grateful to Mike de Kock for the opportunity he gave me.  I groomed, mucked boxes, rode work, and was left in charge in the absence of Trevor and the boss. Mike's yards are very well run and daily instructions are adhered to, to the last detail. Hard work but very rewarding.
How many horses did you look after in England? 24 was the most.
How many runners did you have in England?  Mike had around 50 plus runners, when I was there, over a period of 18 months.
Did you have any winners in England?  Yes, we did win seven or eight races. Racing is ultra-competitive at Group 1 level over there and we did well with some places in those races.
Which was the best horse in the De Kock yard in England?  Eagle Mountain broke the Rowley Mile track record, Archipenko was great too. There were many South African champions in our care such as Mythical Flight, JJ The Jet Plane, Sun Classique and more, all multiple GR1 winners.
Who did you work with in the De Kock stable in England?  Trevor Brown, Steven Jell to name two great horsemen. Declan Cronin, a master farrier.
Why did you leave the de Kock yard? Because of my daughter. I was only able to see her once a year and I needed to be able to see her more often.
Recently you worked for trainer Mike Bass. How long were you with him? Not long enough, 6 months. Mike Bass is a master conditioner and I would've liked to have spent more time with him but the Saudi door opened for me and I had to take my chances.
Did you have anything to do with the great Pocket Power before his retirement and if so what are your lasting memories of that great horse?  Can't take any credit for anything regarding Pocket, just able to say I could admire him closely in his final summer racing season. He called the shots in the yard. Belinda, Robert, Trevor and Bo-boy need all the day to day accolades in the fairy tale that is "POCKET POWER".
What other top Bass horses did you help train? What A Winter, Castlethorpe, Blue Tiger, Covenant, Love Is In The Air, English Garden and Fort Vogue were the Gr 1 competitors whilst I was there.
You had a stint as a trainer in Saudi Arabia. Who did you train for and how successful were you? For a Sheikh named Abdullah Al Dugish. I had some winners with a very small weak string.
What were the drawbacks training in Saudi Arabia? The lack of resources such as good quality feed and tracks that were extremely unforgiving.
How long were you in Saudi Arabia? Only for a year.
How many horses did you have to train? 20 of which only 8 could race at any given moment.
How often do they race in Saudi Arabia? Twice a week. Thursday and Friday.
What sort of surfaces do the racetracks in Saudi Arabia have? Only a dirt track.
When did your stint in Saudi Arabia end?  February this year.
Who did you work with when you came back to South Africa? I started with Snaith Racing in the last week of April.
You are now the PE trainer of the Snaith yard. It can be considered a really top job. How did you manage to land it? It is a top job; I get to work with competitive horses, thanks to the same person who helped me get a foot into Saudi.  Mr Chris Snaith called me and told me that Tara Laing had resigned. I am grateful to be part of another successful operation.
How many horses do you have to train?  44 at full capacity. The lack of stables at training centres around the country limits stable sizes.
Has Justin Snaith set you any immediate targets for the stable? No, Justin trusts me enough to know that everybody in his team works to the same goal, to obtain the best possible results and be completely transparent regarding our runners.
Have you ever trained in PE before or is it all new to you? No I haven't. Racing here is a new experience. It is made easier with the sharp all round team of Snaith family members and Judy who all provide accurate info.
How well are you settling in Port Elizabeth? Really enjoying the people and the village I stay in.
Have your fellow trainers in Port Elizabeth made you feel very welcome?  Yes, everybody has been very welcoming.
You took over the Snaith yard from Tara Laing. Do you find it a big help to be able to speak to Tara about the horses, especially those horses which are difficult or temperamental? Strange as it may sound the difficult and temperamental ones are the horses I enjoy trying to get into their heads, and working them out for myself. I did speak to her regarding a couple she did very well with and she was very helpful.
Which is the best horse you have been involved with in your career? Eagle Mountain.
At this stage which do you consider the horse with the most potential in the Snaith yard? Ebony Flyer, without a doubt. I think she is WORLD CLASS.
How keen are you on the breeding side of the game?  Guilty of only knowing what I need to know. There are experts in the field that I would choose to leave it to, or consult with.
Do bloodlines have a big influence on you when buying yearlings? Not that I have put up my hand at a sale in our country, but yes it is a major factor.
What do you particularly look for when buying yearlings or even older horses?  Good girth, great walkers, brave individuals with scope.
Are there any characteristics in a horse which will immediately put you off from buying it? Conformation is of utmost importance.
When yearlings are bought at sales do you prefer them to go to a spelling farm before joining the main yard? Ideally, I would prefer them to go to a spelling farm.
 How much do you discuss with Justin, about the stable, on a daily basis? Yes we chat often, sometimes 2-3 times a day.
Outside of racing is there anything you are passionate about? Not much time left for a passion outside of my passion for racing.
If, and when, you have free time how do you like to spend it? Just chilling at home flicking through sports channels on the TV.
Do you have any suggestions as to how to make the younger generation more interested in horse racing? I met a gentleman in a shop recently and we got chatting; he came racing a few meetings ago with some work colleagues. He told me that they felt very excluded and had little idea of what to do regarding betting. When they were eventually spotted and answered "NO" as to whether they were members, they were told about all the do's and don'ts. Surely it's not rocket science to point out what can be done and what areas may be attended and explored. Young corporate functions should be targeted in my humble opinion.
From what you have seen and experienced do you think racing is 'straight'?  Yes I do. I think it is   as straight as an arrow.
What is your opinion on the NHA's decision to stop betting operators from sponsoring trainers? The NHA has come a long way from their iron fist, zero transparency attitude. I would like to think that their decision has been based in the best interests of racing.
The saying is "Behind every successful man is an equally successful woman". Does this apply to Juan Nel….? Is that where I've gone wrong???
‹ Previous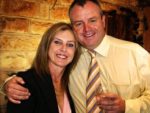 Mike de Kock