The Diadem Stakes was first run as the Diadem Weight For Age Plate at Kenilworth on 30 November 1957. The race was usually run in late November or early December and was Kenilworth's answer to Milnerton's Cape Flying Championship. It has been won by champions, beating champions.
The race has been run under different guises over the years. After starting out as the Diadem WFA Plate, it was run as the Southern Cross Stakes in 1971 and 1972 and then reverted to the Diadem Stakes from 1974 onwards.
Family affair
In the first year, it was run for a stake of £1,400 and won by J.W. Hill's homebred, Tetrina (Royal Pardon – Zorina). She was trained by Stanley Gorton and ridden by Freddie Heyman. The 3yo filly was assigned 7st 9 (but carried 7st 10) and won in a time of 1 minute 13.4 seconds, besting Cookie Amos' mighty Black Pirate by half a length,with Syd Garrett's Fair Weather a short head third.
Interestingly, Tetrina's full brother, the mighty Royal Affair, won the race the following year and in 1974 it was won by a son of Royal Affair in Lancaster. Similarly, Over The Air won in 1979 and his son, Express Courier, won it in 1988.
After being beaten by both Tetrina and Royal Affair, Black Pirate won back to back renewals of the race in 1959 and 1960. Other horses to win the race multiple times are Queen's Plate winner Inverthorn, Queen's Plate and Met winner Peter Beware, Queen's Plate and July winner Flaming Rock, the mighty Flobayou was a three time winner, Nhlavini won it 3 times and What A Winter won it twice. However, the undisputed king of the Diadem is Karl Neisius, who has 10 Diadem wins to his credit.
Karl's Top 10
Karl's first win came in 1981, on Mr & Mrs Frank Waring's Lurgan, trained by Chris Snaith. "My memory's a bit hazy," he laughs, "but he's one of the horses I never rode a lot. I'd just started riding for Chris and it was my first big race win for him. After that I rode for him for quite a few years."
His next win was also for Chris Snaith aboard Front Cover in 1984 and produced the only dead heat in the history of the race. "He was a lovely big grey horse. Very long striding," remembers Karl. "He also had quite a nice story – Chris picked him up in a riding school in Joburg. The guys said why don't you have a go with him, Chris said OK and brought him down, put him in racing and he never stopped winning." They dead-heated with Garth Puller on Chili Bite. "We ran down the outside of the course. I thought I'd got it. He was such a big horse and normally the one on the outside gets it, but when the picture came out, it was a dead heat. But half is still better than nothing," he smiles ruefully. "I eventually won 10 races on him. He was a lovely horse."
In 1987, Karl won the race on Lord Randolph. The filly Far Afield set the pace, with Lord Randolph placed just off the vanguard. When he asked the question, Lord Randolph passed her to win by an easy 1.75 lengths. Karl remembers, "He was one of the Jaffee's first really decent horses. I also won 9 races on him. He was a lovely chestnut with a big white face. He was a strong, robust, muscular sort of horse – typical sprinter. He had a very strong finish, so you used to have to hide him away a little. If you got him covered, he'd give you a fantastic burst at the end."
Flaming Rock
Then came the wonderful Flaming Rock, who won back to back runnings of the Diadem in 1991 and 1992. "The race used to be run at the beginning of the season and it was the first big race of the summer season," says Karl. "This would be the first meeting where you'd see the big horses after their Durban campaign, so a lot of people used to come and watch just to see how they are and we always used to have nice crowds. Even the Durban trainers used to come for this race – it was a nice start up race for them and their big horses for the season and was a nice gallop for them."
With regards to Flaming Rock, he says, "We always used to put him in the Diadem and let him have a run there to see how he was for the season. It was normally his first run back from Durban, so it would be a little pipe opener and he'd go on after that. We hardly ever galloped him before the race," he recalls. "We just put him in to see how he'd go. And he managed to win it twice in a row."
Commenting that there aren't too many like that around these days, he agrees. "As a jockey, you are very lucky to get more than one of those horses in your life, especially in South Africa. He could sprint and he could stay. I have very fond memories of riding him. "Every time you rode him it was special. He was one of my favourites to ride. He never did a thing wrong at track and was just the perfect gentleman to ride."
Flobayou
Flobayou was the first horse to win three Diadems. In 1994 he beat Taban by 2.5 lengths, he won it again in 1995, beating Jewel Of Asia. In 1996, he was 4th behind Cordocelli, Wise King and Bushmanland and then he won it again in 1997, beating London News, Cordocelli and the likes of Shah's Star and Bushmanland. "Flobayou was a bit of a handful," recalls Karl. "He was a tough horse to work with and tended to want to do a little too much. He was a very temperamental horse in the pens his whole career – he had to be in out and wouldn't stand still even for a few seconds, but I won 16 races on him."
Karl rode Captain Al to victory in December 2000. "I was freelancing at the time. I can't quite remember how I got the ride, but I was very happy to ride him. He was a great horse." Captain Al had contracted a lung disease during the Durban season and lost some of his lung capacity, so Vaughan Marshall had brought him back to sprint distances. "He ran on pure heart," remembers Karl. "I gave him a chance that day and sat just off them and he just mowed them down at the end."
Win no 10 came courtesy of What A Winter in 2011. Asked what he remembers of the race he chuckles, "I won very comfortably, that's all I remember. He was a very, very good horse. I was sad to lose the ride to Bernard Fayd'herbe, but that's the way things go. I won 7 on him and there's nothing too shabby about that. I always enjoyed having long relationships with horses."
Ten wins in the same race must be a record of some kind? "I don't know, I don't follow Joburg races a lot. Piere Strydom rides so many winners, he might have done it, but I'm very happy to have won the race 10 times. It's one of my favourite races and one of my favourite courses. It's also probably my favourite distance – I love the Kenilworth 1200m." Asked why, he retorts mischievously, "Probably because that's where I won most of my races!"
Special course
"The Kenilworth 1200m is a fantastic distance. As you can see with some of the horses that have won this race, a really decent miler can come out and win the 1200m at Kenilworth. I think the course has got a little bit quicker than it used to be, so maybe you don't see it now as much as you used to, but you'll find a lot of really good young horses that win the 1200m at Kenilworth, go on to be top mile – 2000m horses and go on and do really good things. It's a fantastic course, and some really fantastic horses have won their first race over the Kenilworth 1200m."
He explains what makes it testing is that the track undulates subtly. "From the 1200m you go up slightly, then it levels out a bit. Then you go over the junction and if a horse catches it wrong, it can set you back a length or two. With the wear and tear it gets a bit undulating, so they have to sort it out every 2 years or so and flatten it out," he explains. "Then the track rises again, goes down, and rises and flattens out in the last 300-400m." Prompted to elaborate on the best way to negotiate the junction, he explains, "If you catch the junction wrong and your horse gets little unbalanced, you've got to bring them back to you little bit and wait till they find their stride again. The nice thing is that you've got a lot of time for your horse to correct itself and get travelling nicely again and 9 times out of 10 you've got a bit of a head wind to race into, so there's plenty of time to sit. If you want to, you can sit until the last furlong out – even longer if you've got a lot of horse under you. It gives you plenty of time."
About the Race
"I think it was better having it earlier in the season. When it was run earlier, it was the start of the summer season and a nice opening race to get horses ready for later on, so you always used to get decent crowds. it was a nice race to progress horses going forward and to show you where you stand. That was the nice thing about the race."
"I've been really lucky – all the colts I rode went on to stud, and it's got a great heritage in that respect, but I think it's a great race to win. I'm really happy Lady Laidlaw is sponsoring it now and I wish her all the luck."
‹ Previous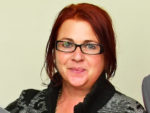 Tara Laing