Guineas Day – as any race day really – saw a series of triumphs and tragedies play itself out in front of the unrelenting finishing post. The much hoped for star filly fell an agonising 0.9 lengths short, there is a sudden question mark over the Cape form, and our Johannesburg raiders went home with broad smiles and bulging pockets. The decks have been reshuffled and everyone is suddenly re-examining their hands. However, the Cape Summer Season suddenly gained a whole lot more colour.
Racing is a funny old game. You can study and plot and scheme and plan and end up with much the same result as throwing your catalogue into the air and buying whatever page it happens to land open on. Racing is just like that. And the vagaries of chance are probably one of its most appealing aspects.
Horse Sense
Jane Smiley perhaps put it best in her wonderful book, A Year At The Races, in which she wrote 'Gamblers everywhere will always feel that Heaven reached down and touched them personally if they win'. What she doesn't explain is that we're all gamblers. Whether we're breeding, buying or standing at the betting window. And it's perhaps what makes racing folk such a special breed.
I think it's because we're all gamblers at heart and we'd rather go for glory than take the safe option, but fortune favours the brave and it's surprising how often it pays off. Be gone calculated risk. Hello excitement and uncertainty and the prospect of a delicious surprise – even though we know it's more likely the joke will be on us.
W.C. Fields is credited with saying that 'Horse sense is the thing that stops horses from betting on people'. Luckily racing people don't subscribe to 'horse sense' all that much. We prefer the joys of hope to the drudgery of weighing the checks and balances. It's what makes us buy horses, support new stallions and put our money on long-shots at the windows. It gives us an irresistible air of mischief, adventure and throwing caution to the wind because as every gambler knows, the higher the stakes, the bigger the fun.
Luck
Luck has sides and in that yin yang way, when someone's having a good run, it means someone else isn't. So while we lamented the filly just falling short, someone who had a good day's racing was Wilgerbosdrift's Mary Slack. Not only did she own the sire and breed the exotically named Noah From Goa, she still owns a leg too, alongside Mike de Kock, Gary Westwater, Chris Haynes, Gary Grant, Dr John and Amanda McVeigh and Noeline Malherbe. And better yet, another Wilgerbosdrift graduate, Nassa, ran a very eye-catching third for the Brett Crawford string.
Who Is Noah?
The intriguingly named Noah From Goa was led through the ring at the 2014 National 2YO Sale and knocked down to Mike de Kock Racing for R325k. Mary explains, "I had a reserve of R325k. Jehan (Malherbe) and Mike (de Kock) had bid on the horse up to about R260k, but there was a man who was really interested in the colt – I've forgotten who he was bidding for – but he wouldn't go further than R300k. Things were sort of stalling, so while the client on the phone was weighing his options, I tore down the sales grounds to say to Mike and Jehan 'you've got to buy him'. And while the other buyer was making up his mind, Mike and Jehan came through. I – rather reluctantly at the time! – agreed to go in with them."
Where is the name from?
"It's really because the mare is called Limerick, so we had a whole lot called 'Man from….' to fit the limerick theme. Billy Prestage has one called Man From Japan. Then Jessica decided – and I agreed – that year by year we'd do another letter of the alphabet and he was the 'N' year, so it had to be an 'N' and a limerick. We've since scrapped the whole thing and are reverting to ordinary names again."
Noah From Goa has proved a rather fun guilt purchase as he won first time out at the Vaal over 1000m on 17 September. He was beaten 3.3 lengths on his second attempt, again over the Vaal's 1000m a week later, but has plied his trade very successfully on the turf ever since.
Stepping up
The first inkling that the lanky chestnut might be something came on 24 October, when he beat Steelwing home by 6.25 lengths over 1450m at Turffontein. The Mike de Kock website read: "After Noah From Goa's sweeping six-length win over 1450m at Turffontein on Saturday, there will be silent hopes of a Dubai campaign in 2017 among the likes of part-owners Gary Grant, Chris Haynes and Gary Westwater, but on Sunday Mathew de Kock suggested "baby steps" to be the only course of action at this early stage. Mat commented: "Noah From Goa is a really nice horse, he could go on to better things like the Dingaans but his rating is still low and we'll probably have to get another handicap under the belt before we can take on the best around with him."
They did exactly that and Noah From Goa came home victorious in a MR94 Handicap over Turffontein's 1450m on 12 November. As predicted back in October, from there it was on to the Dingaans and the rangy chestnut produced a spectacular finish to the R500,000 Gr2 on Summer Cup Day, scrapping gamely with New Predator from the 500m to the finish line, refusing to throw in the towel to win by a nose.
Being bold
Racing gives one many lessons in coping with adversity – opportunities to cope with success are all too rare and it is perhaps harder than most people realise. One of the great joys of chatting to Mary is that she is one of the best examples of sportsmanship, always modest in victory and always finding something kind to say about the opposition.
Mary relates that three weeks ago Mike was debating whether it was worth travelling with the filly in the field. "I knew he was good, but didn't think he could beat the filly who I really think is quite special. And of course you never know when they travel."
Rather than travel down two days before the race as is his norm, Mike sent Noah From Goa down a few days earlier than usual to allow him to have one gallop round the left hand turn. "And so bravery was rewarded and I must say I couldn't have been more surprised by the whole thing – it was a great thrill. And that's about the story," Mary finishes with satisfaction.
"The other one ran on so brilliantly, too," she notes, as the third placed Nassa who finished like a runaway freight train, is one of the Wilgerbosdrift grooms' co-op horses and a half-brother to Summer Cup winner, Wagner.
Where to from here?
"He definitely would not stay the Derby distance in my opinion, but not having spoken to him yet, Mike may think differently, but it will be up to him to show me I'm wrong!"
Asked whether there are any more Noah's on the farm, Mary replies in her laconic way, "No, the stallion's dead and the mare's sold. Can you believe it? I haven't even got a daughter. Limerick was bought by Favour Stud and Jehan mentioned that she's got a What A Winter colt on a sale coming up. Good for them," she says magnanimously.
Of course it's also wonderful to add another Gr1 success to the late Tiger Ridge, who already has the Summer Cup winning Wagner to his credit, as well as the Triple Tiara winning Cherry On The Top. "It's absolutely brilliant. Lovely in fact," Mary confirms.
Mike, commenting from Dubai, said on his website: "A few years ago Mary made a bold decision to change some technicals on the farm, including farriery and feed and it's certainly paying dividends as we can see from Wilgerbosdrift's last few crops. Wilgerbosdrift has always been a top stud farm, they have great genetics and are well on the up!"
Racing is a funny old game indeed. You have to take the highs with the lows and learn to treat them all the same. But most of all, you've got to learn to take a chance. As the old Kenny Rogers song goes, "You got to know when to hold 'em, know when to fold 'em, Know when to walk away and know when to run. You never count your money, when you're sittin' at the table. There'll be time enough for countin' when the dealing's done.
‹ Previous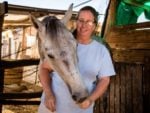 Romayne Midgley