Brian and Michael Miskin are the breeders and joint owners of Supreme Cup hopeful, Roman Carnival, who has been carefully conditioned by Vaal trainer Stephen Moffatt. We get to know them a little better.
Racing is a little like a blind date and most of us are introduced to it by a mutual friend, acquaintance or family member. It was no different in the case of Michael Miskin who relates, "Granny Miskin was interested in horse racing and used to have 25c and 50c bets on the big races in those days. Her interest would have fuelled my uncle Brian's interest and I have an idea that to supplement his income, he got a weekend job as a bookmaker's clerk when he was a young man. He enjoyed what he saw of the game from that aspect and as long as I can remember he's been involved in horse racing and so my interest came from him."
Close relationship
"My uncle was an old fashioned banker and was employed by Standard Bank for virtually his entire working life. Certainly I don't think he ever worked for everyone else. He worked in a number of more rural branches, ending up on the Witwatersrand and moved around within Witwatersrand quite a bit."
"We've always been very close because he's just been a good uncle. My earliest recollections were very fond and he was just a very good, loyal man. He was always very interested in all his nieces and nephews and so it was just natural that the horse racing developed as a consequence of our relationship, rather than other way round. We have a lot of other common interests as well, but I would say that racing is the interest which is probably our greatest."
"He's 91 now and it's great that we can still share a common interest / passion and what's good about owning horses with him is that he's understanding of the game. He's principled, he's patient and he's interested in the horse as much as anything else and I like those qualities. They're very important."
"I've got a few other horses as well. There's a 2yo also with Stephen and I've got 3 in training with Geoff Woodruff. I've got a horse in PE with Anel Wilmot and another one with Steven Janse van Rensburg and I've got a couple with Doug Campbell as well. The common denominator is my uncle. I have a few with Albert Rapp, Uncle Brian and one or two with others, but most are owned with my uncle."
About Michael
"I was born and grew up in the Eastern Cape. I was schooled there and then did my military training which was compulsory in those years. I studied hotel management in Johannesburg and am a qualified hotelier. I've spent most of my working life in the remote site camp management industry which is a niche industry that renders hotel or hospitality type services to remote mining and construction projects. I worked in Durban and in the old Transkei for a while and then came back to Johannesburg about 10 years ago. It's been a very enjoyable career for me. I've had such varied opportunity and learnt so much – I've been very fortunate, very blessed."
Why racing?
"Racing is something I was always interested in. I recognise it doesn't appeal to everyone, but as a sport it has a lot of romance and appeal. As with any major sport, it has a lot of history, top horses, riders, trainers – there's a lot to be interested in. There's really nothing quite like a top class horse. One of my earliest recollections of a top class horse was seeing Wolf Power winning at Turffontein over a mile and I could see this horse was so much better than the rest. Just as Roger Federer in his heyday was good for tennis, so a really good, top class horse is good for racing. I love seeing a top equine athlete and also I'm incredibly interested in breeding from a layman's perspective. I enjoy seeing the influential stallions and trying to get an understanding of the influential female lines and so on, so I'm a keen amateur student of the breed."
"I think I took out partnership colours in around 1989 and the first horse I was involved with was Belle Reve. She was OK, she cost R1000, won 2 races and R50k odd in stakes, so she was good to us. My individual colours I would guess came about 3 or 4 years later."
"My uncle has had a few decent horses in his time. He owned Geepee S who won the Allan Robertson and Casey's Honour, which was a really good sprinter, so he's had a few good horses, but let's hope that Roman Carnival is perhaps the best. He is certainly far and away the best horse I've had anything to do with."
"What's kept me in the game is that notwithstanding the inevitable ups and downs, there are still a number of really decent people in racing. In addition to that, I always try to operate with in my means in racing, and it's easier to have fun if you don't have to make money in order to have fun. If you make money that's welcome of course, but if fun and financial success in racing are directly linked, you're in for a lot of disappointment!"
Roman Carnival
"Although he's registered as being bred by Normandy Stud, we owned the mare, so actually bred him ourselves, which makes it all the more special. The mare stood in PE for a while with Rita Hensberg and then we sent her to the Western Cape because there was a greater selection of stallions available. Earlier on we bred a horse called Sermon. He was a half brother to Roman Carnival by Lecture. Sermon was a decent horse, but had soundness issues which one hears often enough and although he won 5 races at the Vaal, Stephen always felt he wasn't able to put his best foot forward. We knew that Sermon was a good horse, so when it came to this mating we went to Windrush because Lecture is by Seeking The Gold and so although the female line might be different, we felt that Windrush is also Seeking The Gold and that worked with Sermon, so let's see if it works again. So it wasn't very scientific!"
Breeding / early upbringing
"We got the news when he was born and I didn't hear much more. It was situation normal, which is really all that one can ever wish for. There was no drama and he was a healthy foal and we never got an SOS. I think he had a fairly routine upbringing. I did see him as a foal at foot and he was a fairly standard, unremarkable looking youngster. Other than that, there wasn't much to say."
"When it was time to decide whether to sell him or put into training ourselves, I do remember Veronica Foulkes saying he was a nice looking individual. Then we saw him again 2 years later when he arrived up here in Johannesburg."
"The dam was subsequently deceased and he was her last foal. Racing's a hard game, but she lived until 18 and produced a lot of foals and in a way it's fitting that her last foal is this horse and that he's a good, honest horse."
Selecting a trainer
"My uncle was good friends with Owen Sims (Stephen's old boss) and he had a couple of horses with Owen. Then when Owen died, Stephen took over the yard and my uncle committed to supporting him. We had Sermon in Durban and it didn't appear he was doing too well down there, so we thought we'd try him on the Vaal sand.  If we were going to send a horse to the Vaal, it made sense to send it to Stephen because of the existing relationship. That was 5 or so years ago. Because he'd trained the half brother and was an established trainer for my uncle, it made sense to send him Roman Carnival as well."
"Stephen is a very humble guy – you can send Stephen a broken down horse, he will accept it gladly and do his best to get it racing again. He's not too good for any horse, so it's exciting and good for him to have something that appears to have some ability and some prospects."
The journey so far
"For his first run we didn't expect anything and he ran accordingly. On his second outing we expected a big improvement, but he ran a dreadful race and came back shin sore. We initially said to Stephen we should get rid of him, but Stephen said 'hold on, let me fix his shins and put him away.' Because he was starting to get quite thick set, he also suggested gelding the colt, which we did. We put him away for quite a while – four or five months. Then we brought him back over the sand and he won his maiden, ran 2nd, won and won, so it was 1-2-1-1 for the sand. It is so exciting and so enjoyable to see a horse do as well as he has been doing and to be involved with my uncle who has been single greatest influence on my racing life and massive influence on my life in general."
"His last run was with blinkers. Stephen & Chase both thought he was just a little too relaxed during his races, so they put the blinkers on to see how he would respond. He certainly went well enough on August Stakes day.
Jockey
"We will keep Chase (Maujean) on him for the Supreme Cup. Chase has ridden virtually all the work on the horse and he's ridden him in all but one of his starts. He's part of the team."
Supporters
"My girlfriend Emma is very supportive and enjoys the racing and that's important. My siblings – same story – they take a keen interest and follow all the racing. All of them do now – one's interest is heightened when you have a horse that's above average. We had a decent party at the August stakes and everyone that was there wants to be back for Supreme Cup. If everyone's diaries work out, we will all go along."
"The Vaal is a lovely venue. I love going to the Vaal because for me it's relaxed and it's a day in the country. I don't compare it with Turffontein – that's a different experience and I love going to Turffontein too. Both tracks have tremendous appeal for different reasons. The Vaal course is charming and when I get back to Joburg I always feel relaxed from my day in the country and as though I've had a proper outing."
"My uncle and I have been on course for all the horse's wins and God willing will be there at the end of September for the Supreme Cup. He's 91 now, but still able to take a very keen interest in all aspects of the horse."
Stephen confirms that both Brian and Michael are regular visitors to the yard. Michael says, "In between having to earn my keep so that I can pay his, we do visit. We go and watch him gallop and we try and get down a bit earlier on race days. Stephen said quite soon after getting him that he thought that this was a decent horse, so he did call it quite a long way out."
The big race
"He's been under the radar until now, but other yards and jockeys will be much more aware of him after the August Stakes win. We know how tough it's going to be and are certainly not predicting that he's going to do anything – we understand the game well enough, so we've got our feet on the ground. You don't anticipate trouble, but you've got to get to the race well and sound. He wouldn't be first horse to scratch because something went wrong, so we've just got to hope and pray that he stays well until then."
‹ Previous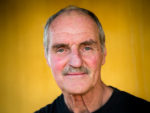 Dolf Maeder