In his wonderful tome Shantaram, Gregory David Roberts wrote "We know who we are and we define what we are by references to the people we love and our reasons for loving them." This is why ad agencies and marketing companies pay so much money to have celebrities endorse their products, or be brand ambassadors. We want to be associated with the great and the good and if we can't do so directly, just being associated with an activity (or product) endorsed by someone high profile is close enough, the inference being that someone 'worthy' taking an interest in a product, or activity, somehow proves its worth. If the personality is appealing enough, well, the sky's the limit.
If you build it, they will come
Racing has been lucky to see this phenomenon in action quite a lot of late. One of the best recent examples was the Zenyatta phenomenon in 2008/09/10 when the world really sat up and acknowledged a modern equine super star. Triple Crown fever took hold in 2012 when I'll Have Another (a son of Wilgerbosdrift's new sire, Flower Alley), got the world believing that a Triple Crown champion was in reach, there was another near miss with California Chrome and finally, vindication with American Pharoah – who proved such a hit that even his lead pony, Smokey is front page news these days. Further afield we had Frankel and Black Caviar and on home soil Pocket Power did the hard yards and paved the way for successors like Variety Club and Louis The King. And in their wake, these wonderful horses brought legions of new fans and convinced them that racing is a good place to be.
Standing next to the Durbanville parade ring the day Ebony Flyer won the Diana Stakes in 2011, a neighbouring racegoer remarked sourly, 'Pah, bring out a big horse and suddenly everyone wants to be on the course'. And he was right – there were people lining almost the entire length of the parade ring, all there to see the magnificent filly. It was great! Of course, it may start with the horse, but it doesn't need to end there and it turns out that the same trick works with people too. As such, local racing has been handed something of a golden ticket in the form of Olympic, World and Commonwealth Games swimming champion, Chad le Clos.
Golden Touch
Le Clos is something of a coup for racing, and has enjoyed a particularly auspicious start to his racehorse owning career when his horse, Unbelievable Chad, broke his maiden at the third time of asking on Sunday, 13 September 2015. We chatted to him about his experience so far.
Cloak and dagger
There's a certain amount of cloak and dagger involved with setting up a direct chat with the Olympic, World and Commonwealth Game champion. "I'm sorry I can't give you his number," says dad Bert in his trademark gravel voice, "we have all these girls phoning!" However, when I finally do get through, the young man on the other end of the line is every bit as charming and easy-going as his press makes him out.
Regarding his foray into horse racing, Chad explains, "Dad was in the game when he was younger (father Bert was a bookmaker) and he's been mates with Paul Lafferty for many years, but to be honest, I've never been involved at all and never really watched racing. My dad used to check it out, but he's not involved anymore and it's not how it was when I was young."
"I'm not sure how it came along. Paul called us one day at the end of last year saying they'd like to get me involved, so we had coffee with him and spoke about potentially getting me a horse. At first I thought 'ja right', but then I spent a few mornings out there and realised that this is really, really fun."
"Then we just kind of decided it would be something cool to branch into for me, to give me a break from the usual stuff that I do. From our side, we wanted to have fun, go to the races with mates and experience the thrill of win."
"We got involved in about January. Initially I thought 'it's going to be fun and different, but if it doesn't work out, it doesn't work out, but I'm super excited about it and honestly, it's been a lot better than I expected. I'm not doing it for the money, I'm doing it for the adventure, the fun and the thrill and maybe one day we'll see where that goes, but having a racehorse has been really rewarding in the first few months that I've been privileged to have one. It's just been really great and I must say massive thanks to Paul for getting us involved."
Unbelievable Chad
The son of Toreador was bred by The Alchemy and was led through the ring as lot 351 on the 2014 Suncoast KZN Yearling Sale. Philip Kahan explained that he bred the horse in partnership with Greg Blank. "The colt was unnamed at the time. Paul bought the horse, told us that Chad was interested and asked whether Greg and I would stay in for a small share and we said yes. It's not every day you get a chance to stay in a horse with Chad! I have to say, what a gentleman and what a pleasure to be involved with him. Another lady was interested as well (Bridget Conway) and that was it."
Chad continues. "Obviously, with Paul's experience, he chose the horse for us and said it had potential. Being who I am, I obviously wanted to have a winning horse. I know that's kind of crazy – my dad says it's like having children – it's a real lucky packet. You can have a great trainer and everything else and still not win."
"He's a really beautiful creature, but it took a while for me to touch him – I was a little bit scared. To be honest, the last time I rode a horse was as a baby and I fell off at an animal farm in Durban. I've always been kind of scared since, so it's quite funny to tell people I've got a horse. When there's time, we head down to the yard. Me and younger brother George sometimes head down to Shongweni in the mornings after training and that's really cool. He's like my little baby now – I'm quite excited."
Choosing Colours
"The silks are all us. We thought about it and wanted to have some amazing colours – what better way to show people that it's me? I wanted something that personified me and it took a while to get it right. I love white – it's my favourite colour – and gold from Olympics, we had to put that in. I wore a green hat at the Olympics, so the jockey has a green hat and green sleeves to make it look like my swim suit. Then on the body we went for the Olympic rings and thought, 'hang on, this could work!' A lot of people come up to me to congratulate me on the colours."
First time
Unbelievable Chad debuted as a late 2yo over 1200m at Scottsville on 15 July 2015. He tried the same trip again second time out when he was narrowly pipped to the post by half a length, and then he won at the third time of asking on 13 September over 1400m at Scottsville. "He ran 6th, a close 2nd and then first," says Chad proudly. "For his first race, it was the biggest turn out ever. All my family and friends – absolutely everyone came out. It was not a very busy day at the track, but we came out all dressed up and I put on a suit and tie. He ran 6th and I thought 'damn!', I was expecting a lot better, but at the end of the day everyone said thanks so much, it was a great day and everyone had fun. When I told them all he was running again, all my friends were like 'we're available, even if's a week day and it means taking off varsity.' I was shocked at how excited my mates were."
That winning feeling
"A lot of my friends are also swimmers and last Sunday a lot of us had only just got back from the All Africa Games. Three or four of the guys had literally only got off the plane that night, so although they'd come to the ones he lost, they missed out on the main one."
"When he won, I took him by the reins and led him in – it was really awesome. Just the look in his eyes – you could see he was ready to go. It reminded me of how a boxer is before a fight, or like we are before we compete, there was a real sense of readiness. I've asked the question many times, do the horses know that they're going to race or know when they've won? I believe they do."
"It was special, really. Obviously having been on the international stage and winning gold medals is a feeling I can't describe, but this is different. Last weekend I was there with my mates and family and we were all going crazy. It was different, but similar as well. It felt like when I watched the Olympic Games and watched South Africa swim. You cheer for them to come home and that's what I felt like for me."
Crowd support
SA swimming's 'golden boy' has attracted a lot of attention at the track and quite a crowd turned up to watch Unbelievable Chad and his connections at Scottsville. "There were a lot of people outside the parade ring cheering 'go Chad' and being supportive and that was really cool for me. It's my job to be in the public eye a lot and I find that side of things really cool. A lot of celebrities don't particularly enjoy that side of things, but I don't think of myself as a celebrity. I'm very privileged to have the support I have and fans in South Africa and the rest of the world. I don't look at that side of things as a burden. It can obviously be tough at times, but I know that I wouldn't be who I am today without it. At the end of the day, it's the public and the support that has made me who I am. I just swim!"
Where to from here?
"I'm not sure – we've not really spoken about it too much, but I'll leave that up to Paul. Now that I've got a picture for myself of how it all works, I think this is only the beginning for me. I can see myself being in the game for a long time and learning more about it as I go along."
If we know who we are and define what we are by references to the people around us, then I'd say having someone as accomplished, composed and thoroughly likeable as Chad le Clos in our midst, can only make racing a more appealing place to be.
‹ Previous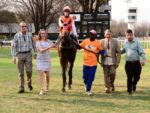 Michael Miskin