If you appreciate the music of the Beatles, then it's likely that you fit the age profile of the majority of horseracing's stakeholders. In a game where the passion players and income earners are sadly on the wrong side of 40, the dynamic Justin Vermaak is a refreshing spark of intellect – and one of a new breed to carry SA horseracing into the uncertain tomorrows.
The twenty-something Durban-born Vermaak has burst on to the SA racing scene in the past few years – and what a pleasure it is to watch Tellytrack and listen to a guy who obviously knows and understands the game, and the finer details of handicapping, as one example.
What makes it all the more fascinating is that he is a professional model – this game doesn't attract the goodlooking Shimmy Beach Club type crowd, surely?
"I was scouted a few years back by Ice Models and the money is decent – but it's not a passion of mine and it has fallen away over the last year or so," he says modestly in a considered manner that belies his age – and the shoot from the hip style, so characteristic of this game's big talkers.
"On Tellytrack, I'm reasonably confident but I think it just comes down to knowing your stuff. If I was on a talk show about 19th century literature I wouldn't have any idea and wouldn't come across confident at all! But I suppose when you know what you are talking about, you think less as it comes naturally. This means less hesitation, which also helps one come across as confident."
The Early Years
Justin was schooled in Hillcrest.
"I was a decent student and graduated with distinctions in geography and English. I was also a reasonable sportsman and played 1st team cricket and hockey. I admit that I was slightly on the naughty side but was never heavily disciplined, thankfully!" he laughed.
He has been an ambitious player in our racing industry for the past 10 years and quickly grew through the ranks, starting as an assistant trainer, becoming a handicapper and then the Maine Chance Farms racing manager, in less than 6 years.
Starting out with an apprenticeship to trainer John Fox as a 14 year old, he took his first paid job as an assistant trainer to Dylan Cunha at 18, which culminated in Strategic News winning the Gr1 Summer Cup.
Justin also enjoyed his first successful stint as a jockey's agent to Glyn Schofield.
Two months after the Summer Cup, he became a full time agent at 19, representing the likes of Anthony Delpech, Felix Coetzee, Bernard Fayd'herbe and Sean Cormack.
After three successful years, he took the job of NHRA handicapper in Johannesburg, at 22 – the youngest handicapper in the world by over a decade.
A fulfilling year followed until Justin decided that a desk job was not for him and chose to branch out on his own again, with his enhanced handicapping experience as a major advantage.
Bling Is In
He then took on the role as an agent to S'manga Khumalo, whose career he transformed into the multiple Gr1 winning, Vodacom Durban July leading jockey that he is today – all in the short time span of 18 months.
It was during this time that Dr Andreas Jacobs and Maine Chance employed Justin to manage all their racing affairs, a job he still performs with great pride today.
We put it to him that he was in essence living the impossible dream of a young racing fanatic – employed by the top-notch Maine Chance Farms as a racing manager- an agent to top jockeys – a qualified handicapper – his own Bloodstock company – a successful punter.
We asked if he could have imagined things would have unfolded like this when he started getting up at sparrow and mucking out boxes with John Fox all those years back?
"No not at all. When I was learning the ropes with John I didn't know jockey's agents or handicappers even existed. I was set on becoming a trainer. But as life develops and new avenues and opportunities open, one grows accordingly. I set my goal on becoming a handicapper, then achieved it very early. I then felt unfulfilled and had to grow further. So basically my plan has changed as my life has developed. But I was always confident from very young that whatever I did in racing I would be successful at."
Jockeys
The jockey agency game is a tough way of earning a living. Does he enjoy it and is he looking to expand his team?
"Each jockey is different. S'manga Khumalo travels a lot and doesn't ride as much work, so I get feedback after races from him – but pretty much just choose all his rides by myself. Bernard Fayd'herbe rides more work and gets some rides on his own and lets me know, but when travelling to Joburg, for example, it's completely up to me. I booked Wylie Hall for him 6 weeks before the President's Champions Challenge . I identified the horse as a likely winner and an available ride and negotiated with Weiho Marwing to get Bernard on for his winning prep and the big race itself  – so that win was great. Obviously if Bernard wins a Gr1, for say Joey Ramsden, it isn't quite as fulfilling, as he would have gotten the ride, whether I was his agent or not. But it is still a team effort."
So are you looking for more jocks?
"No! It is something I want to phase out of my career in the next few years. But it's great for having your ear to the ground and keeping your form sharp."
You made a flying start with Green Street Bloodstock recently. What is syndication and race management, exactly?
"Green Street Bloodstock is a syndication and race management company. We buy horses and sell shares in them to get new owners and smaller owners involved. Miss Nightingale was our first horse, which I paid R50 000 for at a sale. She won her first start and has feature placed twice since. We have had 5 runs so far and all have found the money. The race management aspect includes the syndicated horses but we mainly represent bigger clients in this respect, buying horses at sales for them and managing their horses in their racing careers. This includes the VAT recovery side of things and a state of the art system, where owners get constant updates on their horses via our website."
With so many trainers around and keen for horses, how do you handle the allocation of horses under your control?
"It purely depends on how we buy the horses- sometimes we buy them from trainers who have bought them on spec, then they obviously train the horse. If a horse is spotted at the sales, and a particular trainer wanted the horse, then we send it to him. We will use a variety of different trainers in the long term. It must be said that Gavin Van Zyl has been instrumental in helping us get off the ground and therefore has the bulk of our current string."
Workload
It must be an eight day a week job coupling your Maine Chance commitments to your Green Street business – it seems to be a fantastic arrangement for you to really grow and make a name for yourself?
"Maine Chance is an incredible operation. It has allowed me to build a huge network and gain a decent reputation which no doubt helps with Green Street. I see myself as primarily employed by MCF and this is where most of my time goes and my focus is. GSB is purely part time for now. In saying that, it has grown rapidly and I have employed people to handle the admin nightmare that comes with it. The jockey's stuff I squeeze in between as I'm constantly dealing with weights and declarations anyway – and then obviously the Tellytrack stints come after."
You have been very straightforward in our chat – so please tell us whether you have ever felt a twang of conflict of interests, wearing your various caps?
"I'd be lying if I said no, but nothing major. For example the other day Princess Royal (MCF) beat Miss Nightingale (GSB) on the post for third, which meant Miss Nightingale missed out on black type. Princess Royal already has bold black type so I did feel that it would have been nice for Miss Nightingale to finish in front. But there is nothing major and all I can do is the best for each horse or jockey and let them fight it out on the course – and watch how the racing cookie crumbles!"
You used to be a regular poster on the ABC punter chat forum. Are you just too busy these days?
"It is a great site well run by Bob and some good people. But I avoid it as I battle to keep quiet when some of the ludicrous conspiracy theories come out – especially involving your friends etc. It is best just to stay away and I am sure I am not missed, anyway!"
You must have an ultimate goal in this wonderful game?
"That's a tough one! As I say, these things constantly change as you challenge yourself. Involving myself in something like bloodstock has led me to look up to the greats like Jehan Malherbe and Robin Bruss. I love travel and if I could be travelling the world to different horse sales and races, that would pretty much be the ideal for me!"
Curved Ball
A last curved ball for Justin – we asked what his sincere opinion was about the state of SA racing?
"After travelling and seeing how racing works in the bigger countries, I have come to realise that we will never grow as a spectator sport in that way as it's just not a big enough culture here – like rugby and football. But I am confident of the export situation clearing up in the not too distant future and that will really allow our breeding industry to boom. When that happens, our sport will really grow!"
And a free punt – how do folks get involved with Green Street Bloodstock?
"www.greenstreetbloodstock.co.za is our website and all the info on syndication and race management is there. The ownership is for anyone but these are racehorses and shares cost more than a loaf of bread! We like to keep it to 10% shares but 5% can be arranged and 10% shares start from as low as R4 000…. Email me and we will find a suitable option for everyone!"
‹ Previous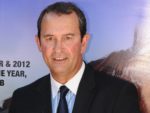 Dean Kannemeyer