A legendary horseman and a man remembered for being something of a cut-throat competitor, Lester Piggott passed away at the age of 86 in Switzerland on Sunday. Summerveld trainer Garth Puller remembered 'The Long Fellow' as one of the greatest riders and judges of pace he has ever ridden against.
Statues of Piggott adorn nine racecourses in England and only a week prior to his passing, another was unveiled at Ireland's premier racetrack, The Curragh. Piggott's influence on racing was such that he spawned a new 'shorter' race-riding style with pulled-up stirrup leathers which changed the art of jockeyship.
"It's sad. The world really has lost one of its greatest jockeys. He was a good man and an enigma at the same time. He suffered from a cleft palate and had a hearing problem. But he was the kind of guy who turned those disabilities and negatives into winning opportunities in life and on the track," Garth Puller told the Sporting Post on Monday.
A trainer these days, Garth recalled the days that Lester Piggott would spend a few days in the Cape with him prior to riding in exhibition races in Kenya.
"I would take a few of the late Trudi Houreau's horses to Kenilworth and Lester would work them to get fit and ready. I recall him falling just after the winning post in one of our first gallops. I felt so bad – but thankfully he stood up and dusted himself off. He was old school – no cry baby, believe me!"
Garth tells that he rode alongside Piggott in the Jockey Internationals and the Bull Brand.
"He just had a magic touch. I recall one day in Rhodesia, I was on Lester's inside and we were the last two going into the turn. He turned to me and said, 'let's go'. I hate running wide, as you know, but he went around the field and, I thought, let's go and follow him and see how this turns out. We ran 1-2!" laughs Garth.
Ironically for South African racing fans, Lester Piggott always labelled his ride to win a low-key mile race at Hollywoodbets Scottsville on The Maltster as a career highlight.
It happened in November 1975, when Piggott was on one of his annual visits to South Africa to visit his cousin Fred Rickaby, a top KZN trainer at the time, and to ride in an international jockey festival.
Mike Moon writes in The Citizen that the great man had landed a ride on a bad-tempered 3yo called The Maltster, trained by Basil Cooper. For all his skill and strength, Piggott was not able to get The Maltster to jump on terms with his rivals at the start on the Scottsville back stretch. Eventually the horse condescended to leave the starting stalls and start galloping, some 20 lengths in arrears. It was a hopeless situation – for anyone but Piggott.
The Maltster might have thought he was a tough guy, but he'd met his match in the man they called The Long Fellow – taller than most jockeys at 5 foot 8 inches. The horse got a wake-up call and realised he'd better pull finger. A packed crowd at Hollywoodbets Scottsville watched in disbelief as the black, gold and white silks caught up, knifed through the field and won going away.
The racegoers stood as one and applauded till the old grandstand roof rattled. For a young man in that crowd, it was an unforgettable moment and sealed my infatuation with horse racing, recalls Mike Moon.
Watch this clip:
In a book written by Sam Magee called My Greatest Race, Piggott nominated his win on The Malster as his greatest ever ride – that despite picking up a fine for swearing at the Starter.
And now it's all over.
On Sunday Piggott's son-in-law, Derby-winning trainer William Haggas, said: "Sadly we can confirm that Lester died peacefully near Geneva in Switzerland this morning."
Frankie Dettori, the only jockey since Piggott to share similar fame, was quick to pay tribute. He told Racing TV: "Lester was very special and was one of my heroes. I was one of the lucky ones [to have ridden alongside him]. I was in that [Breeders' Cup] race when he won on Royal Academy [in 1990] and I've never seen anything like it in my life. A month out of retirement and he did what he did – it proved what a legend he was.I kind of got close to him personally, because obviously we were both good friends with [trainer] Barney [Curley], and Lester was a good friend to me. He will never be forgotten."
Piggott earned the nickname 'The Long Fellow' because of his relative tallness among jockeys at 5ft 8in, but became popularly known as 'the housewives favourite' during a period when he won nine Derbys at a times when the Epsom Classic was one of the most famous races in the world.
His father Keith, a former champion jumps jockey turned trainer, provided his son with his first public ride in 1948 at the age of 12. The boy, whose shy exterior resulting from partial deafness and a speech impediment masked a ruthless streak and a fiercely competitive will to win, was successful on The Chase at Haydock, laying the foundations for a glittering career in the saddle.
Piggott won his first Derby at 18 on Never Say Die and was champion jockey 11 times between 1960 and 1982. Despite his height there was no more natural rider in the saddle during a golden age for the sport which included rivals Pat Eddery and Willie Carson.
The 11-time British champion jockey rode 16 Irish classic winners at the track largely due to his partnership with trainer Vincent O'Brien.The three-time Prix de l'Arc de Triomphe winning jockey, rode over 4000 winners
Willie Carson said on Sunday that he felt like a part of him had died with the most iconic racing figure of the 20th century. "I feel as though I have lost part of my life in way, as Lester has been part of my life ever since I came into racing," said an emotional Carson.
"I came to his in-laws as an apprentice and he was part of my life right from the word go, until the end. He was an iconic figure in the horse racing world. He is a legend. We had the luck of some ding-dongs on the track and he was a person who made us all better – because we had to be better to beat him. We had to up our game to compete with him, because he was so magical on top of a horse."
Controversy never strayed far from Piggott during and after his career on the Turf and he was banned from the track 'until further notice' for what the stewards labelled his 'dangerous riding' on Never Say Die at Royal Ascot, a few weeks after his Epsom victory. He returned six months later and in 1955 replaced the retired Sir Gordon Richards, his only rival for the outstanding jockey of the 20th century, in the top riding job in British racing as jockey to Noel Murless.
Piggott's association with Murless and his subsequent ones with Vincent O'Brien and Henry Cecil were the basis of his domination of the upper echelons of the sport, which included completing in 1970 the Triple Crown of 2000 Guineas, Derby and St Leger on Nijinsky, an achievement that has still not been equalled.
His association with the Ballydoyle stable of O'Brien during the most successful years of the 1960's and 70's became a key part of his glittering career and the current incumbent Aidan O'Brien, no relation of his predecessor, said: "Lester was a very special man and his knowledge was second to none. He didn't say a lot but every word you hung on to. He had so much natural ability to assess a horse. We are so sorry that he has passed."
Piggott retired for the first time in 1985 but his burgeoning training career was cut short when he was sensationally jailed for tax fraud.
He was stripped of his OBE before being released on parole after a year in 1988. He then stunned the sporting world when returning to the saddle in 1990, a comeback which spawned a fairytale story within days when he executed an audacious ride on Royal Academy to win at the Breeders' Cup in America.
The famously taciturn Piggott won his 30th and final Classic on Rodrigo De Triano in the 1992 2000 Guineas but only finally hung up his boots for good in 1995.
God threw the mould away when he made The Long Fellow.
‹ Previous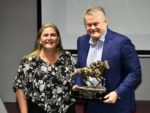 Wernars And The Winners