A little over 3 years since making her training debut, Renate du Plessis and her family are taking the quantum leap and moving to Australia to join Tony Gollan Racing yard in Brisbane on the Gold Coast. They will be in good company as Robbie Fradd, and on occasion Jeff Lloyd, both also proudly South African, are regular riders for the yard.
"Jannie and I are not giving up training, we're just trying to stretch our wings a little bit," she explains. "Tony Gollan has won 4 Metropolitian Premierships in a row and when the opportunity came, it was just too good to pass up. It is a very professional team and a very big opportunity for us, so we're looking forward to it."
About Renate
For the past 9 years, the quietly spoken brunette with the broad, shy smile was known to most as the manager and resident trainer at Favour Stud outside Stilbaai. Although not from a horsey family, she was born with the horse bug and Renate rode as a member of the Northern Transvaal Junior show jumping team. A well rounded education included training under Diane Botes, the Racing and Equestrian Academy and learning the ropes of producing competition horses for a number of local Warmblood studs. She also spent a six month stint in the UK, riding and producing competition horses before returning to South Africa where she met and married Jannie through their local church.
"Jannie had a job as a draftsman and I started a riding school to keep busy. I used to take in horses for training and selling on as a side business." Renate met Favour Stud's Du Preez family when their daughter enrolled for riding lessons. When Adv Altus Joubert has his dispersal sale, Mr du Preez went to see what it was all about and ended up buying a number of horses. "Then he went to a sale in Durban and we got a call that the truck was on its way with 36 horses, so we were literally straight in," she laughs. The first foals started arriving a month later.
Starting out
Getting the stud up and running was something of a baptism by fire as they started from the ground up in what she describes as a tough, but well-rounded education. "Jannie and I were managing everything. We delivered foals, drove mares to covers, did scan work, did sales prep, backed the young horses, did pre-training, ready to run sales, sales photographs, as well as eventually becoming a trainer and driving horses to and from races. We had to learn about the racing industry on our feet, but I think it's good we did it that way. We toughened up, and now know a little bit more of what to expect. I think I could handle a train running into me now – that would be nothing compared to breeding season!" she laughs.
From managing the farm and stud, it was an easy step to taking out a trainer's license, but it came with challenges. Finding competent grooms and exercise riders was hard and they ended up having to produce and train staff themselves. Their location was also a challenge when it came to prepping horses. "Our closest track is Cape Town, which is 4 hours away. PE is a 6 hour drive. The first time our horses saw the grass was when they did their pens certificate. But track manager, Kleintjie, starter Dean, and assistant starter Steven Kane were always very kind and would allow our horses to go for starting stalls on race day, since we had to travel so far. Not having access to grass gallops, sjoe that was a challenge."
And all the driving? "I'd feed at 1am and we'd load at 3:30. Then depending on what time our last runner finished, we'd get back at 10:30-12pm. There are different beliefs on it, but when you lose or run second, you do wonder how big the difference would have been if we did not have to travel that far on race day.
Despite the challenges, Renate saddled her first runner in February 2014 and had her first winner a week later, on 14 February 2014. Two weeks after that, she saddled her first feature winner when Lielums won the Listed Ladies Pendant at Fairview on 28 February 2014.
Highlight
It hadn't been a great start to the day and Renate admits she was considering pulling the plug. "I said to Jannie, 'I'm not going. She's weighted 52 and she's 20-1. She's got no chance.' I'll never forget it. It was the first time that I felt like faking a temperature and staying home. He said 'You're going to get in that truck. You have a runner in a listed race and that's an achievement in itself.' And she won. To travel all that way, and turn up and run against all those big names and win the way she did – I was on cloud 9. But it was because of Jannie that almost literally had to yank me out of bed, that she won that race. If it wasn't for him, I promise I would have stayed home."
Renate has come a very long way in a relatively short time and had her fair share of ups and downs. How did she handle the tough times? "My husband takes all the rap at home – when you have one of those days, he really is a huge support," she says gratefully. But there are a lot of people to thank.
Community
"We were young and barely married when we came into the racing industry and it's been quite a journey, but there have been some pivotal people along the way. From day one as little fledglings, John Slade looked after me and Jannie – he has played a very big part in our lives. Tarquin Norval and Luciano Passerini were people I could always ask anything and everything with regards to racing's do's and don't's, but you could name so many people. Everyone helped from their own perspective and in their own way, most of the time without even realizing it. Mike Bass is such an inspiration in his manner and horsemanship, people like Glen Kotzen – always friendly and considerate at sales, Eric Sands – his wise and kind words at races, just when I'm about to throw up before a race he would make me feel better, I've always admired the Snaiths for their energy and innovativeness, John Kramer – a complete guide to conformation knowledge, John Koster – always steadfast and true, all the farm managers, Ross at Drakenstein, Mike Sharkey from Highlands, Sos at Klawervlei…just to name a few – people that have been so patient and helped us grow and prepare horses better."
"When things were looking down and you're trying to keep a smile on your face, John Slade would come and talk to you at the sales, or Glen Kotzen would pop in with a kind comment – all those type of small encounters were godsends. All these little bits of help, that's when those people pick you up right under your arms and encourage you and keep you going. I don't think they realise how supportive they are, just by being themselves. Over the years all those little moments of people being encouraging and supportive – they all water you."
"Our grooms have been fantastic. They are part of your backbone on the farm and we're really going to miss these guys. But we've built nice relationships right across the board – grooms, stud managers, farriers, jockeys – it's a very diverse industry and every person has their own specialty, there's something you can learn from everyone. You learn a lot about the things you aspire to as well as sometimes the things you don't. There are so many people to mention – everyone had their bit of water they put on us."
New Horizons
Taking the plunge to Australia is a big step, but once the decision was made, it's all fallen into place very quickly, and almost overnight. With their visas recently approved , they are packing up and aim to leave by the end of November.
"When I was 18, I went riding for a quick six months in England, but then I didn't have a husband and young child and always knew I was going home at the end of it. This is different. Now you should not be thinking of coming home – it's not a holiday. You have to leave in your mind. It's a big leap of faith. We're young, Hailee is in Grade 1, if we don't go now, we'll never do it. We had some amazing options we were looking at, and we want to thank the people that made those options available, you know who you are, but we felt that this would be the right move for this time in our life."
"Racing from the farm went well, ending on 63 winners and 291 paying places, and we got to experience everything, training, travelling, sales and stud work, but as John Slade said, 'now we need to spread our wings'. The Gollan yard is a very professional, family run business. They're young and dynamic and it will be a great team to be part of. Australian racing is booming and this will be a whole new level. That's what I'm hungry for. That extra step. It will also be a nice experience to have all the facilities right on the doorstep," she admits.
Renate will start out as a foreman in one of their barns, to join and support Holly Williams, another foreman from the team, with the growing Gollan Racing string. "We all have our own way of doing things, so it will be a chance to become part of the team and learn how everything runs in Australia, and to grow more. Jannie will mainly be available for Hailee in the beginning, but will hopefully fall in soon to help with transporting horses."
Is it going to be a permanent move? "I think it's important to go out and get more experience, especially international experience. It is so important. Even if it's just to build character, new bridges, and new futures. It helps round your education and I think is a very big part of your education if you want to be better at what you do."
The grass isn't necessarily greener on the other side, but they do say it is greener where you water it. We wish Renate and her family all the best with their future endeavours.
‹ Previous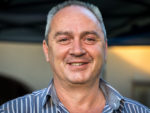 Ralph Panebianco