While the blue and white clad revellers were dancing the night away to the sounds of  Metro FM's DJ P.H. at the L'Ormarins Queen's Plate Festival after-party on Saturday evening, multiple big race winning jockey Richard Fourie was snugly tucked up in bed at his Melkbosstrand home.
The 33 year old husband to Tatum (nee Puller), and father of three young daughters, had enjoyed something of a rollercoaster two days of the L'Ormarins Queen's Plate Festival, despite his glorious Gr1 double and a Gr2 trophy.
"I am not much of a party animal. I enjoy being with my family and after a terrific day on Saturday, I just wanted to get back home and share the celebration with the girls. I generally enjoy an early night so was in bed at around 9. What do they say about early to bed, early to rise?" he laughed as he chatted to the Sporting Post while on a short family holiday at the Breede River.
Richard said that Friday, Day 1 of the royal festival, had not gone exactly to plan. Four seconds tell the frustrating story and he got home feeling 'slightly lethargic'.
It wasn't a relaxed night and he admits he slept far better on Saturday night.
"Friday was just one of those days. I ran second in the first three races and then thought I rode a peach of a race on Juniper Spring for second (again!)in the Gr2 Cartier Sceptre Stakes. I bounced her clear and she was going well until Clouds Unfold came to get us. I'm happy that the very talented Juniper Spring had her paddock profile boosted, but on the day Clouds Unfold was just too good. Aldo (Domeyer) told me he was just doing pacework on her on the outside. If we were drawn alongside, she probably wins by ten lengths!"
Richard was determined to bounce back on Saturday. And so he did – but not before the ignominy of hitting the dirt on the fancied Bunker Hunt in the Politician Stakes.
"I started Saturday with a second place again on Cyber Blossom. I thought, oh, oh… But then reminded myself that I had the rides to win the next five on the trot. But as a starting point, Bunker Hunt wasn't exactly a confidence booster. I think he overreached and I fell as we came out of the gates. It's one of those race riding freak occurrences. You can be so careful and alert. Yet it hits you out of the blue. There I was – winded on the turf watching 'my winner' Bunker Hunt galloping into the distance with the bunch. I thought, now is the time to stand up and turn adversity into motivation – and show some professional character. I was fired up – and as you now know, I put the next three features on the board."
Richard rode a cracker to get Doublemint up to nab the free-striding Kampala Campari in the shadow of the post to win the Gr2 Peninsula Handicap. "Doublemint is a lovely horse. He stays well and he is strengthening nicely. He will win his races."
He then led all the way on Oh Susanna to make it a Gr1 Paddock Stakes double for the reigning SA Horse Of The Year. "Oh Susanna is world-class. She was always going well. I didn't really put her under pressure. This was her second run after a rest. She will be ready come the Sun Met."
Then came the big one – Do It Again's dramatic victory in the L'Ormarins Queen's Plate.
"We were always going well. When I moved out for my run he gave me a nice kick. I looked around for the dangers. At the 300m I could see Legal Eagle wasn't really a threat any more. Then  I saw Soqrat out of the corner of my eye. Randall (Simons) had him in fourth for much of the race and within striking distance. He rode a shrewd race – he got away from us momentarily. But Do It Again was full of running and I knew I had him. In hindsight, maybe Randall went a stride or two too soon. Had he waited, he may have outsprinted me, as the mile is actually on the short side for Do It Again. But it's always easy riding the race afterwards, isn't it?"
On Do It Again's Sun Met prospects, Richard is adamant that he would opt to ride him.
"As I said after the Queen's Plate on Saturday – it is going to take a good horse to beat Do It Again in the Sun Met. He is looking for the 2000m and he will be spot on."
We asked if he ranks as one of the best Richard has ridden.
"I don't want to make broad judgements and statements at this early stage. He is a top top horse who has it all – the looks, the athleticism, the ability, the heart – and he is only 4. My all-time favourite is still Legislate."
This was Richard's first L'Ormarins Queen's Plate success in his 12 years in Cape Town. He said it could have been his second if he hadn't been a hot-headed youngster once upon a time.
"I lost the chance to ride Gimmethegreenlight when he won this race in 2012. It was just me being an immature youngster and not being able to handle criticism. I have grown up a lot thankfully. Age, marriage and family are great catalysts to a balance in life. And that's all school fees and history now and I'm fortunate to ride for a champion stable and a team of top professionals."
Richard explained that he was still sponsored by the Hattingh family owned Chrigor Stud, but was not retained and was riding freelance within the Snaith Racing structures.
What about championship aspirations?
"You know, I have a quality of life that outweighs chasing titles and living out of a suitcase. I will weigh up the situation come March and would love to go for it if I'm within reach."
He said that he expected to travel in February and March when the Cape was down to 'a ridiculous' four meetings a month.
"No jockey can make a living off four racemeetings a month. We are going to have to travel. The transition then commences to KZN – but I will talk to Justin and Jono (Snaith) and we will make our plans."
Richard got back to work from his short holiday on Wednesday and will be riding Merchants winner Kasimir in his work prep on Thursday morning for the Gr1 Cape Flying Championship on Sun Met day.
"I know him well and he will run a big race on Met day. I also feel that Strathdon, who ran third in the Chairman's Cup under top weight on Saturday, is a horse to pencil in for Met day in the Reserve Stayers race. He enjoys a nice swing in the weights and will strip ready there. We are hoping for a big day again. It's a great racing occasion and we are really proud to be a part of it," he added in closing.
‹ Previous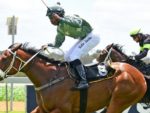 The Happiest Moment Of 2018