South African horseracing left the winning feelgood story of what was a long year to the final strides of 2018 – until Christmas eve, to be exact.
The moment came in the form of an emotional joint celebration for the Jacobs and Smith families on the milestone of an icebreaking first winner for a promising 18 year old apprentice.
The interwoven history of the longstanding association of two families from different walks of life,  but with a common passion and love for the horse, is the stuff of movie scripts in any man's language.
For eight-times East Cape champion veteran trainer Gavin Smith the victory by Wily Lass in the Fairview first race on 24 December in the hands of greenhorn apprentice Xola Jacobs was lump in the throat stuff – and that's not because Gavin owns and trained the first winner by top racehorse, Wylie Hall!
Xola had travelled to the Eastern Cape from the SA Jockey Academy outside Durban for the December holiday break to spend some time with his family, who reside at Kuyga in Greenbushes.
"That may have just been a minor maiden plate. But it brought a tear to my eye to watch a family so close to our hearts celebrating what must rank as one of the happiest and proudest moments of their lives," said Gavin who was chatting to the Sporting Post after 18 year old Xola Jacobs had overshadowed his rivals when going pillar to post and making full use of his 4kg claim to upstage the red hot odds-on favourite Pierino amid cheers from a small group of the assembled audience.
Xola's proud Dad Griffiths and his equally elated Uncle William were on hand to welcome their new star to the winner's enclosure.
"They are all part of our family. Griffiths still works for us. He and I used to ride work together for my late Dad. Xola wasn't even born yet. William has also worked for us for many years. Another of Zola's Uncles – Alfred – worked at our farm. He has since moved on. They have been around ever since I can remember," added Gavin as he recounted how the years had flown by.
Gavin took the reins over from his multiple champion trainer Dad in 1995. Andy Smith passed away in 2014 at the age of 76 .
It was Gavin who had been largely instrumental in getting Xola to pursue his dream and go out into the big wide world beyond Port Elizabeth and try and make a name for himself as a jockey.
The slightly built Xola, who goes to scale at 48,5 kgs, says that the first thing that hit him on his arrival at the SA Jockey Academy in the same intake as Luke Ferraris, Kabelo Matsunyane, Nathan Klink, Thabiso Gumede and Jabu Jacobs (no relation) was the 'hard work'.
"My Dad has always run a strict home so we knew what had to be done. And I used to love going to Mr Smith's yard from a young age, so I could ride and I had a feel for the stable and horses. But the academy was quite different – it was tough at first. But there is great friendship and we started enjoying it – me personally after about 4 months!"
Xola says that he feels that his love and inclination towards sport also helped him along. As did encouragement from his best mate, Khanya Sakayi.
"I play on the wing in soccer and love to run marathons. So I have always been fit and have never been a couch potato like some of today's youngsters," laughed the Young Ideas and Real Madrid supporter as he reminisced on a whirlwind three years.
About his first winner, he says he will never forget the experience.
"I had the winning edge from the moment Mr Smith gave me those unpressured instructions. He said 'ride her as you find her. If you are in front and she tires, well then so be it'. He stressed there was no pressure. At the 200m I thought, where are they? Then as we neared the post I kept telling myself to stay calm. It wasn't easy – I wanted to scream for joy! And I made sure I stayed balanced and focussed and only saluted after the post. The rules have been drummed into us!" laughed Xola.
It was his first winning ride after 42 starts.
Xola vividly recalls his first ever race under rules on the Gary Rich-trained Hiva-Oa-Koi at Scottsville. The date was 23 June 2018. His mount was 100-1 and there was no pressure. It was all a blur and he ran second last.
"It was a great step to ride in my first race. But then I had another 40 rides and the winner just didn't happen. Every week that passes one feels less confident. Your mates are all riding their winners. I started wondering if  would set some sort of a record. Any sport has a psychological angle. Self-belief and confidence are a great tonic. So now you understand what a very lovely Christmas Wily Lass presented me as well as all the people from my own Dad to Mr Gavin Smith who have encouraged and supported me. That win really didn't come a day too soon," he laughed.
The former Rocklands High School pupil, who says he was pretty average academically at school, indicates that he has another two years left at the academy and intends to focus on his riding and is naturally keen to bang home a few quick winners now.
"The riding masters have been great and they guide us and show us where we go wrong. I can't rest on my laurels now that I have my first winner on the board. What do they say- you are only as good as your next winner? But, seriously, I need to up my game now again and keep the positive pressure."
When asked on who he'd like to model himself on, he unhesitatingly says former SA champion S'manga Khumalo.
"I think he is the perfect benchmark of a whole new generation. If I could be half as good one day as S'manga, I would make my family proud."
And the most unlikeable aspect about race-riding that isn't quite covered in the textbooks?
"Probably the senior jockeys shouting and giving us juniors a hard time in a race. I have gotten used to it and they are only trying to guide us and highlight our errors so that we can learn from them. Fact is, race riding is not a game for cry babies! But I'm so very fortunate to be here. And I wouldn't change my career for anything on earth."
‹ Previous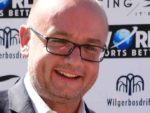 Betting On A Winning 2019