Emotions ran high at Hollywoodbets Greyville on Friday evening. Five-time SA champion jockey Mark Khan booted home a winner for his former SA Jockey Academy buddy Anthony Delpech. It was a sentimental crossing of their path, some 38 years after they trained as young apprentices.
An energetic soon-to-be 54 year old on 30 September, Mark Khan boasts the athleticism and well-being of a man half his age and rode a typically balanced and powerful finish to win the second race on Phaka Imali on the Global Team Horseracing evening, for the Hollywood Syndicate.
"It's interesting how life takes us on different paths. When we were teenagers, we were firm friends – we still are. We had stars in our eyes and great plans and ambitions. Who thought that life would have taken both us all over the world, and here I am riding a winner for one of the country's leading owner syndicates, managed by Anthony Delpech? What a rare pleasure that winner gave me!" Mark told the Sporting Post on Sunday as he said he was blessed to have been given the opportunity to enjoy a fantastic career amongst wonderful people and great horses.
Another multiple national champion, Anthony Delpech pointed out on Friday evening that racing is 'near impossible to walk away from.'
"Mark has had his injury challenges. He is a real soldier. In my case it was no coming back after my accident in 2018. I relate to Mark and admire his tenacity," added the Hollywood Syndicate boss.
And that is certainly the case.
Mark Khan announced his retirement from the saddle in 2010 after sustaining injuries in a fall the previous season. But he returned to the saddle in 2017 – booting home his first Gr1 ride in over 7 years when Hero's Honour won the Gr1 SA Derby in May 2018 – a few weeks later he won the Gr1 Allan Robertson Championship on Mighty High.
There was plenty of fight in the old dog, and while he enjoyed great success in 2018 and 2019, riding for the IRC and others, covid came and derailed the world. But he was riding winners again in 2021. Then a nasty accident in the starting stalls earlier this year set him back.
"I was out for about three months but am back strong and very fit again. My body feels good and while I won my first title riding 301 winners from 1600 odd rides, I am not in that zone anymore or chasing any titles – but am very happy to ride work at Turffontein and Randjesfontein, when I am required."
Mark feels he has plenty of years left and there is no thought, plans or talk of hanging up his saddle.
"Stanley Amos, Karl Neisius and Garth Puller all went to a good age of varying degrees. Look, there is no question there is a new generation of young rider – and there are some really top youngsters. But it's a cycle – we were there once – we thought it would never end. It's their turn today – tomorrow there is a another emerging generation coming through. It's much like any sport – rugby , cricket, soccer. We all get our turn. I am just enjoying my racing and honoured to be a part of it all still. My son is in grade 11 and varsity beckons. So we work and soldier on," he laughs.
Born and raised in the vibrant Cape Flats community of Grassy Park, with the popular Busy Corner a renowned landmark, Mark joined the SA Jockey Academy in 1984 alongside fellow future champions, Anthony Delpech and Anton Marcus.
He rode his first winner on Mascara for the late Alan Higgins and went on to win all our major races in the course of his association with top yards, including the likes of Mark Watters, Geoff Woodruff and Gary Alexander. He was associated with top horses like Igreja, El Picha, Faralmond, Nhlavini, Timber Trader, Monet, Shepherds Moon, Hawaiian Wahoo and Stormy Appeal, as well as the stayer Aquanaut and also won the Cape Derby on Resfa. The Mauritius champion jockey in 2000, Mark also plied his trade with distinction in Malaysia, Singapore, Germany, Australia, and Macau.
"Racing has been really very good to me and I have never looked back," says the non-drinker and non-smoker, who tells that he lives 'a normal healthy life', bar his weakness for coca-cola and chocolate.
Mark, who moved to Gauteng about 25 years ago for professional reasons, is married to Rhonda and is tangibly proud of his children Sandra (26) and Cameron (17).  The Khans are resident in the River Club in Sandton.
Quizzed on racing's future, Mark says that he believes there are exciting prospects on the horizon, and that things are moving forward.
"I feel we shouldn't be so quick to criticize or be negative. Take the Global Team Horseracing concept. It's a lovely buzz and atmosphere on-course, and while there are aspects of it that probably need tweaking, and it's very fast – despite the fact that we only ride in alternate races – there is a concerted effort to do something on the lines of the T20 concept and make it exciting for a wider audience. And there is no question that horseracing needs to broaden its appeal. Let's give initiatives like this our support rather than hanging on its tail," he suggests.
‹ Previous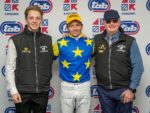 The New Generation Smith