Four winners in seven days speak loudly of the current rich form of Piet Botha's Milnerton-based Dare 2 Dream team.
While every winner has always been celebrated like a Grade 1 success at the family friendly operation, it was their first syndicate winner at Hollywoodbets Durbanville on Saturday that demonstrated the unbridled joy of racehorse ownership, and had post-race interviewer Vicky Minott considering putting in for some overtime!
The first of four winners for the outstanding Richard Fourie on the sundrenched afternoon, the Millstream Farm-bred Royal Mo colt Tyrion Lannister overcame a wide gate in the opener to break his maiden at his seventh start. He has earned along the way, so has been a terrific starter for the new owners.
The athletic galloper, who was first sighted by Piet Botha at Millstream and then purchased at the Cape Yearling Sale in 2022, did things the hard way from the front, at his first sight of the country course.
Piet tells the Sporting Post that he fancied Tyrion Lannister, who alongside fellow syndicator Sansa Stark, was named by his son Aidan, who is clearly something of a Game Of Thrones fan!
"It's human nature, I suppose. The anxiety creeps in when one invites 14 owners and they arrive on course with great expectations. One starts thinking of the wide draw, the fact that he had not run in 13 weeks, and then his ability to cope with the track. Not quite Springbok supporter nerves maybe, but you know what I mean," laughs the likeable Piet, who always has time for the media – and, probably more importantly, answers his phone.
The top-class horseman believes the fact that his charge was seeing Hollywoodbets Durbanville for the first time actually worked in their favour.
"Once he was out front he didn't grab a hold and was pricking his ears and having a look-see! So he relaxed beautifully and Richard always judges things so beautifully!" he adds.
Fourie, who is embroiled in a friendly brawl with colleague Muzi Yeni at the top of the national log, has ridden 3 of the 4 Botha winners over the past week.
"I called his agent Ken Nicol. I said the ride is available if Richard is. We got lucky!" adds Piet.
We put it to him that securing the services of a jockey of Richard Fourie's talent, must be a boon for a small yard.
Enjoy the replay:
"I don't think the size of the yard matters – big or small yard, it's a pleasure having Richard aboard. It was his first race-ride on the 3yo. But he always listens – I'd hardly call it instructions. And then he knows what to do. He's a thinker and can make trainers look good!"
Piet and his wife Nicole bravely took the plunge with just nine horses out of the Dare 2 Dream Stable's Barn 9 at Milnerton in August 2018.  They have been innovators, offering a holistic experience of fun, transparency and thrills to new owners, after moving into their new accommodation at Milnerton last year.
Ironically, despite training many more winners, his string has shrunk slightly and now numbers 27.
"Post covid, it has not been an easy economy. And many guys, who could maybe spend money buying horses, have had to rein in. Nicole and I were also feeding too many of our own horses. So we are operating leaner, but never meaner! I have no doubt that larger partnerships and syndicates are the way to bring in new owners."
So after deciding a year ago that he could not keep relying on his traditionally loyal clientele to always be buying him horses, Piet launched his first syndicate with two decent horses he felt would give the new owners some fun.
"Look at the joy in the winner's enclosure on Saturday! Wow. That gave me more pleasure than winning a feature race, just experiencing what enjoyment our owners were feeling. Couple that with the fact that we encourage owners and prospective owners to join us at our yard and enjoy the social and family experience of being part of the sport, and I still feel we are onto a winner," he adds sincerely.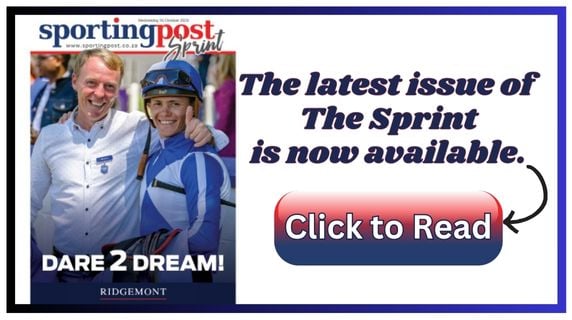 On Sunday Piet was at Hollywoodbets Durbanville for the CRS Ready To Run & Unbroken 2yo Sale, with plans to buy a few nice horses to boost his string.
"We don't have an open cheque-book, so we always set our limits. But, I was lucky. I managed to buy the one beautiful filly that I had set my heart on. She's a staying type, but, in my opinion she will win early and is quite an exciting prospect. We will be putting her together, if anybody is interested in getting involved!"
At the age of 48, and with five Cape winters of training horses behind him since calling it a day as a jockey in 2017, Piet is one of the most sincere and genuine men in the game.
His answer to our question as to whether we can expect the Botha winning run to continue in the summer, sort of highlights his no-frills salt of the earth approach.
"We are thrilled with our achievement of four winners in a week and will enjoy and treasure the moment. I am also a realist though, and I think we took our chances at the right time, and I may not always be readily competing against the real hard-knockers at the height of the season. But we are always out to find the Grade 1 winners and to keep improving our performance."
Interested in chatting about getting involved? Contact Piet Botha on +27 073 122 4874 / email [email protected]
They Dared 2 Dream!
These are the happy syndicate members who enjoyed the win on Saturday:
Nicole Botha
John Vertue
Nicky Vertue
Kaamilah Finch
John Steytler
Elizabeth Pilbeam
Gregory Hart
Hilton Yutar
Gary van den Berg
Nicole van den Berg
Peter De Beyer
Leigh De Beyer
Ricky Collins
Dev Naidoo
‹ Previous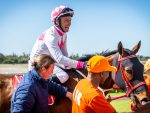 SA Jockey Is Off To Dubai!