While the spotlight was firmly focused on the big guns at Hollywoodbets Durbanville on Saturday, a career best achievement for Sporting Post-sponsored jockey Tristan Godden and Summerveld trainer Mike Miller respectively, had the champagne corks popping in the KZN Capital City.
Tristan started the Hollywoodbets Greyville Wednesday meeting off on a high when he booted Skytrix home for the Mike Miller yard!
The 27-year-old has enjoyed a good year and his season averages also received a welcome boost courtesy of Saturday's four-timer.
In April he registered his first career graded stakes success when he won the R200 000 Gr3 Byerley Turk on the Miller stable's Strawberry Bear for the Miller yard, and owners Sterling Miller and Tony Jelinski – names that featured prominently on the honour roll at Hollywoodbets Scottsville on Saturday.
"It's all about enjoying the support and having the horses to ride. The Miller yard are a professional and happy operation and I'm very fortunate to be able to consider myself a member of their team," Tristan told the Sporting Post on Sunday.
He got the ball rolling in the third race, the first leg of the Pick 6, as the fancied Flight Maneuver made short work of her rivals, coming home well clear of Elusive Belle
In the fifth, Tristan was back in the winner's enclosure with the favourite Billy Of Tea staying on gamely as he went 2400m for the first time, getting the better of the filly Lady Is A Champ who had the benefit of 4kg claimer James Lihaba.
Tristan then tells of the win that gave him the most pleasure on the day.
"Every winner is like gold, but Sabatini is one of my favorites and she won the sixth race to finally register her second career victory. She had 61,5kgs on her back and we were up their all the way. She went all the way to the line and won rather well. She could follow up now that her confidence is back," he added.
Tristan says that he had ridden many doubles, so registering the treble on Sabatini meant it was a good day!
Then came the dealmaker!
"Barzalona was previously based with Candice Bass-Robinson down in the Cape and had some fair form down there. This was his second run for us and Mr Craig Eudey introduced a masterstroke via the fitment of the blinkers, which made the difference. We were taking on a good field. He relaxed and kicked on late. He can go on and follow up on this!" observed Tristan.
Interestingly, Barzalona went into Saturday's race off a 92 merit rating, having dropped from a high of 106.  His owners Gulf Racing Club Syndicate (Nom: Mr K Felix), Pound Bloodstock (Pty) Ltd (Nom: Mr Sterling M Miller) & Messrs G C Cornwall, Petrus du Toit & R T Smart will take the win with both hands and could be in for some more fun based on this performance.
Resident in Hillcrest and engaged to Bianca Smit, Tristan has an ethic of hard work – so much so that he hasn't seen his family, who are only a few hours away in Richard's Bay, for six months.
"We are racing or riding work seven days a week. So as much as I'd like to go and visit my family, I need to maintain the momentum. It's all about hard work and opportunities," he says again.
Tristan has never ridden in the Western or Eastern Cape and doesn't travel – as much as he'd love to if given the opportunity.
Mom is a schoolteacher and Dad owns an engineering business and their son certainly has made giant strides and matured into a rider of great strength since his first ride on the Yogas Govender-trained Moon Frost for Plattner Racing at Clairwood Park on 15 September 2013.
His first win came at Clairwood on 11 May 2014. It was on a horse called Secret Traveller for Kumaran Naidoo.
Tristan explains that eight years on, his professional life allows him to stay fit and enjoy some of his hobbies. He tries to get time to go and drop a line in the water or play a video game to relax.
"I'm fortunate that my weight is consistent at around 54 kgs. So, I can also enjoy the experience of visiting and enjoying restaurants!" he laughs.
We asked him if he is happy with his 15 winners this season, at a strike rate of 11%.
"I am always striving to raise my game. Saturday's four-timer was a mathematical and confidence booster. I am excited about the Miller yard's string of youngsters. They probably have their best group of horses that I have experienced and their record with 2yo's is there for all to see."
The first 2yo race is at Hollywoodbets Scottsville on 3 December. Does Tristan have an ace up his sleeve?
"With the incentives paid by BSA, we all want to win the juvenile races. It's become a competitive zone, but we do have some lovely youngsters," he smiles.
Miller Time!
All of Tristan Godden's four winners were trained by Summerveld conditioner Mike Miller who charged into the lead on the KZN Trainers Championship log after his five-timer at Hollywoodbets Scottsville on Saturday.
With an ill Mike watching the action from home, veteran assistant Craig Eudey (a former trainer himself) saddled the eleven Miller runners on a memorable day.
After Godden's quartet, Mathew Thackeray capped a memorable Miller day when going gun to tape to win the last on the 16-1 Ninety Nine Heros.
Mike Miller's son Sterling had a share in all five of the winners, having never had more than a double before.
Two of the five Miller winners were part-owned by Ben Sahd, whose Waterford Stud have a strong relationship with the Miller yard.
Two of the winners were also part-owned by another big supporter of the yard, the enthusiastic Tony Jelinski.
The Miller quintuple arrived at cumulative win odds of over 6000-1!
‹ Previous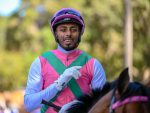 When You Get A Chance…Take It!