For 22-year-old Yuzae Ramzan, receiving a feature race call-up from SA Champion trainer Justin Snaith was tantamount to getting the thumbs-up from Rassie Erasmus to run out in the Springbok jersey to take on the All Blacks at the Stade De France – that after only ever having been reserve orange peeler for the third rugby team at school!
The quietly spoken former Alexander Road High School graduate was chatting to the Sporting Post on Monday after registering the biggest victory of his short career in the saddle.
He guided Nic Jonsson's progressive stayer Mucho Dinero to victory in Saturday's Listed Woolavington Stakes at  Hollywoodbets Durbanville, in the manner of an old pro who had been there, got the t-shirt, and had seen the movie!
Yuzae tells that when Gavin Smith Racing assistant Dean Smith contacted him early last week to give him the heads-up to expect a call from Justin Snaith, he was naturally taken aback. He had only ever had one ride – a pick up at that – for the Snaith team.
When the call came, there was no dithering or thinking about it.
"I can ride at 50kgs and if it's a Snaith horse, I realised that I had to have a shout. Then I looked at the form and realised that I really did have something here!"
The irony is that as the early Saturday morning Airlink flight approached the Mother City, Yuzae was enjoying his first ever sight of the world-famous city!
"It was my first time in Cape Town. I was feeling very excited. I was not sure what to expect. When the Uber driver dropped me at the gates of Hollywoodbets Durbanville, I was struck by the ambience – beautiful trees and greenery, and everything was so neat and classy," he recalls as he chats to us about the biggest day of his professional life.
Yuzae rode Renowned for the Snaiths in the opener. That was his first feel of the country course and then he had a three hour plus wait for the feature.
"I just relaxed and took in the atmosphere and the friendly people. Grant van Niekerk gave me some insight as to how to ride Mucho Dinero and he encouraged me to relax. In the parade ring Mr Snaith put me under no pressure. He said ride him as I find him. He told me he's a decent horse and would run a good race. I had watched the replays, so I knew that he likes to race from off them."
The Gqeberha-based jockey adds that Mucho Dinero proved to be a pleasure, and an easy ride.
"He's the kind of horse that drops himself out. I had to work on him a bit early. Into the straight he got serious. I gave him one smack and he responded immediately. He was hanging in a bit, but I changed my crop to the left and he took off. I rode and pushed him with my right hand. At the 100m marker I could hear the opposition fading into the distance. Wow, what an awesome feeling when we hit the line! I smacked him affectionately to say thanks with my right hand down the shoulder and I punched the air – and the crowd cheered!"
He then adds, almost apologetically, that the last time he had been so animated at the winning line was at Hollywoodbets Greyville on 14 December 2018 – the day he rode his first winner, Captain Cobalt, for trainer Lowan Denysschen.
We asked him to compare the vibe at Hollywoodbets Durbanville on Saturday to his home track, Fairview.
"More people and much more social, I would say, when compared to a routine day at Fairview. But there was quite a vibe at Fairview on Sunday for the Algoa Cup Festival," he observes
We asked him how he celebrated the big win.
"All the guys in the jockey room at Hollywoodbets Durbanville, and even a few trainers, came up and shook my hand. I had so many whatsapps from everybody, including my very proud Dad, when I switched my phone on after racing. I spent Saturday evening with a colleague in Cape Town. Then flew back early on Sunday. Mr Gavin Smith bought me a drink after races and congratulated me!"
He then adds that he had written to owner Nic Jonsson and trainer Justin Snaith to thank them for giving him the chance.
"They were both so kind in their responses!" he adds.
So where to now for the man who does most of his work riding for the East Cape champion yard of Gavin Smith yard?
"Us lower-key jockeys don't get many chances. So I am very privileged to have been given a golden opportunity and really pleased that it all worked out. There are no expectations that I will be getting any more call-ups. But I am on standbye and ready whenever they need me!"
Looking at life overall, Yuzae, who resides with his Dad Rashid and Mom Razwan at the family's Lorraine home west of Gqeberha, says that he is happy and very fortunate, and has no regrets about his career choice.
"We are a close-knit community and I have so many friends. It's not easy in terms of the cost of medical aid and the like, for jockeys with a family to look after. I pay my folks board and lodging and they have always taught me the principles of looking after your money."
Asked who his inspirations were early on, Yuzae says trainer Michael Roberts drummed into him the importance of judging pace, while Calvin Habib and Brandon Lerena are two more senior jockeys that come to mind.
"They have positive attitudes towards racing, and are always willing to give advice and help the apprentices. They are both gentlemen with impeccable manners and are good role models."
Asked if he would like to do something different, he says that he would like to travel and ride in the different centres, if the opportunities arose.
"I was enjoying KZN where I trained at the SA Jockey Academy, but when covid hit I moved home to Gqeberha," he reflects.
Taxed on what he does in his spare time, the smartly single man concedes a love of horror and comedy movies – and he watches a lot of racing from around the country.
‹ Previous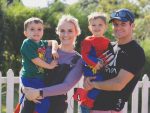 Bok Billy Becomes An All Black