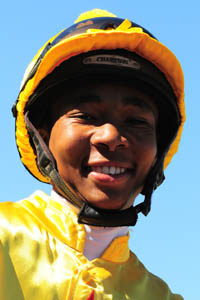 Newly qualified and WINNING FORM-sponsored jockey Tshwaro Appie has shown himself to be a young rider of real promise, so much so that he has caught the attention of no less than champion trainer Mike de Kock.  Tshwaro has been given numerous opportunities by the De Kock yard, notably through his association with the very good sand horse Storm Crossing, and has more than rewarded the faith shown in him.  The 21 year old (who completed his apprenticeship at the beginning of 2012) has also been entrusted with some very good rides from other major stables and is clearly on the edge of a successful career in the saddle.  He is not scared to learn and improve his craft with guidance from more experienced jockeys, and we at Winning Form are certain that he will do us proud as his career advances.
What is your name and age? Tshwaro Appie and I am 21yrs old.
What is your star sign and birthdate? 18 June 1990-Gemini.
Where were you born? In the North West.
Where do you live? Joburg south, Glenvista.
Tell us about your family? My mom and dad have been happily married for over 30 years. They are the proud parents of three children. My brother & sister and myself. My family still live in my hometown of Westonaria.
Do you have a 'nickname'? I do but I would rather not mention what it is.
Favourite food? Anything cooked with love.
Favourite drink? Castle Lite.
Favourite music? House music.
Favourite sport? I enjoy soccer.
Favourite soccer team? Kaizer Chiefs.
What is your favourite holiday destination? I haven't been on holiday yet but I would love to go to Amsterdam!!!
Briefly discuss your school days and favourite subjects? I went to Westonaria until Grade 11 and then proceeded to the academy. I was never really a fan of school so I didn't have a favourite subject.
How did your interest in horses come about and how did you get into the academy? I wasn't at first and didn't know much about the academy. A friend of mine, Corne Erasmus, applied and didn't qualify. He was kind enough to give me the forms and advised me that I should give it a try.
Has anyone in your family ever been connected to horse racing in any way? No.
As a school boy did you follow horse racing and did you have any favourite horses or jockeys at the time? No.
Once you got into the academy who was the jockey who had the most influence on you? Keagan Latham.
Who was your riding master? How has he inspired you to make the most of your career? When I first got to Joburg my riding master was Robert Moore who molded me into the young jock I am today. He was followed by training master Gary Waterston who continued to support me.
Which of your fellow apprentices at the academy inspired you most to never give up in your quest to be the best you can be? Not one specifically. We all supported each other in the difficult hurdles we faced.
Describe a typical day at the academy? Work, eat, sleep and dream of the day you become a fully-fledged jockey.
How long were you in the academy before you competed in your first race? Tell us about that moment? I rode my first race at the end of my second year. It all happened so fast that I never had a chance to grasp the moment.
How long did it take before you began to have the confidence that you could ride with and possibly beat the likes of Anton Marcus, Piere Strydom, Anthony Delpech, Robbie Fradd and other top jockeys? It took time but once I gained the confidence of trainers and was given the chance to ride top quality horses then I began to have confidence in myself.
Did any of the senior jockeys come to you after a race to give you advice to help you improve? Yes. Marthinus Mienie, Randall Simons and a few more, are always willing to help us out.
Tell us about your first winner? I won on WILD RUSSIAN for Wallace Tolmay in April 2009. It was on the Tuffontein  inside track over 1400m and I was drawn 4. My proudest moment thus far.
Which trainer gave you most rides as a young apprentice? Mr Eramus, Mr Webber and Mr De Kock. Mr Tarry is also giving me chances.
Which tracks have you raced on and like best? I've raced on the Durban and Joburg tracks but prefer Turffontein best of all.
You have said that Igugu is the best horse you have ridden in work. What sort of feeling does she give you? It is a beautiful thing to ride her.
You shot to fame with victory aboard Storm Crossing in the August stakes on the sand a few seasons back. Tell us about it? I can't actually put words to the moment of such achievements, but it was definitely one I won't forget.
As yet you have not been beaten on Meadow Magic. Tell us about him? He is a lovely horse, who's sure to have a bright future.
On the 10th January you became a fully-fledged jockey. What are your plans now? To be the best jockey I can possibly be and to succeed in the industry to have a fulfilling career.
How many winners did you ride during your apprenticeship? 65.
How many Graded winners did you have thus far? Only 2…but watch this SPACE!
You are getting some really good rides from the Mike de Kock stable. How did this relationship come about? I've always been committed to riding work in the mornings and I was fortunate enough to be given the opportunity by Mathew De Kock to ride for a great stable.
How inspirational is it to ride for one of the world's best trainers? Absolutely inspiring, it gives me great confidence for a bright future knowing that because of the stable I ride for I have a better chance to be recognized by other trainers and owners.
Have you been to Dubai with the De Kock contingent? No, but there's always hope.
Apart from Igugu which horses can the public follow through the season? Ilha Bela, my personal favourite.
Apart from the de Kock yard which other stable or stables are you closely connected to? Mr Tarry and Mr Webber.
Is there anything about being a jockey that you dislike? The disappointment from the onlookers when you don't produce what they expect of you.
You are quite tall for a jockey. What is your ideal riding mass and do you have problems maintaining it? I'm fortunate to be very light and my lowest riding mass is 50kg.
How good a judge are you in assessing gallops? I get better every day.
Do you take an interest in the breeding side of the game and if so, what is your favourite stallion? I do take an interest, but I leave it to the experts who have been doing a terrific job thus far.
What has been your most memorable moment in racing thus far? The day I got my first salary I couldn't stop smiling and all the hard work became worthwhile.
What was your most embarrassing moment to date? When a horse bolted with me and ran right around the Vaal race course.
If for any reason you had to give up riding what other career path would you choose? I would consider opening up my own business because, as jockeys we have to manage all our own finances and that would be all I know.
As a jockey the temptation to become involved with big punters is always there. How do you handle this situation? I ignore them and focus on my race day ahead.
Outside of racing, what are you passionate about? Socializing with friends and having a quiet drink to forget about the stresses of work.
If you had any advice for apprentices in the racing game what would it be? Always keep your feet on the ground, stay level headed and always work hard. At the end of the day it will pay off.
Is horse racing well policed? No comment.
As a fellow youngster what can be done to attract more youth to our beautiful sport? More advertising can be done. Not only for the big race meetings but as an everyday sport.
Do you have a steady girlfriend or are you playing the field? I quote my wise Mum "Panki, STAY AWAY FROM GIRLS CAUSE THEY GONNA GIVE YOU GERMS" lol.
‹ Previous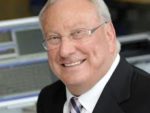 Bernard Kantor