A top 3yo. A champion sire. A great race. A doyen veteran trainer.
These are the key players as history unfolds and we count the days down to a bid for a world-record performance in Saturday's R1 million Gr1 Cape Guineas.
The unassuming Vaughan Marshall's body language almost nonchalantly dismisses suggestions of any pressure as he chats relaxedly to the Sporting Post about the unbeaten One World's bid to make it a perfect six from six.
And, maybe even more importantly, to run the race of his life to register a Cape Guineas-Captain Al hat-trick for the master trainer – who coincidentally also saddled Captain Al to win the classic in 2000.
"I have been fortunate to have enjoyed the privilege of training these high-class equine athletes. It may sound like a cliché, but one really cannot win the classics without the horse," says Vaughan.

He won't be drawn on comparisons, which he suggests are meaningless anyway, between the late champion sire and his 2016 and 2017 Cape Guineas stars, William Longsword and Tap O'Noth, and the exciting One World.
"They are all cast in the mould of their father. Powerful, strong athletic horses with hearts of a lion. Luck plays a part in racing – but ordinary horses never win the Cape Guineas. History is the barometer in that regard,"adds Vaughan.
But he quickly points out that One World is a 'very special'colt and that he has enjoyed a near flawless preparation into Saturday.
"He has done everything we have asked of him. He had to make his own pace in the Concorde Cup and then fended off Chimichuri Run with courage."
The Concorde, run in past years as the Selangor Cup, has produced six Guineas winners in 21 renewals with One World looking to follow in the illustrious hoofprints of Act Of War, Variety Club, Le Drakkar Jay Peg, Express Way and Alpha Omega.
"Look, we would like a pace in Saturday's race. Something to track would be ideal. But One World is a versatile athlete and, if need be, Anton (Marcus) will go up and set his own fractions. I am expecting a big effort from him. As I mentioned earlier, he is a very special talent," added Vaughan of the R425 000 Cape Premier graduate, who has clocked up R536 000 in earnings to date.
Now in his 67th year, the greying Empangeni-born trainer with over 40 years of experience  trained his first Cape Guineas winner – as a then Natal based conditioner – 32 years ago when Michael Roberts poached the race on Sea Warrior who raced into the teeth of a howling South Easter to grab the Richelieu Guineas trophy from a fast pursuing Ecurie in Marshall's first season in the Cape.
A son of Complete Warrior, Sea Warrior was bred by Koster Bros and cost R18 000 at the 1984 National Yearling Sale.
Vaughan's next Guineas strike was with the Coromandel bred Millard retread Face North in the R300 000 1990 renewal – a low key affair with the building of the new stand at Milnerton still in progress and no sponsor for the first time in 13 years.
Owners Tony Ross and Adrian Gardiner described their son of Northfields as 'the ugly duckling that nobody wanted.' A winner then of his three previous races, Face North started his career with Terrance Millard before being sent to Port Elizabeth and the Marshall satellite yard.
The then Geoff Woodruff-trained Pas de Quoi's 15 draw in the field of 16 did not deter punters – he remained a 2/1 favourite from the time betting opened to the day of the race when he firmed to 17/10.
This confidence was hardly surprising. Unbeaten in his five starts, subsequent Met winner Pas de Quoi had displayed the essentials needed to win the Guineas: speed and stamina. But in the end it was the draw and the courageous performance of the Natal-trained Face North under Kevin Shea that were his undoing.
Vaughan had to wait until 2000 for his next Guineas winner.
The great Captain Al was ridden by Jeff Lloyd to beat Glamour Boy – the latter raced for NHA Chairman Ken Truter, who is a part-owner of Saturday's favourite, One World.
Fast forward 16 years and it was the turn of the Klawervlei bred William Longsword who won the Guineas under MJ Byleveld. Supplemented into the classic after pulling up sore following an unplaced effort in the Selangor Cup, the R2,1 million CPYS graduate is now on the sire roster at the farm of his birth.
After William Longsword's Selangor miss the previous term, Vaughan went the Cape Classic route with 2017 winner Tap O'Noth. Bred and raised at Varsfontein Stud by Alec Foster, it was Marshall mainstay MJ Byleveld who did the honours again to steer his third Guineas winner home – his first being Le Drakkar for Dean Kannemeyer back in 2008.
Tap O' Noth's Cape Guineas victory ensured his late sire joined an elite group of stallions responsible for at least two major Guineas winners in a single crop.
Other local stallions to have enjoyed more than one Guineas winner in a crop include Al Mufti, whose sons, the very same Captain Al and The Sheik won the Cape Guineas and SA Guineas respectively in 2000.
Also in this illustrious company is Fort Wood, whose daughter Shadow Dancing won the Cape Fillies Guineas in 2004-2005 and son Dunsinane won the SA Guineas of the same season.
Superstar Dynasty's son Act Of War won the Cape Guineas and daughter Alexis won the KRA Fillies Guineas in the South African racing season of 2013-2014.
On a slightly different note , what does Vaughan feel about racing and the sport's quest to regain the glory years.
"I don't know if anybody has the answers. If Saturday's Green Point Stakes couldn't draw the crowds then what event can? Maybe we are preaching to the converted? Punting the merits and excitement of the summer features on Tellytrack – a channel non racing people obviously never watch – is never going to reach out to a new market."
Vaughan concluded saying that he didn't feel we do ourselves any favours as a sport.
"Take a recent Tellytrack show where the use of crops was discussed. Why go to an airport and ask the mostly uneducated public for thoughts on an instrument they have never seen or used? It's not a hurtful tool. We need to reach out and educate the public. This is an exciting sport. Hopefully we will see more people at Kenilworth on Saturday."
‹ Previous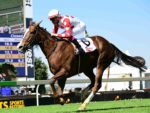 The Lear Jet!