CTS COO Adrian Todd was born in Australia and grew up in Mount Isa (don't worry, I had to look it up on a map too). Mount Isa is situated close to the Queensland / Northern territory border and can fairly be described as being in the Australian Outback.
After completing his schooling and working with horses and cattle for a while, Adrian headed off to the UK. From there he travelled to the US where he got involved with Thoroughbreds on a full time basis, spending a number of years working at Airdrie and Lane's End studs in Kentucky. Adrian also considers himself lucky to have been able to meet Pat Parelli and spend some time with him learning about stallion behaviour. From there, he got involved in industry development and education of future horseman, sourcing suitable candidates from all reaches of the Thoroughbred world and facilitating their travel and visa requirements to work in the USA. The job involved extensive travel and he says he "got to meet absolutely everyone."
The business required increasing amounts of time in South America and South Africa in particular and in one of those twists of fate of being in the right place at the right time, Adrian was invited to join the task team working on the inaugural Cape Premier Sale initiative in 2010. Having subsequently met and married a local girl and settled in Durbanville, Adrian is planting firm roots in South African soil.
Adrian explains that the Cape Premier Sale was initiated by request of a number of the larger stud farms and the inaugural sale in 2011 was the start. "It was a deliberate attempt to improve the local bloodstock market by cultivating a new sales atmosphere and that's something we work very hard to continue under the CTS banner."
In 2012, CTS went it alone, adding the Book 2 sale at Kenilworth, sponsoring the 2012 Gr1 Cape Guineas as well as their first Cape Ready To Run sale with the accompanying carrots of a R2million sales race and a R100k cheque to the vendor of the winning horse.
Innovation
In 2013, innovation was the name of the game, with CTS rolling out a R7,5 million three-year-old Challenge race series in the 'greatest racing challenge SA has ever seen'. It featured a series of three 1400m R2.5 million stakes races to be run in Johannesburg in February 2015 (recently won by Siren's Call), Cape Town in 2016 and Durban in 2017 open to graduates of their 2013, 2014 and 2015 March yearling sales respectively, with the winner earning R1.1 million, R500k to the runner up and the rest of the stake divided between the next eight finishers, with the tenth placed horse earning R50,000. There was also an additional R1 million bonus on offer to the trainer of the 2013 Book 2 graduate with the highest gross earnings at the end of its 3YO year.
The Lanzerac Hotel & Spa came on board to add their brand to the inaugural R2million 2013 Lanzerac Ready To Run Stakes.
October 2013 also saw the launch of the concept that has had the industry buzzing – the first $1 million race in Africa. With stakes paid down to 5 places and $500 000 to the winner, $200 000 to the runner up, $150 000 for third, $100 000 for fourth and $40 000 for fifth place, as well as a $10 000 cheque to the breeder of the winning horse, it is the richest race on the South African racing calendar. Exclusively restricted to graduates of the 2014 Book 1 Cape Premier Yearling Sale and the 2014 Book 2 CTS March Yearling Sale, the race is scheduled to be run over 1400m at Kenilworth in January 2016 to coincide with the dates for the 2016 Book 1 Sale and the Cape Flying Championship.
With the advent of the $1 million initiative, is important to note that $1 million replaces the original R7,5 million challenge series. Therefore subsequent to the 2015 stakes races, the original series of races are being rolled into the $1 million initiative.
Upping the stakes again
In 2014, they had Cape Premier Yearling Sale, Book 2 (re-christened the CTS March Yearling Sale), the Cape Ready To Run sale and added their inaugural Joburg Ready To Run sale at Inanda as well as announcing plans for a Johannesburg Select Yearling Sale in 2015. Additionally, the Ready To Run race stakes have been upped to R2,5 million, effective from 2015 and, as an added innovation, the 2017 edition of the CTS Million Dollar race will now comprise two races – one over 1160m and another over 1600m. Both races, to be run at Turffontein Racecourse on CTS Million Dollar Day, are open to three-year-old graduates of the 2015 Cape Premier Yearling Sale, the CTS March Yearling Sale and the CTS Emperors Palace Select Yearling Sale. And if that's not enough to whet the appetite, they announced a $1 million bonus for any owner or partnership that manages to win both races.
Fresh blood
Just ahead of the 2015 Cape Premier Sale, Chairman Chris van Niekerk announced an exciting deal involving the importation of 25 mares in foal Southern Hemisphere time to the likes of flagship Coolmore stallion Rock Of Gibraltar and talking horse Frankel. Adrian confirms that the mares, purchased as the property of CTS have arrived in South Africa. Twenty-one are in foal to Rock Of Gibraltar and four in foal to Frankel. The progeny will all be for sale as yearlings and it's an initiative he is particularly excited about.
Battle of the sales companies
On the rather thorny subject of CTS annexing territory in the local sales space, Adrian says "Our slogans of 'It's a lifestyle' and 'everyone's a VIP' are there for an important reason – we mean it. A racehorse is a high value luxury purchase and it's important that people enjoy the experience." Chairman Chris van Niekerk recently announced that while horses led through a CTS ring may be entered for any of the other CTS sales, any horse sold under the CTS banner would forfeit its ticket into any of the incentive races should it subsequently pass through a non CTS sale. Adrian explains "the idea is to offer an added bonus to CTS clients."
What's In A Name?
The company is trying hard to move away from the 'Book 2' label and trying hard to market their second book as the 'March Sale'. Adrian expands, "We're trying to grow our March sale into a quality value sale. I think we've proven that with Siren's Call and Trophy Wife not only finishing 1-2 in our sales race, but also in open company in the Gr2 Wilgerbosdrift Gauteng Fillies Guineas. We're very pleased about that." This sale, now in its 4th year, kicks off at Durbanville on Friday, 20 March and offers a little over 250 yearlings for sale across the two days.
Emperor's Palace Select Yearling Sale
The forthcoming Emperor's Palace Select Yearling Sale is scheduled for 18 April and Adrian confirms that the printed catalogue will be available at the March Sale. However, for anyone wanting to plan ahead, the electronic version is already available on-line. Not only is this a new sale, it also has a new venue and it's important to remind everyone that the Emperor's Palace sale will be held on the Emperor's Palace premises in the D'Oreale gardens. The stabling complex will be set up in the car park, which Adrian says will be developed with true CTS style. There are 119 horses catalogued and Adrian is "Very happy. We have all the major South African stallions represented as well as a number of imports. It's a really nice catalogue and I think will be one of our strongest sales with a lot on offer. He has also confirmed an "interesting buying bench of both local international buyers."
And of course, all graduates of the Cape Premier Yearling Sale, the CTS March Sale and the Emperor's Palace Select Yearling Sale qualify for $1 million incentive.
Ready To Run – bigger and better
Then it will be on to the round of Ready To Run sales again and Adrian is pleased with how these have developed and come into their own. "As with any sale, it takes vendors a while to work out which are the most suitable candidates and also how and when to start the preparation process. As we've seen with the Cape Premier Sale, the vendors have learned really quickly how to prepare yearlings for that time of the year and we've also seen the same with our Ready To Run horses. It's been great getting the Summerhill team on board as they are past masters at the art of Ready To Run sales, but our sales are open to everyone and it's been great to see the overall standard improve year on year. The Cape Ready To Run is quite well established now, but this will be the second year of our Johannesburg Ready To Run and we're looking forward to it."
As the old saying goes, 'a good horse can come from anywhere' and with the CTS team seeming to possess an unlimited number of cards up their sleeves, it seems there will always be a few new places to look.
‹ Previous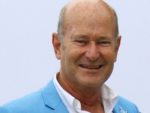 John Freeman