'United we stand – divided we fall'
Former SA champion jockey Andrew Fortune is worried about the state of the game.
He says that we have already hit the iceberg but that the big band Phumelela are loyally playing on – despite the water seeping in and already lapping at our beautiful horses' hooves.
The charismatic and, at times, rather opinionated deep contemplater of all things racing has been known to say what he thinks, when he thinks it.
But celebrating his 52nd birthday on Friday, and now a good few years out of the saddle, he views the landscape with a lot more pragmatism and maturity these days – and a deep concern for the future.
"I am not sure where I'm plucking all of these marine themed analogies from. Must be the advancing years! But the Titanic is one everybody relates to, I suppose. But I could always liken SA horseracing to a canoe with an ever widening hole in it – and no oars in sight to paddle ourselves to the safety of the shore. Everywhere I turn there seems to be an issue. We have become a negative community of naysayers and talkers. And believe me, I'm the world's greatest optimist – so I am not being negative with this chat  – rather realistic."
Andrew, or the 'Candyman' as he was popularly known in his illustrious career in the saddle, spoke to the Sporting Post on Monday just before flying out – cattle class, as he stressed – to visit his Cape Champion jockey son Aldo Domeyer in Hong Kong.
"I am so very proud of Aldo. He has a lot of my traits, talents and characteristics. He has developed into a world-class jockey and will be an asset to Hong Kong Racing. But he is a little like his Mum too. He is a softer natured person than me. And he is far away from home – it's tough away from the family – especially after having that 'Gomma Gomma' support in the Cape! We are a close family and we are always there for each other. He had a tough day on Saturday – he just missed the feature and then picked up a HK$30 000 fine and a five day suspension. So it's professional character building and quite testing after his flying two-winner start. But I take my hat off to the Hong Kong authorities. They take no nonsense and are consistent – so the game is well policed, it's safer and very popular with the public."
Even the vastly experienced Mauritian Magician Karis Teetan didn't escape the wrath of the Hong Kong stipes on Saturday. He was fined HK$2 000 for a fundamental error. He failed to present himself in the Parade Ring by the required time in the first race.
Aldo's day turned a bit sour in the third race on Saturday when his mount Gallant Legacy shifted in under pressure passing the 200m marker.
The official report states:
A Domeyer (GALLANT LEGACY) pleaded guilty to a charge of careless riding [Rule 100(1)] in that passing the 200 Metres he permitted his mount to shift in under pressure when not clear of SONIC FIGHTER, causing that horse to be checked and in turn shifted in across the running of VOYAGE KING which was severely checked. A Domeyer was suspended from riding in races for a period to commence on Saturday, 18 May 2019 and to expire on Thursday, 23 May 2019 on which day he may resume race riding (2 Hong Kong racedays). In addition, A Domeyer was fined HK$30 000.
Andrew was there when Aldo rode his first winners at Happy Valley on Arcada and Prance Dragon for Tony Millard on 1 May.
We asked him about the atmosphere and the general vibe on course, in relation to our big days.
"Look, comparing it with our racing is simply embarrassing. They just pack the people in. That was an ordinary meeting. It felt like the Met or the July to me. There was a buzz and atmosphere on course. Unbelievable! They have no bookmakers and maybe that's one of our underlying issues. Our Bookies are turning over double what the tote is doing, I hear, and are they pumping enough back into the machine? I hear not. But is it that simple? No, definitely not," he adds with a serious tone in his voice.
"You know what I have noticed. We have a lot of really intelligent and clever people in the top positions. They are a smart bunch in their own right. But they don't seem to have the feeling or the grassroots passion for the game. People are saying we need a Pied Piper. But when you are a trainer or jockey or groom on the breadline, you want to know that there is leadership, some answers and that we are all pulling together. I am not sure that happens – it's all vested interests and an apparent general lack of empathy."
He said that he would, for example, be behind Joey Ramsden's possible move to Singapore, and fully understood the mathematics behind it.
"I know Joey is still considering the offer, but he should take his chances. He is a top trainer and no fool. If Joey says it's tough here, then you must realise how hard things are!"
Andrew says that he has supported his wife Ashley with her dream to train and they have enjoyed good success at their Vaal base. He says that Ashley loves her horses and it's her dream job.
But he points out that Deshone Steyn, for example, has recently closed up and has headed off to work for the Bass-Robinson team as an assistant – and others have given up boxes.
"The problem is costs from feed to labour and the rest are spiralling out of control. And the average owner can't pay unrealistic keep bills – to cap it all our stakes are stagnant. You can't keep expecting folk to overlook the realities and keep throwing good money after bad, while the Execs are earning top dollar and not really making a difference. I foresee more trainers calling it a day or giving up boxes slowly. That is the first sign of a deep-rooted rationalisation. And then the authorities  have meetings with trainers and only invite selected individuals. That's not good darts. We should all be trying to find a solution together and have our say."
Andrew had his final boarding call and was keen to chat about more of the issues that face a divided sport.
We asked him quickly about the Fairview start on Friday and the snail pace in the East Cape Derby.
"A jockey will ride his race to suit his mount. That event looked a bit devoid of pace on paper. So maybe trainers should deploy pacemakers as insurance? It will boost field sizes and means no disappointments for the connections. Look, travelling eight hours up the coast isn't easy either. That horse will bounce back."
As for the mistaken switch of barrier gate positions in the first race on Friday, Andrew said that accountability was not in the dictionary of the game in this country.
"We all mess up – humans do make mistakes. Take it on the chin. Admit it. What will happen to the starter or the responsible officials there? Mmmm…let's wait and see. But I'm not holding my breath. We don't tend to enforce accountability and the consequent professionalism."
‹ Previous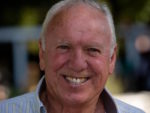 Still Rockin' Round The Clock!