It was interesting to see the reaction to the recent Andrew Harrison article on the challenges facing our smaller trainers. As such, it seemed appropriate to celebrate one such trainer from our ranks, Andries Steyn, who seems to have a rather nice, if somewhat challenging sort on his hands in the talented Power Grid.
About Andries
With his sunglasses and generous mop of strawberry blonde hair usually kept in check by a peak cap, Andries Steyn has been part of the Cape Racing faithful for just about as long as he can remember. He was born into a Swartland farming family and has the rough hands and ruddy complexion of someone who has spent their life outdoors. The middle of the family's three children, he is Piet 'Kleinman' Steyn's older brother.
Asked how he got involved in racing, he shrugs and says his father was keen on horses and gymkhana and Cape Hunt racing in particular and often took on Thoroughbreds from local trainers. Michael Schulman was his jockey and Janie Myburgh used to ride for him in the ladies' races and the family were enthusiastic followers of the local gymkhana racing scene, travelling to Darling, Hopefield, Eendekuil, Vredenburg, Stellenbosch (Lions Club) and the Durbanville club, where Andries' dad used to maintain the track.
Andries went to school in Philadelphia and then an agricultural school near Paarl. "It wasn't like these days. We had to do all the work ourselves. We'd come back from school, eat, put on your overalls and gumboots and get to work." However, he freely admits the academic life wasn't for him. "I left school after Standard 8. At the end of that year, I told the teacher I was not coming back. He upped my exam results on the condition I didn't come back!"
Racing
He joined his father on the farm and the boys used to train the horses at the back of the farm after chores were done in the afternoons. Cape Hunt enthusiasts will remember horses such as Isak, Prince Venture and A Little. Isak was a particularly good horse and the brothers used to take turns riding him in races. "Piet was very small back then, that's why he was called Kleinman, but then he shot up," he laughs.
Andries later started riding work for Lenny Taylor, who was training for Hennie Retief at the time and finally joined Dr Louie Naude in 1974, while brother Piet joined the Peter Kanneyemer yard. Naude was one of the first vets to have a mobile operating table under lights and one of the first to have the machinery for measuring heart scores on horses.
It was a different era. In those days Milnerton Racecourse was still on the outskirts of town and travelling up the N7 after races, one was unlikely to encounter another road user between there and Malmesbury. The Western Cape was dotted with small trainers and breeders and one paid for a truckload of straw by exchanging it with the farmer for the resulting manure.
July Great
Tony Distel was a friend of his father's and the two gentlemen often socialised together. Distel had bought a Thoroughbred mare with a colt foal at foot from a dispersal sale for the princely sum of R175. "Tony worked on the boats, so he was away a lot. He bought the horses just to have around the house for fun." Distel got an old stock saddle and used to ride the young colt to the shops in Saxonwold. After being offered to several trainers and receiving no interest, Andries' dad eventually persuaded him to give the chestnut a go and put it in training with the Naude string. The horse's name of course was Big Charles, who would go on to win 9 or 10 races, including the 1981 Rothmans July under Jimmy Anderson.
Andries met Jimmy in Durban the previous season and relates an interesting anecdote that the jockey was very fussy about the horses he would ride in work. "He would only ride first and maybe second string. He didn't want to ride bad horses. He said it affected his judgement. And you know, he's right, if you only work with bad horses, it does make things difficult."
"The horse was a 6 or 7 time winner and we struggled to get him into the July," he remembers, scoffing at the fact that one now sees July runners that might not even have a win under their belt. "We ran Big Charles in the Republic Day handicap. Because he was a bit of a handful, he was loaded early and with a hood and was slow away as a result, but still finished less than 5 lengths off. "Jimmy got off and said they can come for the July," he smiles. Big Charles duly obliged by half a length over French Mustard. He very nearly won the July – Gold Cup double, going down narrowly to Brave Persian under Garth Puller. "Garth always liked to come from the back of the field. They couldn't get a clear run and ended up losing by a short head."
Out On His Own
In 1984, Andries took the plunge and went out on his own. He started out with 14 boxes that he got from Willie Kleb on the site of the old Makro, later taking over the Soteriadis yard where the Mediclinic stands now. Andries later gave some of his empty boxes to Eric Sands, when he was starting out. When the old stables had to make way for development, he moved to the new block on Koeberg Road, training from the block now occupied by Joey Ramsden, before eventually buying his own facility in Morning Star in 2004, where he's been ever since.
Some of the good horses he's had through his hands over the years include Major Bluff, Naughty Princess, Silver Tape, Masai Mara, Bacio, Concetta, Bit On The Side and Mystery Dame.
Power Grid
Power Grid came his way courtesy of Mike Barnard at Daytona Stud. "I was getting a few horses from them and asked whether they didn't have anything else left. Mike said there was this colt that was really beautiful, but had no front legs." As Andries is an old hand at working with less than perfect specimens, he asked Mike to put him on the truck and see what he could accomplish.
Andries has his own sand track that he maintains meticulously and is proud that in the 13 years he's trained from home, he's never had a single tendon issue from it. The fact that it's a private facility and less hectic and stressful than the bigger centres, means the horses are more relaxed and can be brought along slowly and quietly. Power Grid proved a handful to break in, but they got him there eventually and brought him into work gradually. Andries says that horses with leg problems will usually learn to cope and compensate as long as one gives them a chance, but confides that you usually have better luck with horses whose legs are equally problematic. "It's when one is more off-set or turned out than the other that you have problems."
He admits that Power Grid looks pretty frightening at work as he dishes very badly with his left fore, but with age, work and a lot of help from his chiro and physio, the horse, who runs in the interests of Mr A J Brand & Mesdames Surina de Villiers and his wife, Jennifer Steyn, has had 14 starts for 4 wins and 2 places. His most recent win, on 18 November 2017, was a 1200m Progress Plate at Kenilworth, where he shouldered near top weight under Grant van Niekerk and beat some good sorts including the likes of Green Plains and Final Judgement. With careful and sparing management, Andries is proud to say that the horse has never had any soundness issues and may run him in a small feature during the Cape season, although he is nervous of inviting too much attention from the handicapper.
Scaling down
Having trained up to 40 horses at one stage, he's now cut down to 10 and admits that it is tough as a smaller trainer, particularly when you are buying on a budget. "If guys are paying R20k or R30k, they don't mind so much if the horse isn't very good, but if you're paying big money and not getting results, it's not a lot of fun." He has lost a number of owners in the past year, some of whom have died and some which have simply retired from the game. "You can't replace them, that's the problem," he reflects.
He considered giving up and put his property on the market, but says his daughters went mad. "So I had to maar take the sign down," he shrugs.
Wife Jennifer, the daughter of retired jockey turned trainer Lionel Witkowski and a frequent fixture at Andries' side at races, handles his accounts and deals with clients. His daughters, Elizabeth and Joanne both live on the farm as well. Joanne has two boys which Andries and Jennifer babysit regularly and Andries can often be found leading his grandsons down Zonnekus Road on their pony.
‹ Previous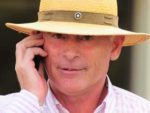 Geoff Woodruff