Ridgemont-Highlands sponsored Callan Murray has every intention of maintaining his 100% record on Mike de Kock's Soqrat  when he throws a leg over the sensational son of Epaulette in Saturday's Gr1 L'Ormarins Queen's Plate at Kenilworth.
Not that the 23 year old is shouting it from the rooftops – he prefers the quieter tactical approach.
Callan is looking forward to his first ride in South Africa's premier weight-for-age mile and the enormity of the occasion is not lost on him – despite the fact that he is technically flying in the Hawwaam shadow on Sheikh Hamdan bin Rashid al Maktoum's 'second-stringer' Soqrat, quoted at just over 6-1 with Hollywoodbets earlier this week.
Check the Hollywoodbets betting here
Trainer Mike de Kock told the Sporting Post a matter of weeks ago that Soqrat has strengthened and matured in the past six months.
"He has furnished beautifully and should definitely not be overlooked," he cautioned as he obviously realises that the favourite Hawwaam has captured the public imagination from the day he made his crop-free debut in November 2018. Fact is that the son of Silvano could have some serious questions to answer from his stablemate on Saturday.
Another Ridgemont-Highlands flagbearer, Anton Marcus, who rides Hawwaam, recently suggested that Soqrat was 'probably more effective over the mile' than his mount.
Marcus is the consummate professional and is serious about achieving a Gr1 double in the next three weeks – so he won't be giving Soqrat an inch.
A winner of the Cape Guineas in 2018, Soqrat was just 0,30 lengths short when beaten by Do It Again in the 158th renewal of the L'Ormarins Queen's Plate last year. That was three weeks after his dazzling Gr1 Cape Guineas win.
Callan has a solid two-from-two record, including an eyecatching Victory Moon Stakes victory, on Soqrat.
Anton Marcus rode the son of Australia last time – when he was dropped out and came with a storming late rattle to get within 0,40 lengths of Zillzaal in the Summer Cup.
Callan has ridden both De Kock horses in work. He says that they are two very different equine personalities.
"Hawwaam tends to be a bit flash and shows that he is a star, while Soqrat is more of an introvert – he keeps to himself and his wellbeing is less obvious to the casual observer. They are both well and will be spot on come Saturday," he says reassuringly.
As to the likely tactical plan, Callan said that he expected the pace to be on and that Soqrat's versatility and ability to go up there or to be dropped in is a great asset.
"I see the Snaith team have a likely pacemaker in Crown Towers. I will play my hand as it is dealt but I could well expect to be up there or just off them," he mused.
Last year Eric Sands had Amazing Strike in as a pacemaker and Undercover Agent took over from him at the top of the straight. Soqrat was in the box seat that day under Randall Simons and ran a cracker.
Watch the race clip below
While Do It Again won the July and ran a below-par race in the Green Point, Soqrat has improved lengths – could this be his chance?
"While he hasn't had a run in the Cape this season, the Gauteng-based horses are really fit and he will be ready. It's exciting to have a serious chance of winning such a prestigious race. I will be in bed early on Friday evening," states Callan with a frown and half a smile.
He has an earlier Gr1 engagement, when he rides Mike de Kock's Irish-bred filly Queen Supreme in the Cartier Gr1 Paddock Stakes.
The daughter of Exceed And Excel arrived at Milnerton last Saturday. Her top trainer told the Sporting Post that he intended giving her a look at the Kenilworth left-handed turn this week.
"Queen Supreme is top-class and I was really pleased with her effort in the Summer Cup," says Callan as he points out that she is still maturing and six months behind her locally-bred contemporaries.
"She is so sensible. It's a typically quality field for this race but she is an easy filly to ride and I expect her to run a big race, even if it is her first run at Kenilworth," he added.
Callan will don the Soqrat silks when he partners Atyaab in the Heineken Gr3 Chairman's Cup later in the afternoon.
"I think we can put a line through his Cape Summer Stayers run here in Cape Town last month. It was a muddling pace, we led early, then fell back and were caught a bit flat-footed in the straight. His Cape Derby victory last season showed he can produce his best at Kenilworth."
Callan's observations about the 'Cape Crawl' at Atyaab's last run are spot on.
The Gr3 Cape Summer Stayers Handicap run over 2500m was executed in a slower time than a maiden plate won by a 3yo filly a half hour later in the afternoon.
For Callan it's a big day and he can't wait to go out and do his best – even though many guys of his age would find it daunting. But lest we forget, he has a few miles on the experience clock!
Journey's soft rock epic 'Don't Stop Believing' is probably an apt theme song for the young man who knows exactly how his colleague Lyle Hewitson felt in Hong Kong last year – until the SA Champion's world turned round in just over a minute in the last race of 2019 on 31 December.
"It's often easier said than done. Don't mope, find your best smile and just keep believing in your ability. Keep working hard and pray that things will turn around. I know that it can be pretty tense in the jockeys' room in Hong Kong. Everybody is so quiet and focussed. It sure builds character," reminisces Callan as he recalls his own first visit to Hong Kong, at the end of the 2016/17 season when he took the place by storm, landing the Gr3 Sha Tin Vase with 89-1 Lucky Year and the Gr3 Premier Plate with another outsider in the SA-bred Horse Of Fortune.
But it was a rollercoaster as he hit mother Earth – his second visit produced just two winners in six months.
The taller-than-average jockey, who is comfortable at 52kgs, then turned to Singapore.
From February to his return home in August last year he rode five winners and 22 placings from 159 rides at Kranji.
He did not win any feature races, but did take the second Leg of the Singapore Golden Horseshoe series, the Thoroughbred Breeders Australia Centenary Stakes, with Ricardo Le Grange's smart juvenile Rocket Star. He ranked that as his most memorable moment at Kranji.
But then he made the 'best decision' he has made in some time.
"While my overseas stints polished my riding and strengthened my mind, I decided to come home and have never looked back since. I thought long and hard about it – leaving Singapore early wasn't easy. One fears you are letting people down. But it was a good decision and pretty good timing in the end," he smiles as he reflects back on a whirlwind four months that has seen him slot seamlessly back into the Mike de Kock set-up.
He says that he thrives in the professional no-nonsense De Kock environment. He tells how he and Mike's son Mathew get on very well.
"We are obviously closer in age and talk a lot. They are just straight-down-the-line professionals. Honesty is important in a team. I enjoy the way they deal with things and am very fortunate to be in the position I'm in," he adds maturely.
And he has never forgotten that it was the champion outfit that gave him his first ever race ride on 3 November 2013 when the now UK-based Captain Lars finished 5th at Scottsville.
While his first winner was for Charles Laird at his second meeting, when he steered Tennessee Strategy to victory, De Kock provided his maiden Gr1 win aboard Heavenly Blue in the SA Classic on 1 April, 2017.
A few weeks later Callan rode a career-defining Gr1 treble on Champions Day at the age of 20 and just five months into his time as a fully-fledged professional jockey.
He could be up for a few more Gr1 winners on Saturday.
‹ Previous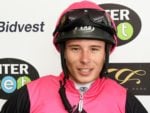 All Set For Singapore, 2020!