A great double at Turffontein on Sunday underlined the enormous talent of Denis Willem Schwarz, who turned 21 just over a week ago.
This being his first year out of his apprenticeship, 'Deevee' says it's been a rollercoaster ride since he cracked his maiden Gr1 success in the Summer Cup, back in the days of relative blissful innocence.
How different life was then. We took relatively ordinary pursuits like buying a bottle of wine and visiting family mostly for granted.
Denis smiles shyly as he reflects on his Sunday double of Entente and Mamaquera and how the twists and turns of the past seven months have pitched and rolled.
"I'm pleased to have won on a horse for Miss Candice Dawson and Mr Verdonese. I'm getting some great opportunities and it's nice to deliver," he mused as he explained how he was riding work and trying to be available for a variety of yards from Turffontein to Randjesfontein – that was after level 4 restrictions were introduced.
"I have always done most of my riding for Mr Gary Alexander, and I try and put the work in at Miss Dawson, Mr Magner and Mr Matchett, amongst other yards too," he explains.
Dennis moved out of the Gauteng Academy in November as it is the policy of the jockey training institution to 'wean' the young men out of institutional life in their final phase.
He and Dylan Lerena took up digs together and life was good.
"I won the Summer Cup at the end of November on Zillzaal for Mr Tarry. I was coming out of my time, it was Christmas – 2019 was ending on a high," he says.
But while riding Sean Tarry's 56th Gr1 winner was to prove a professional high, the next few months would see life turned upside down.
Denis took a terrible fall at Turffontein in mid February during the running of the Gr2 Gauteng Guineas when his mount Al Borak broke down in what was to be a sad ending for the horse.
After a couple of weeks, he returned to the saddle. He was physically okay but says he was not quite over the psychological trauma. He was ready in body but not in mind.
Then along came COVID-19.
"I think 2020 has been a massive learning curve for the world at large – but also for me personally. It has been a character building exercise of some proportions!"
His 21st birthday was a highlight and he was allowed 'just a slice' of his Mon
Dennis has ridden 193 winners in his career to date. At Greyville on 6 December 2017 he became only the third apprentice in SA racing history to ride the Jackpot – following in the footsteps of Muis Roberts and Athandiwe Mgudlwa.
He is currently on 54 winners this season and 15th on the national log.
It's been a well spent few years for the former Marais Viljoen High School pupil who joined the SA Jockey Academy intake of 2015 alongside the likes of Ashton Arries, Calvin Habib, Louis Burke, Sandile Mbhele, Dylan Lerena, Khanya Sakayi, Liam Tarentaal and Daniel Kotzen.
His first raceday was on 20 March 2016, when he rode the Craig Eudey trained Last Summer and Gavin van Zyl's Ginger Biscuit at Scottsville, grabbing a 5th place with the latter.
His first winner came on Chronological for Gareth van Zyl on 11 May 2016.
A former Northern Cape champion apprentice, Denis puts his success down to the family values and support he was taught early. Hard work is his second name.
He was previously on record as admitting that he has a lot to learn and the guidance of Mom Riette, stepdad Pieter Brown and his own Dad Carel are integral in his life.
And while he won't be riding Chijmes in the Vodacom Durban July next week, the travel restrictions preventing interprovincial raids, he says he is happy to finish this season on  high and improve further next term.
His plan is to find an international career eventually. But he is not in a hurry and for now will build experience and race miles.
His housemate Dylan Lerena is now based in PE, but Denis says he is not lonely – between his girlfriend (no name volunteered!) and family.
‹ Previous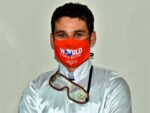 Love Me – Love My Dog!