The Durban July seems to excite the imagination and fire the emotions more than any other race on the South African calendar. 2016 is no exception with the riding engagements in particular creating much debate. With the ride on Black Arthur now confirmed to Douglas Whyte, we caught up with SA's favourite export to find out his thoughts.
Firstly, talk us through what happened with Abashiri? "When I got the call, I couldn't quite believe it. To be offered the ride on a Triple Crown winner – I was absolutely overwhelmed. When things changed and I was told that they were concerned about travel arrangements and jet lag, it was a huge blow as you can imagine, particularly as I'd already got permission from the Hong Kong Jockey Club. I frequently fly to Australia, ride there on Saturday and get back to Hong Kong to ride again on Sunday. I have done this trip before – most recently for Pierre Jourdan in the 2011 July- and there is always the minor possibility of delays or things going wrong. Unfortunately those things are out of my hands, but I fully understand and respect the Van Vuuren's concerns. Hopefully that's all water under the bridge and I'm certainly not disappointed any more. I'm still getting home and I'm still getting a good ride in the race, so all's well that ends well."
Black Arthur
"On my way home from Happy Valley races on Wednesday, I got a message from Jonathan to ask whether I'd taken another ride in the July and if not, to say please don't, they might have something for me and I'm very happy with the ride I've got now."
"I've not had much to do with Justin, but I have to say that he is probably one of the most professional trainers I've worked with. From the time he confirmed the ride with me until now, he has told me about the horse, sent me a photo and he believes that he's got a very special individual on his hands. They believe this horse is just maturing and has a big future ahead of him. It's nice to know a trainer has that much confidence in a horse you're going to ride for him, so from that point of view I'm very excited."
"Justin is a fantastic trainer and it's phenomenal what he's achieved in his career so far. I think he'll be around for a long while and that he'll be at the top end for a very long while. It's nice for me to be associated with people like that. I try to be the best and to associate with the best, so I am very fortunate to have been offered this ride."
Owner support
"I spoke to the owner, Alec Foster, on his way to Royal Ascot last week. While we were discussing the horse, he told me this great story that the last time he flew a jockey from Hong Kong it was Felix Coetzee, who as you know is one of my best friends. Felix flew out to ride a horse called Steamy Window in the Oaks and led from start to finish, so there's a nice bit of karma. Even talking from such miles away, it was nice to hear them sounding so confident and having so much faith in this horse. They are affording me this opportunity to fly from Hong Kong to ride one of their best horses and I am very grateful for that and am determined that I won't let them down."
Have saddle, will travel
"I will be racing in Hong Kong on Friday, I leave after races and arrive in Durban on Saturday morning, so I'll be sitting on the horse for the first time in the parade ring, but I've watched the videos and he looks pretty uncomplicated. I will do a bit more studying once the draws are finalised and so forth. I have ridden all over the world without putting a leg over a horse first – as long as the trainer knows the horse inside out – and Justin certainly does – they give you all the information and feedback that's required and I have the knowledge and experience to know I can do my job."
"The Hong Kong Jockey Club have been very supportive and I've been fortunate that they've allowed me to travel a few times over the last few season. I'm very grateful for that and it's worked out well and allowed me to win two Gr1's in Australia."
Getting his eye in
"I've got a couple of rides for Justin before the July, so I will have an opportunity to suss out the track condition. Greyville has always been a fantastic track to ride and it's always fantastic to be there on the biggest race day of the year. I can't wait to get there – I miss South Africa and to get there for the big days is always awesome."
Has he formulated a game plan?
"The disadvantage at Greyville is that the track has been narrowed, so the draw now has a significant effect. Depending on tactics and horses' running style, I think the draw is imperative. But that's the only major difference I can see to when I last rode there."
How special is the July?
"I think if you ask any SA jockey which race they want to win they will say the Met and the July. I've conquered the Met and the Queen's Plate and done pretty much everything I want to do, but the July doesn't have the tick in the box. To me it's not about the prize money and it's not about the prestige – it's about ticking that box and winning one of the most renowned races from a South African point of view. I used to watch the July on TV as a kid. I remember Beau Art being one of my favourites. Like the Melbourne Cup in Australia, the July is the race that stops our nation. It's really important to me and is one of the boxes I'd like to tick."
Near Misses
Doug has had 14 previous July rides. "Sjoe, is it really THAT many?!" he exclaims. "I know I've had three seconds, though!" Asked whether there were any stand outs among the near misses he answers, "They all were, to be honest. Every single one of those I lost by half a length. The first one was on a horse called Eastbrook for Terry Lowe in 1992. He was a 50-1 shot and the smallest, skinniest horse you've ever seen, but we really thought he had a chance and he absolutely FLEW home. The next one was Sleek Machine for Herman Brown jnr in 1996. We took a chance putting blinkers on him and that woke him up – he stormed home and ran a really terrific race. And then there was Pierre Jourdan who just finished second to Igugu in 2011. The filly was a real champion and at the height of her career back then – that was just before she went off to Dubai. Pierre Jourdan was coming to the end of his prime, but I think that run was one of the best of his career." He has no regrets though. "There were no hard luck stories by any means – they all gave 100%, but just weren't good enough to get themselves over the line on the day.  I hope this one will be!"
‹ Previous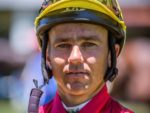 MJ Byleveld