Despite the weather gods putting on their own Eskom style show for a few hours, Saturday was simply a perfect day for a perfect day.
Just ask veteran Milnerton trainer Eric Sands.
Surrounded by family, friends and a progressive youngster called Golden Ducat, the 63 year old horseman wrote a few new chapters into the record books with a splash of emotion and sentimentality that probably shows just how most of us take this wonderful sport for granted, most days.
Racing is  so riddled with negativity at times that moments like Golden Ducat's storming victory in the R1 million ARF Commemorative Gr1 Cape Derby under young Craig Zackey, and the joy and celebration that followed, should be sealed in  a time capsule for future generations – and maybe even for many of us to digest when we are feeling the way we do – which feels so often these days.
The horse, who became his sire's first Gr1 winner in SA, almost didn't reach the sales ring due to a serious hock injury as a baby but has now grabbed the imagination of a racing public starved of good news.
"It was one of my special moments in racing," conceded an emotional Sands as he told how having his daughter Kylah and son Francis out from overseas, as well as longstanding owner and friend Gavin Walker there to share it, was something he would hold dear forever.
He then threw us a trivia curved ball:
"Did you know the horses used to walk clockwise in the parade ring? It worked well when the winner's and placed boxes were in front of the old parade ring. These days we go anti-clockwise. Just a bit of interest,"he chuckled.
But back to Saturday.
"You know, great people and a broodmare like Halfway To Heaven can make any trainer look like a master or a genius – or whatever adjectives the press like to bestow on some of us. But, seriously, the older we get, the more important these times are. And just pondering and considering the wonderful people involved too  – my children were here, Mary and Jess have kept Halfway To Heaven's original breeder and owner Gavin Walker intimately involved. My staff. The people in the background who just do their jobs. I stand here today a very proud man with so many people to thank," he said with his voice breaking.
Sands told how he had been obliged to geld Golden Ducat in November as 'he was getting out of hand.'
"I have won the Derby previously by avoiding features with an immature horse," he recalled as he reflected on Jungle Warrior in 1988 and Grande Jete in 2001. He also lost the race in the boardroom in 2006 with Moneybags. "That's racing. We are dealing with flesh and blood. We all get our time in the sun," he added.
He paid tribute to 'underrated horseman' Devin Ashby and Lucky Zebuysile Jevu, who had been the only people to ride Golden Ducat in work.
While Anton Marcus originally accepted the ride, he opted for another horse in the race and Craig Zackey stepped into the breach. He was riding Golden Ducat for the first time.
"He is not a complicated fellow to ride, like his brothers are. I thought Craig had him a little bit further back than I would have chosen in running. But he judged it beautifully and all's well that ends well," he smiled.
It was a third Cape summer Gr1 victory of the season for the Mauritzfontein-Wilgerbosdrift sponsored Zackey.
The Gauteng based rider, who at the age of 25 has 8 Gr1 trophies on the mantlepiece, said that his mount pulled him through and has a decent turn of foot.
"He still looks around but the day he puts his head down and puts it all in you are going to see a really good horse."
"I have ridden a few for Jess but never a Gr1 for Mrs Slack. This is a major honour and a milestone in my career," he added.
As for Golden Ducat's future plans, Eric said that they were fluid and he could not commit to a SA Champions Season campaign for the son of Philanthropist.
"I love my horses. I'm dealing with owners who love their horses. Golden Ducat will come first in all discussions. I am going to discuss things with Mary Slack, Steven and Jessica Jell, as well as with Jehan Malherbe," he confirmed, adding that he would probably have a string of up to four horses at Summerveld
Sands turned back the clock as he recalled how Golden Ducat's dam – Gavin Walker's Jet Master filly Halfway To Heaven – had overcome her own challenges early on and then when personal health issues had forced her owner to move her on, how the fairytale had gained momentum.
Gavin Walker was the original owner of Bush Hill Stud in the KZN Midlands. He recounted the story of the dam of three Gr1 winners, Rainbow Bridge, Hawwaam and now Golden Ducat.
"At a race meeting at Scottsville in 1986 the filly Our Elegant Girl, by Our Casey's Boy was running and ridden by Guillermo Figueroa and trained by Jane Thomas. On the way to the start she unseated 'Figgy' but instead of galloping off she stopped, turned around, and went back to allow him to remount.I had never seen a racehorse behave in this manner and decided that she was a must to add to my broodmares and entered into negotiations with Jane."
Our Elegant Girl was an easy mare, docile, good looking and fertile. Most of her coverings were to Summerhill's Rambo Dancer.
"Interestingly, after viewing one of her colts, St John Gray quietly asked me why I bred from Our Elegant Girl as she had no pedigree and her chances of success were poor. I went on to put her daughter Pas De Basque, by Rambo Dancer, into training with Gavin Smith and she won eight for me. When she was due to have her first run, I was told by Gavin not to bother to come racing as she would "need the run." Sitting in my lounge 120kms away I quietly watched her win and pay R54 on the tote."
Gavin recalls that after Pas De Basque finished racing, he was fortunate to get a covering to Jet Master as he had known the Devines for over 30 years.
The stud fee was R65 000. She duly foaled Halfway To Heaven, a very good looking foal, who grew into a most beautiful race mare, never weighing less than 500kg.
"Born in 2008, she was weaned on a small farm which I had bought bordering the 24 Rivers near Saron in the Tulbagh area of the Western Cape. When the first horse sickness vaccine became due, Dr Trichaardt attended. In the melee that developed trying to catch the three fillies in the paddock, Halfway To Heaven ran headlong into a timber upright and collapsed unconscious. I don't believe I've ever felt more trauma as the wound was front of face and the scar can still be seen," recalls Gavin.
Worse was to follow. After a flash flood, Halfway To Heaven was found to have fractured her off-hind in the paddock and owing to the severity of the injury she was box-rested for six months with no concentrates.
She eventually made her racecourse debut for Eric at Durbanville on September 24, 2011 as a 4yo.
"Her best run in a Gr1 was in the Majorca Stakes where she was baulked for a run on the rails and finished beaten four lengths by the top rated 3yo filly in the country, Blueridge Mountain. Halfway To Heaven won the Gr3 Prix Du Cap beating Frequent Flier and Hammie's Hooker who had run second and third in the Majorca Stakes. She was a nervous filly and was shadowed by a 'horse whisperer' in the paddock and at the start,' muses Gavin.
"I then sold her to Mary Slack for whom she won the Off To Stud Stakes, her seventh victory, before being retired to Mary's Wilgerbosdrift Stud. When Jehan Malherbe, who brokered the sale, was shown the full pedigree he called me to say that he thought I had been very 'cheeky' sending Pas De Basque to Jet Master – but the rest is history."
We can't wait for the next chapter!
‹ Previous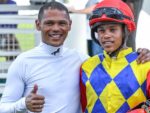 Who Wanted The Derby More Than Morne?