Pragmatic is Garth Puller's middle name. The man who has achieved multiple accolades over his half century in the game was the proud inaugural winner of the Hollywoodbets Sizzling Summer Challenge after the final racemeeting in the novel series at Hollywoodbets Greyville on a wet last Friday  evening.
The R750 000 competition was run over three months and gave trainers, jockeys and owners the opportunity to earn points for every KZN racecourse appearance.
The top six in each individual category were rewarded with a certificate and cheque from R100  000 to the first finisher, up to R10 000 to sixth placer.
Garth told the Sporting Post on Monday that the energy and initiatives introduced into KZN racing by Gold Circle and the Hollywoodbets team was something that the entire industry nationally should embrace and take serious note of.
"Sometimes when we are doing the same things over and over in the same situation, we fail to see the opportunities that minor changes and doing things slightly differently may bring about. The energy and passion that Hollywoodbets brings to the KZN racing table is there for all to see. The root problems of racing still need to be addressed obviously, but when there is a vibe and a tangible enthusiasm and genuine will to improve the show for all stakeholders, that is contagious and it will snowball and raise spirits," he said, as he spoke of the thrill and needle that the Sizzling Summer Challenge had injected.
How does one invigorate and excite a man who reached the pinnacle multiple times during his decades in the saddle, rode 7 winners on a sunny Kenilworth afternoon 40 years ago, and has won most of the Gr1 trophies in South Africa?
"Just goes to show. Create a competitive platform, offer an incentive, involve the public and keep it alive and buzzing on social media. I don't believe there is a trainer in this province that didn't buy in and say let's give it a go. I haven't seen the stats or turnover figures, but I am sure that field sizes were bolstered and I know interest was created from the chirps and feedback on course. Human nature is just like that – we respond to challenges instinctively. And ultimately, everybody wins – from Hollywoodbets to Gold Circle and KZN racing."
Asked if his victory was a plan come together and whether he had adopted a strategy, Garth modestly admitted that he had maintained a 'business as usual' approach in the early stages.
"Look, my yard was probably perfectly suited to making a big bid in this competition. I have 90 horses but don't quite have the feature firepower to match the big guns in the SA Champions Season. So for now, my focus is on the quieter local season months and I was leading the KZN Championship when the competition started on 1 December."
Interestingly, Garth is still at the top of the regional log in terms of both winners and stakes – his 36 winners and 103 placed horses having earned stakes of R3 276 375 prior to Wednesday's Hollywoodbets Greyville meeting.
He added that the Sizzling Summer competition format was positive in that it allowed the smaller yards to also target the owner/ horse category.
Garth noted that the table-topping horses like Bint El Malak, Jeydan's Shreya and Explosive Beauty had run 6 or 7 times each.
"I have a 3yo, Twice Golden, who I hold in high regard. He won 3 races from his 4 starts in the competition period. But here's an example where I wouldn't have risked overracing a younger promising 3yo in order to leverage the log standings. His future is more important than the short term gains. But the sound older horses can race regularly, and well done to Paul Lafferty and his team, and owner Brian Riley for Bint El Malak's achievement in winning the owner/ horse category. Warren Kennedy is also riding so well and certainly deserves the championship title this season."
Garth said there were suggestions late in the competition to move some of the polytrack racing to the turf.
"If anybody wondered if people weren't taking the incentive seriously, then think again! I personally argued against the idea of switching surfaces as it would effectively have been moving the goalposts after the game had started," he added.
Garth won his last ever race as a jockey on 27 December 2005 and also his first that he saddled as a trainer when Foreign Gal scored at Clairwood under Anton Marcus on 1 August 2012.
He started out with one horse and has built his string to 90. We asked him what he felt about Summerveld and what the secret to his growth and success was in an industry where many trainers were under serious pressure.
"Look it's very hard work as a start. I don't play golf or enjoy much relaxation. I get to the yard before 04h00 and I leave after 18h30 in the dark. I am hands-on and involved. I'm probably a bad delegator in the managerial sense but have a great team of personnel and support players. Michael Clarke and Samantha Swanepoel are my assistants, Eric and Bishop my Head Grooms, Gareth Howells is our farrier, Mem Bosma and Annie Palmer our physio's. Cathy Steele is my rock-solid PA in Cape Town, and my fiancé is Wendy Heyns. Everybody plays their key role in a team effort," he reflected.
Garth says that when he leaves in the evening, he knows what's happening with every single horse. "And I'm from the coast, so Clairwood will always be my favourite. But Summerveld is world-class and we are lucky to have the facility."
On his 90-strong string, Garth feels that he probably owns 'too many shares' himself.
"But I am fortunate to enjoy some great support from a diversity of owners. David Ferraris also uses us, since his Dad Ormond called it a day, to introduce his Hong Kong-destined purchases to racing. Which adds a nice dimension to the daily challenges of running a successful team. As I have said before, I'd love to have a few Group competitive horses for the champions season."
Garth, a recipient of the Anita Akal trophy at the 2018 KZN Racing Awards, where his name was inscribed alongside famous contributors to the sport like Felix Coetzee, Chris Saunders, Roy and Gladys Meaker and Des Scott, said that Hollywoodbets also played a key role in supporting and sponsoring trainers. And he was one of those fortunate enough to race under the purple and yellow flag.
"It's no secret that the costs of training – like living – have soared in recent years. So any support is gratefully received. Owen Heffer and his team are different class and racing must keep them involved."
See the final Sizzling Summer Challenge leaderboard here
And was he taking Wendy on an overseas trip with the R100 000 cheque to celebrate the big win?
"You're joking. I'd love to . But In this game, the money goes out the back door quicker than it comes in the front door! It's spent on horses already. So while we are proud to have won the inaugural Sizzling Summer Challenge and hope it becomes an institution, we won't be splashing out this year. Good luck to the players in the Sizzling Punter's Challenge. That's going to stimulate plenty of interest during March, I believe!"
Sizzling Summer Challenge – Trainer Standings
G B Puller (935 points)
P V Lafferty (757.5 points)
A Wright (750 points)
M D Miller (637.5 points)
D R Drier (626 points)
W Whitehead (580 points)
‹ Previous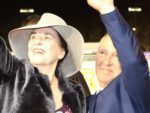 Some Heavenly Day!