Gabriell Pieterse is not your routine SA Jockey Academy apprentice.
The 17 year old is a motor sports fanatic who has competed at the highest levels, winning 3 Zambian Motocross Championships and 1 Southern African Motocross Championship in the 65 and 85cc classes.
He also used to play polocrosse competitively for the Leopards Hill Club in Zambia until his motocross success forced him to dedicate all his free time to two-wheel racing. Now he is building a career as a jockey and after a topsy turvy few months thanks to lockdown, he hopes to be back race-riding soon.
With two winners to his credit, Spring Breeze at Hollywoodbets Greyville on 30 October 2019 for Nathan Kotzen being his first, Gabriell, who previously lived in Midrand, Johannesburg and attended Briandale Primary School, is balancing a budding career in his third year at the top rider training institution, as well as lockdown – and with a matric examination just around the corner.
He admits that it has not been an easy year but enjoys the support of a close and very supportive family that includes his Mom, Candice, Dad, Rudy, and younger sister, Jade.
"Thankfully we are back in classes. I didn't do too well with the online learning and battled to adapt. I'm confident that with some hard work I will get through the year and then can focus on riding plenty of winners," he laughs.
After an extraordinary few months, Gabriell returned to the Academy after a four months lockdown imposed absence in Zambia – a country he describes fondly as a 'beautiful and safe place to live'.
Here's the 'Diary of an Appie kid and his Mama Covid 19 2020'as described by his number 1 fan, Mommy Candice.
On 18 March my daughter and myself headed to Johannesburg from Lusaka Zambia where we reside on our way Durban to visit my son Gabriell in his school holidays. Appies can't leave thee academy in holidays as they still work ride. I ignored all the media regarding COVID-19 thinking it was just flu. Africas numbers seemed so low, that I did not feel worried. Now the fun begins…. We woke up on 19 March in Joburg to an email from my airline – ALL FLIGHTS CANCELLED UNTIL FURTHER NOTICE.
That was a blow but we quickly got over the shock as I was so happy to be with my mom and step dad who we hadn't seen in over a year – and of course I was going to see my boy! In my mind I knew I could make alternate plans to get back to Zambia.
On 20 March we drove to Durban to a lovely campsite in Queensborough. We got to the camp site and were promptly told we were the last guests they were receiving and that we were not allowed to invite guests into the venue. Another blow – Gabriell could not relax and spend time with us at our campsite!
On 21 March we went to SAJA to fetch Gabriell after work-riding to spend the day with him. We got to the gate at SAJA and unfortunately we were denied entry into the Academy (rightly so) another blow. We were thus forced to hang out in malls and public places with this covid 19 looming over our heads.
On 23 March Cyrl Ramaphosa addressed the nation regarding full lockdown and people had a few days to return to their places of residence and prepare for the lockdown – another blow.
After the address I called the head nurse at the Academy to ask what we should do about Gabriell – should he stay or return back with us to Zambia? She assured me that he should stay. I felt very uneasy but agreed. I then managed to  book myself and Jade the second last flight out to Zambia with another airline.
On 24 March we went to SAJA to say our goodbyes to Gabriell. When we arrived we were told we could take him back to Zambia. We quickly booked him back on the same flight and I was super relieved that we were all together.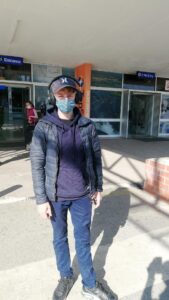 On 25 March we left SA. We flew Durban to Ndola, Zambia. My car was in Lusaka and was driven up to Ndola and we drove 8 hours back to Lusaka.
So from 26 March to 10 April we were in self -isolation.
Covid Life in Zambia was a bit different than that experienced in SA. We were not in lockdown. We were advised to keep our distance, sanitise and wear a mask.
On 7 April Gabriell's online matric classes began. This experience of online schooling is not easy for most families and students. It requires trust, discipline and loads of self motivation.
As Gabriell writes matric this year, for us as parents we were concerned how and when he would be able to get back to SA and complete his matric.
At the end of May repatriation flights were introduced. The flight was marked for 19 June. We quickly started planning Gabriell's return to SAJA. And we were blocked – no unaccompanied minors were allowed to travel, another blow!
At this stage we were feeling glum and unsure of Gabriell's future in both his career and getting his matric.
Two days afterwards we were denied travel. The SA government changed the law again. Another blow, as we lost Gabriell's seat on the 19 June flight. A few days later another repatriation flight was offered. We booked, paid and organised all travel documentation – we were relieved!!
At the time of booking the average stay in quarantine was 5 to 6 days and then travellers were released after negative test results. Two weeks before Gabriell travelled, the SA government changed the law again. The intake of travellers he was in had to do 14 days mandatory quarantine.
On 10 July we ventured off to Kenneth Kaunda Airport in Lusaka to get Gabriell back to SA. I as his mother was just devastated and heart broken.
And then during his actual quarantine period the SA Government changed the law – new intakes only had to quarantine for 8 to 10 days.
We as parents living in Zambia are relieved and extremely worried at the same time.
When will we ever be reunited is the big question!
But we have to do what we have to do.
We wish our boy all the best and hope he stays safe, gets his matric and continues his wonderful apprenticeship in becoming a Jockey.
‹ Previous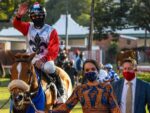 Back On Track – And Bullish!