Seventeen years ago Glen Shaun Kotzen arrived in KwaZulu-Natal in pursuit of exploring new frontiers. Racing in the one-time last outpost of the British Empire was in the doldrums. The then Chairman  incentivised the ambitious Capetonian with discounted stable rental.
Today we couldn't imagine the SA Champions Season without the Woodhill Warrior!
And it's been a season to remember for the Kotzen family.
Lockdown turned life and the whole racing show on its head, and for months the days were dark, friends were few – they were, after all in the same boat – and the outlook bleak.
But on Saturday, the sun shone over Hollywoodbets Greyville as the 54 year old Glen Kotzen saddled a Gr1 winner and took top honours, and banked a cheque of R75 000, in the Hollywoodbets Back On Track Challenge.
Talking to the Sporting Post from the TBA Sales Complex in Germiston, where he was hard at work inspecting the National Yearling Sales prospects for Friday and Saturday's long-awaited sale, the always upbeat Glen said that it was wonderful to have achieved top honours with Temple Grafin in the Jonsson Workwear Gr1 Garden Province Stakes, and to have won the Hollywoodbets Back On Track Challenge.
The Kotzen magic worked wonders again with their proven 'teamwork makes the dream work' formula.
"This is a team sport. From the breeder who takes the chance, to the owner who spends the money at the sales, to our staff who start work in the early dark hours every day, the race that Joe Public enjoys is really just the cherry on the top of it all. I must thank our team headed by assistant John Buckler and all of his Summerveld staff, as well as the jockeys who ride work and race ride. Unless everybody is doing their job, then the winners won't come. We are fortunate to have the right good people in place!"
Glen said that he was sharing the Hollywoodbets cash incentive with John Buckler and had also offered an incentive to either of Jason Gates, Jabu Jacobs or Khanya Sakayi.
"John got the string going early in this really brilliant competition and before we knew it we were bowling along comfortably out front. On Saturday we sealed it. With the three apprentices I mentioned, I told them that whichever one finishes on top of his log, we would throw in an additional incentive from the R75 000. So good luck to Jason (Gates) who ended tops. They are all guys with massive potential."
He added that Temple Grafin's victory in the Garden Province Stakes had been part of a plan come together – and a particularly pleasing victory on all fronts.
"Her former owner Hugo Hattingh watched the race with us from the stables. We screamed and shouted her home. When one sells a horse-in-training from one good owner to another, one wants it to be a win-win on both sides. It was a really high-class field. But she loves Hollywoodbets Greyville and Keagan de Melo is riding with such confidence – I believe this was his 100th winner of the season. She's really good – lest we forget she was a KZN Champion 2yo of her year, and she was just in such a good space. Hell, it was a good win," he said enthusiastically, also thanking Justin Vermaak, who brokered the purchase deal of Temple Grafin with the Wernars family.
Glen confirmed that Saturday was Temple Grafin's swansong performance and she will visit the Wernars' sire New Predator at Bush Hill Stud in KZN, before relocating to the Western Cape.
The multiple graded stakes winning New Predator is the first son of New Approach at stud in South Africa, and getting a top Gr1 mare like Duke Of Marmalade's daughter can only be good news for the partnership.
Glen was brought up in Zambia and Rhodesia and his jockey father named him after a horse called Russian Glen. Years later, Glen and his wife Kathi bred a horse, who was also grey and born on his 23 October, birthday. They called him Russian Glen, too!
Put off being a jockey by his Dad because of doubts about his weight – which warning he jokes he has lived up to – Glen had childhood aspirations of becoming a Priest, before qualifying as an Electrician.
"During my practical I blew every light in the house and realized this wasn't for me," the wannabe Master Chef recalls philosophically.
Paul and Avril Gadsby gave him his first job, running a spelling farm for close on two years. Then he worked for Trevor Laing prior to undergoing his military service, where he spent two years in the service of his country.
He learnt a lot during his seven years with Ralph Rixon, followed by two years with Clodagh Shaw, before taking the plunge, and never looking back.
Today Glen is happily married to Kathi, and proud parents of Kuyan, Kirra and Liam – and a host of four-legged family, from horses to dogs and other beautiful creatures, great and small, who enjoy the glorious expanse of Woodhill.
The Kotzen story is a genuine tale of success against the unpredictable odds, that only horseracing and breeding can pose.
Glen is positive about the National Yearling Sale this week.
"Life and racing don't stop. There are a host of Gr1 winners and dreams looking for a buyer. They are all here. And I'm looking at them all this week. Think about it – the Vodacom Durban July is just over eleven months away, as we speak. We have so much to be thankful for and to look forward to. Let's go out there and make this great game work!"
‹ Previous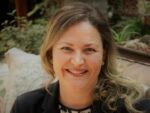 New RA CEO Is Ready For Change