Close on a year post the Mayfair Speculators implosion, former Cape Champion trainer Joey Ramsden and his loyal team are firmly back on track.

The aptly named bargain buy Twist Of Fate's glorious success in the Gr3 Cape Classic on Saturday marked a first graded stakes winner for Master Of My Fate – and an impressive fourth strike in the early season classic pointer in six years for the charismatic Brit.
Having recently celebrated his 50th birthday, the 2018 JR is a far more considered, reflective and,  dare we suggest, subdued version of the original all conquering fired up model that arrived in Africa thirty years ago after a stint in Kentucky and with Brian Mayfield-Smith,  a top trainer in Sydney, Australia.
Joey's first job was with the late Michael Roberts.
"That's a bloody long time ago in the old South Africa. You are purposely reinforcing my age are you not," he laughed as he clasped his hands behind his head and leaned back – like your Mom always told you not to – in a comfortable looking chair in his new office at Barn T8 at the Milnerton Training Centre.

"We're finally all in one barn now. Moving apparently ranks in the top five stresses endured by human beings. I'd say it is near number 1! It has been a pain in the backside getting moved and set up, but it's just so much better for everyone involved, including the horses. It's a smashing set-up and has involved huge expense moving treadmills etc.  I must say a massive word of thanks to Dean Diedericks, Teresa Esplin and Phumelela for their help," he adds with that signature serious face frown.
Life has shaped Joey into a resilient character – a true survivor and a straightshooter who has outlasted many of his critics and gained the respect of his leading colleagues.
That indomitable spirit was fashioned in his first year as a trainer – which almost became his last.
His feed was contaminated. His best horse broke down and the horses ran badly. The only thing that prevented him from giving up and becoming a journalist (just imagine!) was his belief that he could train horses successfully.
He changed the feed, did a few things differently and the horses started to show results. Multiple SA Horses Of The Year later and a host of champions, history has certainly vindicated his decision to hang in!
It is refreshing to hear somebody talk openly about the Mayfair Speculators crash.
While Joey trained champions and a Horse Of The Year long before Markus Jooste arrived on the racing scene, there is no question that the cataclysmic and sudden departure of the multiple SA Champion Owner has changed lives.
"We're fighting back but it certainly was a big blow. We've had to reinvent ourselves and it's been like starting from scratch.  We have around 60 in work and we've had to streamline the whole business. But everything is just starting to come together.  The hardest part has been getting owners into the Mayfair horses that we wanted to retain. And then also trying to buy and sell yearlings. Let's be frank – there's only so many times you can go with cap in hand to owners.  But in saying that my owners, old and new, have been absolutely fantastic. They've stuck with me and supported me through all this and now I can only hope I can keep repaying them in the very best way possible – with winners."
We asked how JR the man has adjusted to 2018 and all the trauma and stress that horseracing somehow dishes up week after week?
"I've tried to make a point of keeping out of it.  Is racing the better for this?  Probably from an outsider's point of view. But not from mine, and those unlucky enough to be near me!" he chuckled.
We put it to him that he could not have made a better start to the Cape Summer Season than with Twist Of Fate's victory on Saturday.
"They do say it's not the way you start – it's the way you finish. But, yes the victory was a big lift for the team and gives us some nice options. We think Twist of Fate is very good. He's always shown us he has tons of ability and every time we challenge him he steps it up a notch.  There's only one Gr1 Guineas and that must be our target."
Joey added that he was very lucky to have Twist Of Fate in the stable for a great young group of Mauritians, the River Palace Syndicate.

"They now have two other horses with us and some members have bought shares in others. It's been a wonderful partnership so far and I look forward to many more years with them."
As for the fact that Twist Of Fate is proving the buy of the year at R20 000, Joey concedes he 'sadly' cannot take the credit for selecting him.
"I wish I could though! One thing it does show is that it doesn't need to cost an arm and a leg to be involved. Horses don't know what they cost.  For years I've heard about prices being driven up and racing becoming unaffordable. I came back from four sales this past year and there was some smashing stock at totally affordable prices, with few takers coming to the plate.  Have the naysayers kept quiet?  You can answer that yourself!"
The Goodhope Racing Team has also undergone change. Has the legend Ricardo 'Captain Avo' Sobotker retired?
"The overall team is sadly smaller, but all the stalwarts are still hanging around!  It doesn't just include Avo, there's too many good stalwarts to mention here, particularly the homegrown ones. I must mention Alson though. One thing Mr Rattray taught me is not to advertise your stars, as people always want what they don't have."
On the jockey front, Joey has had a few top stable riders over the years.
"We use Donovan Dillon and Bernard Fayd'herbe in Cape Town and I try to utilise Lyle Hewitson when I can as I'm a huge fan of the young man.  And of course the comeback kid, S'manga Khumalo is top-class, too!"
Beyond Twist Of Fate, we asked about other good horses for the season.
"Computaform Sprint winner Attenborough is up and looking strong. Speedpoint has a very good win in him this season. Brutal Force – we call him Fatty – is back in the yard and eating us out of house and home. And I think we have some fairly nice unexposed 3yo's, most having had a run or a win already.  Again, last year I think we won with around 80% of our 2yo's, so we have very few maidens," he observed.
While the late Theo de Klerk may have introduced 'the swallows' in the early sixties, Joey has enjoyed great support from UK-based owners over the years. We suggested that the days of the great British support has reduced markedly for all trainers.
We asked whether Cape racing was still the desirable destination or had the economics and social issues changed the playing fields?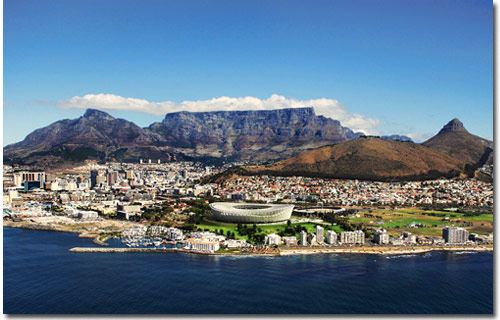 "The DA haven't helped our cause. And until they sort out the export policy, not just British but all international investment, will be nothing more than a pipe dream.  For years we've heard it's just around the corner. You can only cry wolf so many times.  Eventually people have enough," he warned in a reference to the onerous export protocols hampering the industry.
We taxed Joey on his off-shore buying policy.
"Sadly not at the current time. With the demise of Mayfair I had to miss the Australian sales this year.  But we do have a phenomenal record with our imported horses having bought July winner The Conglomerate and Met winner Whisky Baron, just to name two from only a handful of purchases."
We have observed that the Ramsden team are aggressive on communication and social media – is it a fad or does it work?
"I don't think it's a fad at all – sadly for me as it totally confuses me! It's not only a great way to communicate with owners but a great way to communicate with the general public.  Steph has been particularly strong in this area and although I hate to admit it, we have sold quite a few shares in horses via both platforms this year. And even rehomed some retirees!  It's also nice for owners to be able to see their horses on Facebook or Twitter and share the post. We all like to show off every now and again!"
We asked if he would be attending the Ready To Run Sale in Johannesburg on Sunday and at Durbanville on 23 November.
"Yes, we do try and attend all major sales. We are always on the hunt for the next big horse. And as Twist Of Fate has proven, one doesn't always have to break the bank! Thank you to the Sporting Post for being racing's premier publication and a voice – and for giving me the opportunity to answer your questions."
Share In A Dream!
Joey has three 2yo's with shares remaining – a Master Of My Fate x Forefront colt, a Visionaire x Dubai Jewel colt and a What A Winter x El Jadida filly.
"What A Winter has had 6 winners this week, including the very impressive Gr2 winner Clouds Unfold in the Cape Fillies Championship and with Twist of Fate flying the flag for his sire, we don't expect these shares to last long.  The Visionaire is probably our best moving and free flowing 2yo and he has a growing legion of fans," said the multiple Gr1 winning trainer.
Plse email [email protected] if you are interested.
‹ Previous
The Sun Always Shines On GTV!