The seaport city of Port Elizabeth has been a spawning ground of SA champion jockeys over the years.
Piere Strydom and Warren Kennedy are two of the most recent that spring to mind. On Sunday at Hollywoodbets Scottsville we saw another talented young man with a really bright future register his career first double. Pencil the name Kyle Strydom in.
The 19 year old booted home the 50-1 last double at a sunny Hollywoodbets Scottsville.
Lavu Lavu won for Louis Goosen, while Kyle's ride on Juniper Spring for Kumaran Naidoo from the worst draw in the final event was, dare we say it, almost vintage 'Striker stuff'. It was a double celebration as Lavu Lavu races in the Suzette Viljoen silks – and her son Izak's business  Ludeim is Kyle's sponsor.
A proud trainer Jacques Strydom, lying 'almost blind' in his post-operative recovery bed after eye surgery, told the Sporting Post that his good son's ride to win the last was exemplary.
Watch Lavu Lavu win here
Jacques, who was born with practically one eye, and battled a bit at school before his parents and teachers realised that he couldn't see, was pleased as punch.
"Kyle is a 4kg claimer, but the fact that he is thinking and using his head is clear – that was a good ride. He gave the horse a chance, didn't rush things from the draw, and then balanced him smartly."
Kyle has been riding work, with a lead rein at times, since about the age of ten at his Dad's stables.
He rode in four workrider races, to prove he had the makings of a future jockey.
Jacques explains that a novice rider learns nothing from playing a hare out front on a pacy horse.
"One can listen out front, or watch from behind. I stuck Kyle on a bit of a slow-coach first time. I told him to watch, observe and absorb. It's easier when you are behind them!"
It turns out that Kyle benefitted from  the lesson.
His first winner came at Fairview on 9 August 2019 on Flame Up for his Dad.
"She was slow away. I had to gather and take her round the field. We won easily in the end, but the tutoring and guidance from my Dad gave me the insight and confidence," says Kyle proudly.
The Pearson High School graduate, who admits that he 'preferred' athletics and hockey to mathematics and history in his school days, arrived at the SA Jockey Academy on 6 January this year as a post-matric student. He followed the same route as subsequent SA Champion Lyle Hewitson.
Kyle enjoyed the camaraderie and the spirit and on his six months anniversary had his first race ride.
It was 10 June and the venue Hollywoodbets Scottsville. Kyle recalls:
"I was so excited and managed to win my second professional ride on Transonic for Mr Dennis Bosch. It was the most exhillirating experience. I just wanted to win more!"
A fall set Kyle back for the month July, but he has come out firing this season with his Monday double making his winner tally for the new season a healthy 7, with a 10% win strike-rate and a 24% place rate.
"I can feel that I am growing with confidence with every ride. The senior jockeys and the SAJA riding masters have been very helpful and of great guidance to me. I enjoy sitting in the evenings watching my replays over and over – one picks up little things every time you watch," he adds enthusiastically.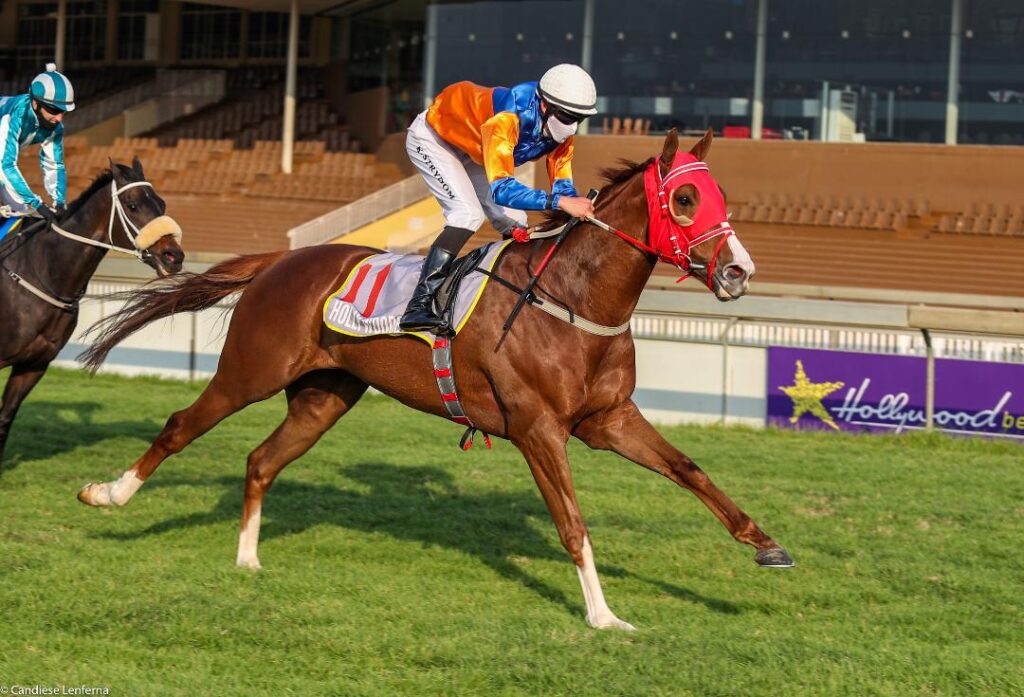 Kyle is tall for a jockey and his minimum riding weight is 53kgs.
"Being tall, I have to adapt my riding style and have used Bernard Fayd'herbe and Donovan Dillon as guides, as well as overseas jockeys. Like in golf, I want to use my height to optimise my ability to extract the best out of every horse."
And what about his family and legendary Uncle Piere Strydom?
"We are a close family and my Dad, Mom Dalene and elder sister Johane are my greatest fans and supporters. I talk every day to my parents, and have also chatted to Uncle Piere when I need to odd bit of advice."
Is there any pressure being a 'young Striker'?
"No, I haven't felt it. I try and focus and concentrate on the job at hand. It's a pressured and dangerous environment, but concentration adds more value than fear!"
Talking about people who have made a difference in his career, Kyle says that Dennis Bosch, who gave him his memorable first winner, Louis Goosen, and Garth Puller, have all been mentors and supporters.
"New riders cannot ride winners without support and others giving us a confidence break. I have been fortunate in that regard."
In terms of his short-term goals, Kyle wants to ride out his claim as soon as he can.
"I have been flying to PE, but have decided to focus on building myself up here in KZN and spending more time riding work for the local yards. I will travel to the Eastern Cape when required, but don't want to stretch myself too thin."