Building character and absorbing as much as he can from every professional around him. That's the positive approach of our 24 year old treble SA Champion Lyle Hewitson, currently in his second Hong Kong season and hammering hard for his next winner.
Going from his best ever season, when lifting his third SA title with 263 winners last term, and following a dreadful accident just two months ago, Lyle told the Sporting Post on Monday that he is physically and emotionally 100% and as sound as a bell – despite only having one winner to his name from 76 rides, in what was supposed to be a benchmark season in Hong Kong.
"I am enjoying 100% full flexibility and there is nothing wrong physically at all. I am actually feeling very good," he adds.
It's been a remarkable recovery! Lyle came back to riding a month ago after being injured in an accident during the running of the Gr1 Longines Hong Kong Sprint at Sha Tin in December that left him and two colleagues – Zac Purton and Yuichi Fukunaga – injured, and two horses sadly euthanised.
At the time Lyle wrote on Facebook: "Beyond blessed and very lucky to be in the state I am considering the magnitude of the incident. It is great to have gone from ICU to hospital ward to home in just a few days! Overwhelmed by all the messages of support, prayers and visits – certainly reminds me of the amazing people I have in my life. Now for the road to recovery and I promise to be back better, stronger and as soon as is realistic.#carpediem"
With amazing resilience and determination, Lyle refuses to make excuses, and with the support of his wife Hannah is staying true to his professional ethics. He also enjoys a friendship with fellow SA Champion, Luke Ferraris.
Lyle is focussed and determined to get amongst the winners and build solid and lasting relationships.
"At my last two meetings my twelve rides have produced six third places. That may not sound amazing on the face of it, but I am not riding fancied horses and am getting some of them to improve their form and get closer. I am just very grateful to enjoy the support and have a wonderful opportunity to gain experience and learn amongst some of the world's finest horsemen," says Lyle, who acknowledges that after breaking the ice at his third racemeeting, the accident a week later had broken his momentum.
But he is not making excuses.
"While winning races has a collective snowball impact on opportunities, confidence and even luck, the irony is that right now as I speak to you I feel good and I feel strong – and mentally I am positive that the tide will turn," he adds with a maturity that belies his years.
Lyle was reluctant to single out any trainer. But fellow Saffer and Hong Kong veteran Dougie Whyte has been a source of good counsel and guidance.
"I was always aware from early on in my career that it pays to listen and learn from anybody and everybody who is willing to offer input. I am doing that every day, and it's a great motivation as I turn my personal ship around," he says with positivity.
Lyle adds that, like for so many people all over the world these last few years, the covid-19 pandemic has meant a tailoring of movement and lifestyle.
The Hong Kong Jockey Club announced this past weekend that in view of the rapidly worsening COVID-19 pandemic situation in Hong Kong, they have decided to temporarily close all the Clubhouses in Happy Valley, Sha Tin and Beas River, as well as on non-race days the catering premises at the Happy Valley Racecourse from 13 February for two weeks until 27 February 2022 in order to protect its employees and Members.
So Lyle and Hannah are basically shut down at Sha Tin.
"We are all in the same boat. I personally spend a lot of time at stables and riding work. We have trials on Tuesdays and Fridays, and race Wednesdays and Sundays. On off days I spend time looking at my rides and going through the programme. Having Hannah with me helps a lot. Life is good and there is never a moment of boredom, despite the restricted movement!"
Lyle said that he keeps pace with the South African horseracing scene and stays abreast of all the results, as well as watching the features.
We asked what he thought of Rain In Holland's dramatic victory in the Wilgerbosdrift Gauteng Guineas last Tuesday evening.
Lyle won the Gr1 Thekwini on the daughter of Soft Falling Rain as a 2yo at Hollywoodbets Greyville.
"That was a really smart victory and it was an encouraging result for Rain In Holland's SA Triple Tiara chances as the mile would really be her most difficult leg in my opinion. Yes, I also watched Kommetdieding win the WSB Cape Town Met – another very good victory for him and he seems an exciting prospect. My best wishes to all back home. I hope South African racing goes from strength to strength in 2022."
‹ Previous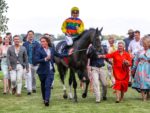 From Cape Hunt To Met Day