Leading owner Marsh Shirtliff has been there, done that and got the t-shirt.
The charismatic Capetonian has enjoyed some of the sport's great highs – from multiple victories in the J&B Met and the July, through to superstars Jay Peg and River Jetez on the international stage.
On Saturday he will be in the crowd again at Meydan for Dubai World Cup night.
"We are 'quietly hopeful' rather than 'quietly confident'. There is a subtle difference you know," laughed Marsh as he chatted to the Sporting Post from the Maldives before flying out for the four hour flight to Dubai on Tuesday evening.
The retired motor insurance guru was reflecting on the prospects of his 'baby', past Equus Champion Marinaresco, who lines up in the $1 500 000 Gr2 Dubai Gold Cup to be run over 3200m – a distance the Mauritzfontein bred 6yo gelding is yet to attempt in an illustrious career, where he has raced 19 times for 6 wins, including two Gr1 successes. The compact galloper has earned over R5 million.
"I got a message from his big race rider Bernie (Fayd'herbe) this morning. He says Marinaresco is flying. He is well. He is ready. And let's face it, Mike (de Kock) knows exactly what he is doing. So they just have to keep him ticking over until Saturday. We think he will stay the 3200m. The Silvano – Fort Wood cross is a stout one. We thus have to believe that he will have the legs to go the distance," said Marsh as he pondered the nine horses standing between his famous pink, white and blue silks and yet another glorious international success.
"He is the third highest rated runner in the race. And while we have run scared of the opposition, we are taking on the 2018 Melbourne Cup first and third placed Cross Counter who receives 2,5kgs from us as a 4yo, and A Prince Of Arran. Interestingly the Charlie Appleby trained Cross Counter was the first British-trained horse to win the Cup in 158 years. So he can't be too much of a slouch, I suppose," observed Marsh as he pointed out that Marinaresco is priced up at a mouthwatering 50-1 for Saturday's showdown.
He has never been a man to shy away from having a small wager on some of his runners and points out that when Jay Peg banked the R70 odd million cheque (in today's terms) in 2008, when he won the Dubai Duty Free in a dramatic finish under Anton Marcus, he was 100-1.
That, he concedes, is still the most memorable moment of his racing career.
"It was absolutely unbelievable. And I took a whole day to actually come to terms with what had happened as I didn't give 'Peg'  any chance of winning the race from his wide draw. Another equally breathtaking moment for me was Pocket Power winning his fourth L'Ormarins Queens Plate. It left me totally speechless. It was a huge achievement from the great horse," he recalls.
Nearing the 70 milestone in a life lived at full pace, Marsh was brought up in Belville where his father was in the motor trade.
He was a Western Province athlete and played rugby for Hamiltons until close to 50 before hanging up his boots.

He spent seven years, including his compulsory military service, as a medical technologist in blood transfusion laboratories before switching to sales. He sold motor warranties and then set up Motorite, a company that provides warranties, maintenance and service contracts.
He was 42 before he began owning racehorses. He says he kept it that late and until he was well established financially, as he didn't want to be 'caught up the creek without a paddle'
His first trainer, whom he still supports today, is Milnerton veteran Greg Ennion.
Marsh's first feature winner was the stayer Dramdor and his maiden Gr1 winner was Tobe Or Nottobe, who was trained by Mike Bass and won nine races including the 2004 Cape Flying Championship.
He has owned some great horses like champion sprinter and emerging sire What A Winter, and spent a few rand in the game.
He says that Pocket Power was the best R190 000 he ever spent. The champion gave him many thrills – a dream horse – but also played a key role in his biggest disappointment.
That came about when River Jetez, who he part owned, won the 2010 J&B Met "Pocket Power was the apple of my eye and I was set on him winning it for the fourth time. He could only run third and, while I won the race, I was as miserable as could be," he said in a report some years ago.
We asked him about probably the ultimate investment of passion beyond yachts – owning racehorses – and if Marinaresco had paid his way.
"Look it's not all about the money. Ironically, since I started spending more cash and became a more discerning buyer, my luck has dried up! Or maybe it's because I have just done my dash with lady luck? Who knows,"he laughed.
A real competitor, Marsh says that little beats that winning feeling and it would be really great to go close on Saturday.
"There are some plans to go to Hong Kong after this – there are a few nice races there and the big guns may not be around. I think Marinaresco will end up in Singapore eventually. But let's take it one race at a time. This game keeps us humble and plans change quickly – as you know!"
He says that win, lose or draw, he is looking forward to Saturday.
"My partners won't be there, but Marinaresco's former trainer Candice Bass-Robinson and her husband Connell are flying out to join us. It's a great occasion and a real privilege to be a part of it. Some owners will never win a race. So I always remind myself that I can't complain. I have been blessed with great success overall. Racing has been good to me."
‹ Previous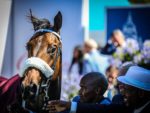 Caution – This Lady Can Snap!