A first Vodacom Durban July ride or a 21st birthday celebration?
That could be the poser facing 20 year old apprentice Denis Schwarz on 6 July after the athletic lad from Alberton stepped into the big league with a superb Gr3 double at Turffontein on Saturday.
There is no question that the Hawwaam heartbreak, superb equine performances on the track and the tantalising aroma of the amazing Gauteng prawns dominated Derby Day at Turffontein on Saturday.
But the softly spoken Denis Willem Schwarz – aka 'Deevee' after his initials – stepped quietly on to the major stage and left Turffontein a very satisfied young man with two trophies in his kit bag and a boosted CV.
"Every winner is important to a jockey. Especially, I believe, to a young jockey trying to build a name and make an impact. There are a host of top-class riders for trainers to choose from. So one's performance – especially on the big days –  and ability to be seen as a professional is important. But this was my career first Gr3 – and I got two of them – and it will be a day I will cherish for a long time!" he told the Sporting Post as he chatted after work on Monday morning.
Denis has now clocked up 120 career winners – effectively 'double his claim' as he put it, and said the impact of the events of Saturday had only sunken in the next day when he enjoyed a family potjie to celebrate his niece's second birthday.
"I had an early night on Saturday. The adrenaline really pumps in the bull-ring out on the track. And afterwards one feels exhausted – albeit, very satisfied," he laughed.
He rates Paul Matchett's Gr3 Protea Stakes winner Twilight Moon, a R20 000 bargain buy, as a horse with a bright future and one who should go further than the sprints in time.
"Mr Matchett has been a solid supporter of mine and given me some good opportunities. I have ridden Twilight Moon at all three starts and after his dead-heat in the Storm Bird Stakes, he improved again on Saturday and enjoyed the extra 100m. He won very well and he could be seen at Scottsville in May for the big sprint day. But that's up to Mr Matchett."
Denis followed up in swashbuckling style in the very next race when Van Halen bounced back to his best with an exciting and upset win in the Gr3 Man O'War Sprint.
We asked Denis how he got the ride.
"Mr Tobie Spies approached me at races a few weeks ago. He asked if I would like to ride their horse in the Man O'War. I accepted happily as I know Van Halen is a Gr1 sprinter and with his Cape form out of the equation, he had to have a chance. He gave me a beautiful run. Although I was boxed in from about the 600m to the 350m, I was watching the horses down my outside tiring. That gave me hope and I kept an eye on them and then realised late in the race that we had a serious winning chance. It was exhirillating and little beats returning to the winner's enclosure to see how happy the owners and the team are. I don't think I will ever get used to the feeling!"
We asked Denis whether riding a longshot without expectations, like Van Halen, was easier than a fancied runner.
"No, not really. Every horse has an owner, a trainer, a groom in the grandstand – and maybe even somebody who has wagered some hard earned cash. So I ride every horse to perform to the best of his ability. I don't think too much about the pressure. One doesn't have time to be preoccupied in a race. We are out of the gates and it's who gets to the line first. There we are more concerned about the opposition around us and strategizing," he adds maturely.
The Northern Cape's leading Apprentice of last season Denis lives at the Gauteng Academy. We asked him about his social life and plans for the future.
"I am just focussed on completing my apprenticeship for now. I think I will come out of my time in January next year. I love my career – and it's a game where hard work produces results. No, I don't have time for girlfriends or wives either!" he laughed as we asked him about what he does when he is not working.
"My family has been a pillar of strength to me. Through the good times and the bad times. And believe me, nobody can say they haven't experienced ups and downs. It's a physically and emotionally testing environment and requires great strength of mind and body. I have a lot to learn,  so the guidance of my Mom Riette, my stepdad Pieter Brown and my own Dad Carel, who was also there on Saturday,is of great importance to me."
When questioned on a role model or mentor, Denis said Piere Strydom was an icon.
"He is a once-in-a-lifetime champion. His achievements speak for themselves. He gives me feedback and advice. The best thing about Piere Strydom is that he is a kind, nice person too. One always imagines that champions could possibly struggle to be humble. But his enormous success has not affected him."
Denis has not been entirely low-key as an apprentice.
At Greyville on 6 December 2017 he became only the third apprentice in SA racing history to ride the Jackpot – following in the boot prints of Muis Roberts and Athandiwe Mgudlwa.
He was also Northern Cape Champion Apprentice and says that, while he doesn't travel to ride at Flamingo Park anymore, he is thankful for the confidence and good grounding he achieved on the sand.
"It's a lovely place with the nicest friendliest people," he adds.
Denis has gotten over the disappointment of missing out on a planned trip to Russia in August last year.
He was selected and was planning to jet off to Kazan to contest the HH Sheikh Fatima bint Mubarak Apprentice World Championship (IFAHR) at the Kazan Racecourse.
"It was cancelled. I was very disappointed. But my turn will come. I am still a youngster," he says.
The 19 year old former Marais Viljoen High School pupil joined the SA Jockey Academy intake of 2015 alongside the likes of Ashton Arries, Calvin Habib, Louis Burke, Sandile Mbhele, Dylan Lerena, Khanya Sakayi, Liam Tarentaal and Daniel Kotzen.
He is still best friends with Dylan Lerena.
His first raceday under rules was on 20 March 2016, when he rode the Craig Eudey trained Last Summer and Gavin van Zyl's Ginger Biscuit at Scottsville, grabbing a 5th place with the latter.
His first winner came on Chronological for Gareth van Zyl on 11 May 2016.
He can ride at 52,5kgs but has to waste.
"I am comfortable at 53,5kgs. It gives me plenty of scope for rides and I am very fortunate," he adds.
He turns 21 on 6 July. We asked what happens if he gets offered a July ride on the same day.
"I think the honour of a major race ride and my career comes way before a party right now. But I will cross that bridge when it comes!"
‹ Previous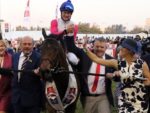 Owning The World