Being the first to arrive in the mornings and the last to leave is a work philosophy that is paying dividends for Calvin Habib.
The son of former jockey Donavan reached a career milestone with Divine Odyssey's Gr2 Colorado King Stakes win at Turffontein on Saturday.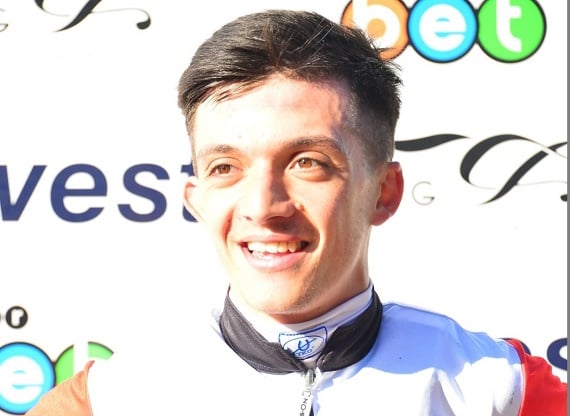 Things are falling into place for Calvin Habib – pictured above.
Just a month ago he and girlfriend Shandre Hoffmann – a Mandela Rhodes Scholar who recently received her Honours Degree in Industrial Sociology Cum Laude and was also crowned Miss University of Johannesburg Varsity Cup Queen – moved into their first new home together on a centrally situated golf estate in Gauteng.
Shandre is the daughter of former jockey and stipe Andre Hoffmann and Calvin says that the couple are excited about their careers and their future.
"Shandre is busy on her second degree and we don't get in each other's way when it comes to work and studies. But she was there when Divine Odyssey won on Saturday and that was a great thrill for me."
Calvin explained that at the 150m marker Divine Odyssey was going so well to give him a career milestone that he won't forget.
"I just touched him once with the crop to ensure he kept his mind on it. As I reached the line I heard Shandre shouting us home and I saluted. It was pure adrenaline and joy. I shouldn't have but it was my biggest win so far and I was so happy. The stipes fined me R1000 for saluting prior to the line. I respect that," he says as he goes on to talk about his affinity with the son of Oratorio.
"He was always a talented horse but went off – horses do that. But he has turned the corner. Mr Johan Janse van Vuuren has done well with him – and Divine Odyssey improved further on Saturday."
We asked him if he would keep the ride and what it was like working for Johan Janse van Vuuren – a man rumoured to be ever so slightly tetchy before he has had his first cup of coffee in the early Randjesfontein mornings.
"Naturally I'd love to keep the ride. Divine Odyssey and I get on so well. I have never had an issue with Mr van Vuuren – he just expects the job to be done – and done properly, and then there's no issues. He has a powerful string so I'm just very happy to be associated with a big yard."
Calvin also rides work for Clinton Binda, who has given him many opportunities too.
He travelled to Flamingo Park on Monday and while picking up a win on Phil's Power, was unlucky to be shaded in the feature by Ray Danielson riding the more experienced Warrior's Stone.
"Paddington was having his first run at Flamingo Park. It was a superb effort and it was really heads up and heads down. Very close!"
Calvin rides at 52kgs and comfortably at 53kgs. He says he is prepared to travel anywhere to ride.
"I'm happy to ride a winner at Flamingo Park. Or Fairview, Cape Town – anywhere. It keeps the confidence up. I'm young and not exactly in a position to pick and choose what suits me best," he laughed.
Currently leading the Zimbabwe jockey log, the 22 year old Calvin has the world at his feet as he works hard on establishing the foundations of a career in the saddle – the dreams of which started shortly after birth.
"I grew up in a horseracing house. My Dad was a jockey and my cousin Derreck David is also a jockey. My elder bother Devon is not involved in racing but is a major supporter of mine. My Mom Amanda has been doing the jockey room catering at Turffontein and the Vaal for years. I recall as a ten year old going to work with Mom and just wishing I could put on the boots and the silks and go out and ride a winner. The atmosphere was intoxicating and my superheroes as a young boy were the jockeys, rather than the predictable Teenage Mutant Ninja Turtles and the likes of Batman. So I was probably always predisposed towards a career in the game."
But Calvin hit a bump in the road when first applying at the SA Jockey Academy.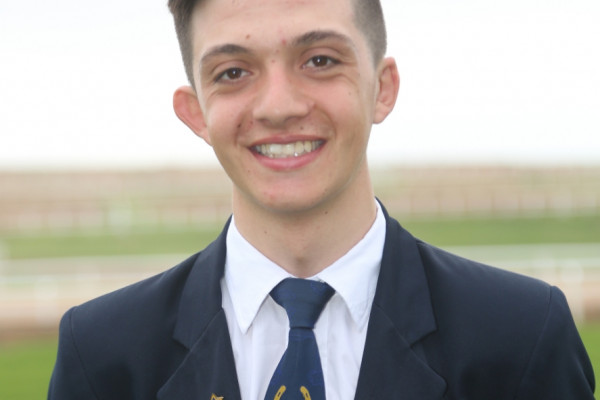 "They rejected me and said they felt I would get too tall in time. So I joined Mr James Maree's Workriders Programme with Lyle Hewitson and will never look back on that experience. I learnt so much and it formed my attitude towards my career – long before I knew I would actually even get accepted at the Academy!"
Calvin rode his first winner on 3 May 2014 at Turffontein.
The filly's name was Lucky Gambler for Devin Little and another eight winners followed as a workrider before his reapplying at SAJA.
"I walked on air through the doors of the SA Jockey Academy on 13 January 2015 alongside the likes of Denis Schwarz, Dylan Lerena, Ashton Arries, Louis Burke, Khanya Sakayi, Sandile Mbhele and Leon Tarentaal. It was a tough year. My apprenticeship was only a three year stint and I was treated as a normal first year – with school, cleaning boxes and tack and the rest of it –  but with the additional commitments of work riding and race-riding."
He says he received plenty of assistance from the riding masters and quickly adapted to the rigours of academy life and it was only three months after starting that he rode his first winner as a professional apprentice jockey.
"It feels like yesterday. The date was 17 April 2015 and I won at Greyville on Missmasala for Mr Sean Tarry. It was a great thrill and I was geared up to ride many more!"
Asked to signal out some highlights, he says that he won on the Newbury Racing owned Muscatt to break the Scottsville course record in early 2016, a mark previously held by champion Captain Of All.
"Mr Michael Roberts trained Muscatt and had him fit to fly. He lowered the 1000m course record to 55,81 seconds."
He also won the 2018 OK Grand Challenge at Borrowdale for trainer Bridget Stidolph and Gail and Denis Evans of Newbury Racing.
He is proud of the fact that he has done so well in Zimbabwe
"Flying to Zim is like flying down to Durban for me. I have enjoyed great support from Mr and Mrs Evans of Newbury Racing and it is wonderful to ride for people who make you feel appreciated and understand the game. They have been so good to me."
As to future plans, Calvin says that he'd like to ride overseas one day but for now he and Shandre are focussed on building their respective careers.
"In late 2017 I did a stint riding in Bahrain. I rode about 7 winners from 50 odd rides. I was attached to the Al Afoo Racing Stable under Trainer Hussain Al Daylani. The experience was invaluable but I thinks it's important to establish myself now on home turf. South Africa has the best jockeys in the world and If I can prove my mettle here, then I can go anywhere into the big wide world with confidence – when the time is right."
Proud Dad Donavan
Calvin's famous former jockey Dad Donavan has reverted to watching racing again since his son has started riding.
Donovan, who cites the champion Goldmark as the best horse he rode during his 27 year career in the saddle, said that when he retired in 2010 after a knee injury he was 'a bit heartsore' to watch the racing.
"It's a way of life. When it comes to an end too early, one can have issues coping with the finality of it. But my son's success has filled the void and I can watch his progress with pride. He's a well balanced rider and is dedicated to his profession. The world's his oyster and I believe he will make it," said Donavan.
‹ Previous
He's No Menace!