While the handover of the reins to the heir apparent of the Mike de Kock racing empire may be some years off yet, the foundations are being laid to ensure that the demands of training racehorses at the top level for a new generation will be met well into the 21st century.
One of South African horseracing's brightest young stars, the 26 year old Mathew de Kock has firmly  entrenched himself as the 'every other day' public face of one of our foremost training operations.
With three runners in Naafer, Ghaalla and Dagmar on Saturday's big Gr1 sprint raceday at Scottsville, the De Kock team will be looking to raid KZN as the races present themselves over the next three months.
"We have Ghaalla and Dagmar in the Allan Robertson, and Naafer in the Tsogo Sun. They are all fit and ready. We don't travel for Gr1's unless we believe we will be competitive," says Mathew with confidence.
With the highest win strike-rate, and at third position on the national top ten, the De Kock team are breathing down the necks of the Snaith and Tarry powerhouses. They have 160 horses in training with 30 to 40 currently at spelling farms.
Everybody wants to know what is happening to near SA Triple Tiara heroine, Takingthepeace, who was scratched from the July.
"She's currently having a well deserved rest and Highlands-Ridgemont's Ross and Craig Kieswetter have bought in and will race her with Murray Makepeace and Michael Shea. It is great to have more young dynamic owners in the yard. She will also be a top-class addition to the powerful Highlands broodmare ranks one day," said Mat.
On their SA Champions Season prospects, Mathew says they will be selective as always.
"We have four July entries and sadly Cascapedia, who was scheduled to have an important prep run at Turffontein on Sunday, lost out as she was withdrawn following the Randjesfontein Grooms Strike. We will probably run her now in the Jubilee Handicap and then into the July."
Other than a nice bunch of 2yo's, he mentioned their 2017 SA Classic winner Heavenly Blue as a  possible runner in the Gr1 Champions Cup at Greyville in July.
In the absence of his Dad on overseas campaigns and sales, Mathew has become a polished gem way ahead of his time. And, beyond the emotionally charged Takingthepeace thrills on Champions Day, he seldom breaks his professional exterior.
"I have been blessed to have learnt from the best and I really am fortunate to have been placed in a position of trust and responsibility in a yard that boasts powerful owners and top horses. I never forget though that my Dad remains the boss!" he laughs.
It's been seven years since the Dainfern College graduate filled a gap year before taking up a planned golf scholarship in the USA by helping out at the De Kock HQ to earn some pocket money.
"After graduating from high school the plan was for me to travel to the States. There was a 9 month delay and in that time I assisted at the stables – that's really when the bug bit! I was on the permanent staff before I knew it. Now I'm here for life – I would like to think and hope so, anyway!"
With Dad very much an old school student, Mathew has been the driver of new age innovation in the long established business. New owner plans are first and foremost on the agenda.
"Syndication is important in any yard, regardless of the size. The majority of the owners in our yard are a part of my father's legacy. Given the convenience and relative cost, syndication is the ideal way for me to try and grow my client base within the yard. This is my way of bringing new owners into the game," he says excitedly.
"Getting more people involved and making it fun and affordable is the key. Syndication is an accessible way for new blood to get involved in the game. I feel we need that for horseracing to continue to survive – and hopefully show some growth  too."
The launch of their website recently to promote the Onamission Syndicate is a key step in upping their game.
"Onamission is different in how simple and easy it is for new blood to get involved in the sport. It is intended to make it affordable for anyone and everyone. We are doing this for the love of the game. You really shouldn't, and don't have to, take out a loan to become  involved in the sport," he says with maturity.
'From the sport of the king's to the sport of the people' is the slogan that Mathew hopes will soon become a way of life for many looking to take the plunge into a game that carries mystique and a mostly unfriendly exterior.
"All of our owners are very happy and we have an open communication policy with everybody. They can contact me or Dad at any time to talk about their horse. It's also about making the time to answer any questions that they may have. Educating the new client is important. As is helping them understand the game, and then guiding them as they fall in love with it – just like we did."
He suggests that if people understand the game they are more likely to appreciate  the pro's and con's of it too.
"Patience is a big item on the ownership balance sheet. But balancing that with a more efficient experience is the key. We are thus planning to acquire more ready-to-run horses, such as Puget Sound, as the process is usually much faster that way and owners will enjoy a potentially quicker return on their investment."
Mathew went on to explain that Onamission, as a syndicate, is still very new and very fresh. Each horse races under the umbrella in the syndicate name, but under different groups of owners.
"We currently have three horses in training. Puget Sound is the only one to have hit the track and he was a great start for the syndicate. He has run in the Gauteng Guineas and the Dingaans, which are both fantastic big occasions for first time owners. He also had the opportunity to run in the R1 million rand Kuda Sprint race on Sun Met Day in 2017.
"We have two other horses being prepped to make their track debuts.  Saint Etienne is an Elusive Fort gelding out of Spring Beauty. We also have Elbi, who is our first filly in the syndicate. She is a lovely daughter of Philanthropist out of Madrisa."
Mathew says Puget Sound is likely to raid the SA Champions Season features if everything goes to plan.
"Then we are about to launch our newest syndicate for Arminius, who is a Vercingetorix colt out of Rainbow Flag – meaning he's a half brother to the top-class Kangaroo Jack."
Mike, who trained the champion Vercingetorix, chipped in at this point with a thought on Arminius: "He is a very well balanced horse and has inherited many of his father's attributes. He is a good mover and has a great temperament. He comes from a family of many winners, all by a wide variety of stallions. We are very excited about this horse's future".
Watch the website for news of shares in Arminius!
"The idea behind the new Onamission website is for prospective new owners to get in touch with us directly. And also, like any other brand, we need our  place on the web. The interaction since the website has gone live has been fantastic – over 700 users in the past three weeks, which is brilliant for a brand new unpromoted site."

The young assistant trainer said that their social media interaction has also been top-class, with current owners joining in and the interest from new owners very refreshing, making for a great miix.
"People have simple questions of how they can get involved. There are no stupid questions. We respect that we are talking to newcomers. The whole purpose of this social media and digital marketing drive is to tap into a new and mostly untouched market – and most important of all, it is generally a younger market."

He says that they purposely went with a  look and feel that made Onamission nothing like anything currently seen in the South African horseracing space.
"Look this is the present and the future. It's the way us youngsters communicate and network. It's cool and funky, and user friendly.  We are very excited to see the next step that the brand is going to take. There are some big things to come and we really do want our passion for the sport to grow and involve others. Otherwise there might be no tomorrow to look forward to. And, as a long established family business, we are naturally in it for the long haul."
‹ Previous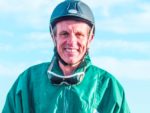 They Call Him Lester