At the age of 53 and with six SA champion titles amongst a host of illustrious achievements on his impressive CV, Piere Strydom is treating his recent stint in Mauritius as a positive experience, despite the obvious disappointment of having his contract abruptly terminated.
The man, whose legion of adoring fans know as 'Striker', a name christened by a PE journalist who wrote under the name Rob Roy, will go down in history as one of our greatest riders of all time.
Piere picked up the tag from his wait-and-swoop style of race riding, an art he mastered on the windswept tracks of Arlington and Fairview in the 1980's.
He rewrote the record books when he became the first South African jockey to ride 5000 winners.
That momentous occasion came in the Selangor Cup on Act Of War on 22 November 2014 at Kenilworth.
He  spoke to the Sporting Post while sitting out his Mauritius suspension at his partner's home in Fourways, in advance of his return to race
Piere was fined Rs.50 000 and suspended from riding in races for a period of 6 weeks in terms of the MTC Rules of Racing after he was found guilty of contravening MTC Rule 160 A (j).
The stipes felt that he failed to ride Man Of Seattle to their  satisfaction from the 400m in the second race on Saturday, 3 August. He was also suspended from riding in races from 6 August 2019, but will be riding at the Vaal on 19 September.
"Having been off for over a month now, and with a few weeks left before I resume race-riding, I feel refreshed and ready to bounce back into the swing of things. My life is in a really good place and I think the breakaway on the island has done me well – despite the fact that it ended quite suddenly," he mused.
Striker took up a contract with the powerful Rameshwar Gujadhur yard in May and rode ten winners and twelve seconds from his 51 rides in five odd weeks there.
He started in fine style riding Danger Rock to victory at his opening meeting at the Champ de Mars – his first at the oldest racecourse in the Southern Hemisphere since his last appearance all the way back in 2001.
He said he loves the country, the lifestyle and the tangible and animated passion for racing and life of the ordinary Mauritian people. He concedes he even considered acquiring a property on the island.
But he is less complimentary about some of the racing folk, and said bluntly that it seemed that fingers had to be pointed and blame absolutely had to be leveraged every time a horse didn't produce what was expected.
"The Stipes have their job to do and as a professional jockey you learn to accept and respect that fact. While I don't necessarily agree with their decision and findings on Man From Seattle, that led to my fine and suspension, I ride under their rules and have no choice but to accept it and move on. But looking at it broadly, I must admit that I experienced nasty people and bad losers. Money, as in most areas of life, was probably at the root of it and it made the whole experience sour for me. Racing by its very nature is subject to so many variables – we are dealing with flesh and blood, things go wrong, equipment goes wrong. I found it remarkable that a country so steeped in racing history had so many bad losers. It's a great pity, and believe me, I was well aware of what happened to my colleagues in the past – so wasn't going in blind when I set out in May," he added.
The top jockey said that he had reached a point of going stale prior to taking up his Mauritius contract.
"The economic realities dictate that the smaller yards are getting smaller – and the bigger yards are getting bigger. The younger guys coming up through the ranks are hard working and hungrier – a lot of them have talent too. So from the days when I would phone and get 60% of the ride choices – and even the second choices would be accepted elsewhere, and I would ride them too, I now have the fourth choices – if I'm lucky!" he said early in May.
The twice divorced Dad's days of travelling far and wide to chase championships are also over.
He says that racing is a fickle sport – people write one off quickly.
With his support waning he reflected that experiencing the rejection over and over, and being emotionally knocked back all the time, was soul destroying and 'not good for anybody'.
So Mauritius came along at the right moment and was an opportunity to reinvigorate his mind and career.
Striker said it has sharpened him up dramatically – and proved a good refresher crash course for a veteran of the track.
"As our guys will experience in Hong Kong, the races are run faster. They are quicker out the stalls. You need to be razor sharp. The stiping is stricter and so they have to be to ensure optimal safety. But take Cape Town, as a local example. The jockeys jump out and cut each other off to squeeze into position. It seems to be regarded as acceptable. Try it at your peril in Mauritius or Hong Kong!" he smiled.
But he says that the Mauritius rollercoaster had the adrenalin pumping and all senses on full alert. Something he feels will stand him in good stead on his return next week.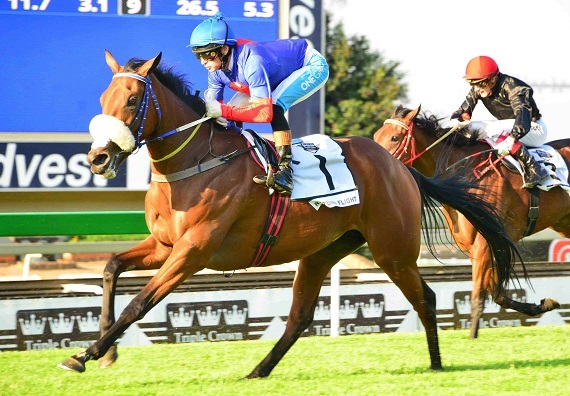 "Look, I have children at school, a mortgage to pay and a life to live. So I am keen and hungry and have had a few phone calls from trainers. So that is encouraging. I have kept myself fit with spinning sessions and race-riding fitness will come. I had always aimed at stepping down at 45. That all changed when my children came along. Now 55 remains a moving target. I have plenty of time to win a few more Gr1's and take on the young guns," he laughed.
Pieré Johan Strydom is the eldest of 5 children and was born in Port Elizabeth on 7 June 1966.
The likes of Glen Hatt, Robbie Fradd, Nicholas Shearer, Eric Chelin and Hemant Ramlugaan were his classmates at the SA Jockey Academy. Piere rode his first winner on Saadabad at Scottsville in 1982.
We welcome back a living legend of the game!
‹ Previous
How Did It Happen?