The whole world's talking about Marco van Rensburg's scintillating ride from the front to win Sunday's Listed The Sledgehammer on Mike and Adam Azzie's Orpheus.
The Stipendiary Stewards have asked for statements from some of the other riders in the 1800m contest after they somehow seemed to allow Marco and his mount to run right away from them.
Marco says it was a particularly pleasing victory and something of a plan come together! He set a new Greyville polytrack 1800m course record of 106,64 secs in the process.
The 36 year old jockey, who has now won three on the trot on Orpheus, says that the gelding's previous riders Gavin Lerena and Piere Strydom had done nothing wrong, but that he had found the winning recipe.
"He loves to go fast. He loves to use his elastic stride. And he doesn't stop – as you may have seen on Sunday. Behind the gates at the start at Greyville, I told all my colleagues that they were going to feel like they were in a  1000m race afterwards. I recall Sean Veale still chirping that I musn't be too unreasonable! I had a big smile on my face. I'm not sure what they thought and whether they believed whether I was being serious or not?" laughed Van Rensburg as he reflected on the success of the plan and how he had 'played them all on the break'.
We put it to him that given his commitment to go fast and the fact that he was doing bold splits, it was difficult to really blame his opponents for believing that he would surely come back to them.
"I haven't seen the sectionals but we were going quickly and we picked it up a notch at the 800m again. There are not many horses around that would have gone with Orpheus on the day. So, yes, hundred percent – they probably thought I would come right back to them," he observed.
Van Rensburg added that he knew that his main opponents – like Eyes Wide Open and Roy Had Enough – were also having prep runs and were returning from a break.
"So I knew that they wouldn't be razor sharp or at their best. Throw in the fact that I felt that Orpheus would love the poly and the Greyville track – and the reality that he was racing off altitude down to sea level. Let's face it, he had to be very hard to beat."
Marco is getting more chances with the Azzie team and he has gotten to know Orpheus well. He describes him as a big horse who uses his stride, has a high cruising speed – and doesn't overrace.
"He has two personalities. One at track in the  mornings. The other turns up at the races. He is full of you-know-what at work. He fly-jumps and plays games with whoever rides him and he is just one handful of restless energy! At racing he is the ultimate professional. He is obviously an intelligent fellow and he knows when to be serious!"
Marco says that the lightly raced Orpheus can only get better.
"I don't believe he is near his optimum performance levels yet. Give him time – he is going to be something really smart. Mr Azzie will naturally be mapping his programme. In my head I would love to try a Greyville turf 2000m. I will do what I did on Sunday. And even if they see us coming this time, I don't see them getting to him. He is an exciting kind of horse."
The former SA Champion Apprentice of the 2001/2 season, the new mean, lean Marco van Rensburg is enjoying a great season. He rode 7 feature winners last month and has a total of 56 winners at a strike rate of 11.22% this term. He is keen to beat his peak career achievement of 107 winners in a season, achieved two years ago.
He must be the best value 50kg rider in South Africa at the moment.
"I have been putting in the hard work at gym and living strictly by a diet that really works. And I have never felt better."
Marco has achieved a large part of his success over the years in the Northern Cape with the Cliffie Miller team. Interestingly, most jockeys – other than probably Muzi Yeni – grow out of the Diamond Dustbowl and the drag of travelling to Kimberley every Monday.
"I love Kimberley. I'd go so far as to say it's my favourite track. I love riding there. No matter the weather, the conditions – the track handles it and it runs true. There's never any kickback – it's a great surface. I wish they could have transferred the track to the Vaal!" he laughs.
Lucas Marthinus 'Oublank' van Rensburg was born on 18 April 1983 and grew up in Sasolburg.
He joined the SA Jockey Academy in 1998 alongside Chad Little, Tyron Langdon, Ralton Peters and Robert Fayd'herbe.
He rode his first winner for Dennis Bosch on Pearly Queen and also piloted top horses like Greys Inn and Hinterland to victory. He achieved an early Gr1 success in the SA Fillies Classic on Spiced Gold.
He and his wife Jenna, a teacher, have two daughters aged 4 and 7. They live on a Gauteng Golf Estate – the same one as our recent personality of the week, Calvin Habib.
"I don't play golf anymore. I had a wrist injury and the golf aggravates it somehow."
He keeps busy doing building and handyman tasks around the house.
While he'd loved to find an Orpheus every weekend, he says he is looking forward to Champions Day where he has 4 rides on Saturday and the SA Champions Season – which commences on Friday. He rides Zouaves for Geoff Woodruff in the Gr2 Drill Hall Stakes on Friday evening at Greyville.
What the Stipes said:
THE STARTER REPORTED : 
ROY HAD ENOUGH (AUS) (B Fayd'Herbe), GIMME ONE NIGHT (C Orffer), WEALTHY (S Veale) and SHENANIGANS (M Yeni) lost one length.
THE STIPENDIARY STEWARDS REPORTED (TN) :
ORPHEUS (M V'Rensburg), the winner, was selected for the taking of specimens for analysis. Trainer M Miller acting for Trainer M/A Azzie advised. (RJ)
ROY HAD ENOUGH (AUS) (B Fayd'Herbe), placed second, was selected for the taking of specimens for analysis. Trainer F Robinson advised.  (DA)
OUR COYS (AUS) (W Kennedy) was hanging in on the bend and into the straight.
In view of the performance of SHENANIGANS (M Yeni) (10.95 lengths) the Veterinary Surgeon was requested to examine this horse.
Certain of the riders who headed the field in this Race appeared before the Board. They were questioned in regard to the instructions given for the running and riding of their respective mounts as well as the manner in which the Race unfolded.  This matter was adjourned for the Board to consider the riders' statements.
‹ Previous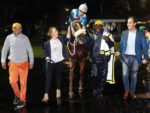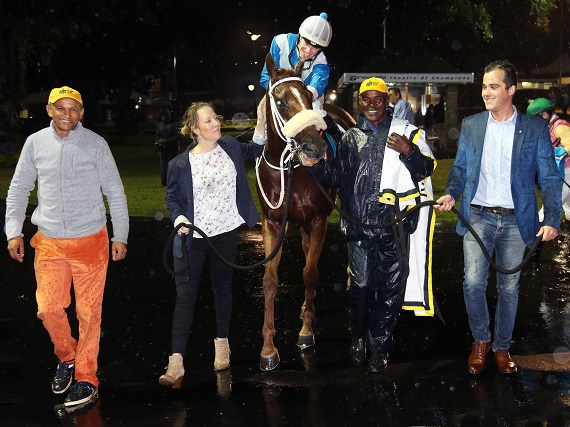 Under The Radar