A ten-times champion jockey of France, Christophe Soumillon flew out of Cape Town with his former beauty queen wife Sophie on Tuesday en route to his home just outside of Paris, packing the newest of his 120 odd Grade 1 trophies and a suntan that suggests he could well be back to enjoy the 2023 Hollywoodbets Kenilworth Summer Festival.
As the sun set on a memorable South African summer holiday, the Soumillons were looking forward to returning home to Chantilly and regrouping with their 17 year old daughter Charlie, and sons Mika (14) and Robin (5), who had returned to start school three weeks earlier.
The family holiday had started in November, continued through the L'Ormarins King's Plate, was punctuated with a trip home and a few rides in Dubai, and culminated with a dazzling day on Saturday.
"The WSB Cape Town Met day was the icing on the cake of our wonderful holiday travels, and we have had a really great time of it here in South Africa with warm hospitality wherever we went, and hosted by wonderful friends, doing all the 'touristy' things like the wine routes and game farms," smiled the 41 year old Belgian-born rider who has won some of the great races of the world, from the Prix de la Arc de Triomphe to the Breeders' Cup, as he chatted in his near perfect English to the Sporting Post just prior to his departure from South Africa.
While the enormity of the presence of one of the world's great jockeys may have been lost on the social and fashionista portion of the 10 000 crowd that quaffed their Pongracz and braved a typically four-seasons-in-one day at Hollywoodbets Kenilworth for the 2023 WSB Cape Town Met celebration, the Belgian-born star delighted the local racing elitists with his velvet-smooth saddle-craft, in the process harnessing a treble, including a maiden SA Gr1 winner for his old mate, Mike de Kock.
In something reminiscent of a North Sea storm, the man who has ridden Gr1 winners in ten countries around the globe, swept across Hollywoodbets Kenilworth and booted home his first three rides of the day. He was to ride two more seconds and a third from his remaining four engagements.
Seasoned local breeder Duncan Barry and his Bishops matric classmates of 1978 were the first to enjoy the Soumillon silver service when their Riverton-bred and Eric Sands-trained maiden Carriacou powered home to shed his maiden in good style in the second.
After a few frustrating places, the victory for the son of Captain Of All was sweet – and having a top international jock aboard means that the winning photo will take pride of place in the braai room on the fabulous Robertson farm.
Then it was more vintage Soumillon as he produced an emotional first SA Gr1 strike for the Slack family and Mike de Kock as Desert Miracle beat SA Horse Of The Year Captain's Ransom in the prestigious Majorca Stakes.
The trauma of his 2022 Saint-Cloud suspension seemed light years away as the broad-smiling rider clearly enjoyed the moment, delivering on his promise to win a race in South Africa for his good friends.
This undertaking was apparently made during the Dubai Carnival a few years ago, when he and Mike de Kock had teamed up 'to achieve great things' – not to mention a jolly social life.
So warm was the family atmosphere that Christophe declared that Mike de Kock 'is the best trainer in the world!'
His third victory came aboard Lancaster Bomber's daughter Rascova, who beat off male rivals to land the City Of Cape Town Listed Summer Juvenile Stakes, for Glen Kotzen and the Arundels.
Watch the Gr1 Majorca replay:
In the R7,5 million WSB Gold Rush, his mount Dave The King just failed to get to Royal Aussie, while the Hollywood Syndicate's Isivunguvungu was third in the Gr1 Cape Flying Championship. Set for a fourth victory, the fancied Nebraas ran second in the Western Cape Stayers, falling victim to a determined Gavin Lerena, still smarting from his WSB Cape Town Met heartbreak.
Labelling his wife Sophie his 'lucky charm', Christophe told the Sporting Post that having three winners in the Cape was an amazing moment in his distinguished career.
"South African jockeys are known to be tactically, technically and in terms of strength, amongst the best in the world. I rode against the likes of Dougie Whyte, Felix Coetzee and Anton Marcus in Hong Kong in years past. Interestingly, I came up against the new generation on Saturday and they are very talented! Your jockeys are in demand the world over. Certainly a tribute to the SA Jockey Academy and the industry here," he added.
He said that the L'Ormarins King's Plate experience had taught him a lot about the track conditions and the wind.
"I felt better physically and more at home on Saturday. One takes a few rides to settle in. The pace is different – most racetracks around the world have their unique characteristics," he added.
Coming from a racing background, Soumillon is the son of jump jockey Jean-Marc Soumillon. He rode in pony races and left Belgium at fifteen to attend the racing school in Chantilly, France, where he was apprenticed to trainer Cédric Boutin.
He rode his first Group race winner at eighteen when Berine's Son, trained by André Fabre, won the 2000 Prix de Fontainebleau. The following season he won four Gr1 races, including the Prix du Jockey Club on Anabaa.
Soumillon won the cravache d'or – the golden whip or French champion jockey title – for the first time in 2003 and won his tenth title in 2018.
Although a flat jockey, he has also ridden over hurdles, winning the 2010 French Champion Hurdle on Mandali.
We asked where to now?
"Back to France today to see the family and then in February I will be riding in Qatar, Dubai and Saudi Arabia," he reflected.
And when will he consider slowing down?
"You do know I am only 41? As long as my mind and my body are loving it and I am able to do the job, I will continue to ride. I'd like to think I still have many years left!"he laughs.
As he bids us farewell, he asks that we extend a word of thanks to South Africa.
"You have a beautiful country with wonderful people. The hospitality extended to me was world-class. I am fortunate to have made such great friends here and I hope to be back. Please tell everybody that the Soumillons thank you all – from the race fans to the stakeholders. Au revoir!"
‹ Previous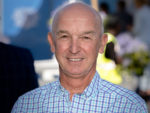 Karl Neisius On The WSB Cape Met