It's been thirty nine years since Garth Puller came within a heartbeat of what would have been his only Gold Cup victory.
It was August 1981 and the 'Head Waiter' arrived a second too late after traffic issues on Big Charles and just failed to collar Brave Persian.
Fresh off his dramatic victory under Jimmy Anderson in the Rothmans Durban July, Big Charles ran his heart out but just couldn't get there.
"His July win meant he carried some weight in the Gold Cup. That told in the end. But he was a helluva workmanlike horse – he would just do the job and he ran from the sprints to the 3200m of the Gold Cup," Puller told the Sporting Post on Monday.
Garth recalled how at the 1981 Durban July pre-race dinner, he was quizzed as to who could beat his mount, the favourite Over The Air.
"They laughed at me when I said Big Charles was the danger. The horse that lived out of an old wooden container – those that they used to use on the ships – in a dusty sand paddock in Malmesbury. They had to walk to get his water and the guy that fed him was a local woodcutter. His early days weren't exactly a finishing school kickstart for a future July winner. And that's what I said to the guys at the July dinner – the horse doesn't know he comes from a humble smallholding in Malmesbury. But he could run and had a massive heart. That counts in the end."
As to what it takes to win the World Sports Betting Gold Cup on Saturday, Garth was clear:
"You have to have a sound horse who stays, and you don't want too much weight on the back. Interestingly, a 1000m sprint and the 3200m of the Gold Cup are the two distances that one can use time as a genuine yardstick. Over 1000m, they are usually at full tilt – so a 2yo who runs it in say 56 secs could beat his elder. And in the Gold Cup, times are a good measure, as it's a race where a horse will reach his top end at some point. So time is a reliable indicator," he added.
The Hollywoodbets-sponsored Garth only has one runner on the day.
Ishnana runs in the Terrance Millard Listed Umngeni Handicap, run over 1000m on the polytrack. We asked him if Bipot players should include the son of Al Miqdaam in their excotics.
"Look, I have him fit but it's a step up for him so he will have to be at his best to have a winning chance. But he is drawn nicely at 5, Craig Zackey is in good form and he is a course and distance winner."
Garth was hoping to run his smart colt Captain Fontane – a horse he describes as the 'best of his age in South Africa' – in the Gr1 Premiers Champion Stakes on the day.
But things didn't pan out as planned as the impressive debut winning now 3yo was eliminated from a Hollywoodbets Greyville handicap recently.
"I entered Captain Fontane in an MR 88 Handicap where he was allotted 52,5kgs. But there were 29 acceptors and as my boy is a nett 73, he got the chop. So I went to Gold Circle management and asked them to split the race – they split maidens, so why not handicaps? But it was a no go, sadly. So we shelved the target of the Gr1 on Saturday and, as you saw, he really won smartly on Sunday. Lyle never showed him the crop – he settled well and then ran away from them. He had seen Hollywoodbets Greyville previously as I had him galloping there over 1400m the Monday after the July. It was not ideal that morning as the track was still knitting. But he acquitted himself well."
Garth explained how it was touch and go for Sunday's run.
"As he had done prior to his debut, he suffered an overreach during the week. I was applying the poultices and changing the dressing multiple times every day. On Sunday morning there was no pain between the overreach and the hoof. So I felt happy to run him. He proved us right."
Not one given to frivolous adjectives, Garth says simply that Captain Fontane is a superstar'.
And it is likely that we have seen the last of the impressive galloper as he heads to Hong Kong in three months for owners Ferraris and Hui.
Captain Fontane won on his debut against older horses at Hollywoodbets Scottsville on 11 July over 1000m, clocking 58,51 secs.
The second horse (the upwardly mobile Hail Columbia), the third, fifth and seventh finishers have all gone on to win next time.
Garth said at the time that Captain Fontane didn't know where he was on debut.
"He missed the break, ducked to the inside and back. He's smart, but he's immature. The 1000m was on the sharp side but his class prevailed. Great merit as he had overreached in a gallop the previous day."
Captain Fontane is by Captain Al from Spring Lilac, by Joshua Dancer. He's a brother to champion filly Snowdance, from one of the best families in the stud book, including Rabiya, Bela Bela, All Is Secret and the like. He was raised at Vaughan Koster's Cheveley Stud.
Ormond Ferraris and his daughter-in-law Pam bought the 3yo for David Ferraris and Hong Kong-based David Hui at the National Yearling Sale of 2019, paying R1,3-million.
Bosworth Farm looked after Captain Fontane before he came into training with Puller at Summerveld.
We asked Garth how many Captain Fontane's he'd like to train?
"I only need three to box with the big guns. Give most of us the horses and we can show anybody how to win the Gr1's! To compete at the top end, good owners are vital – but so are good horses. The two often go hand in hand!"
Garth said that he was pleased that things were beginning to normalise post the COVID-19 peak.
"I still own too many of my own horses and the normal clean out of weaker horses is not as straightforward as it was when Kimberley was open. So I still have too many! But the Mauritius market is still strong for the right profile of horse, and I will be transferring a few to the East Cape where they should be able to win."
Watch Captain Fontane's win here
Garth went on to thank all who had helped his yard come through the rocky road of the lockdown.
"We are not through it yet. But I just want to thank my staff, my sponsors Hollywoodbets, my Vets Bronwyn and Dr Ralph Katzwinkel, and all my owners, as well as the Ferraris family for showing faith in me with their horses. It's an honour and privilege to work with horses like Captain Fontane and I have no doubt he will make a massive impact in Hong Kong."
‹ Previous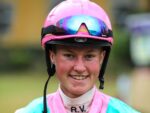 A Win For All Women