At the age of 33, and after an at times rollercoaster ride in his sixteen years in the saddle, former SA Champion jockey Gavin Lerena has adopted a philosophical and positive attitude towards his profession.
The relaxed and 'wholly at peace' family man has ridden the winners of the first two runnings of the Grand Heritage and was looking forward to an historic hat-trick bid on Saturday – but the Vaal track has put paid to that dream.
Gavin was sitting watching swimming lessons with his 4yo son Ashton when he chatted to the Sporting Post this week.
"Naturally I am disappointed that Saturday's Vaal meeting and the Grand Heritage has been lost. But these things happen. Phumelela have taken the bold step to switch the meeting in the face of what I would guess is natural resistance from punters and stakeholders. But it is in the interests of the safety of horse and rider. That has to be a non negotiable and the track is simply not in a condition to carry a full programme safely," said the top jockey who was down to ride the big race favourite Mardi Gras.
Gavin suggested that it was time to go back to the drawing board and revisit the programme and timing of the Grand Heritage for 2019.
"The Heritage replaced the Emerald Cup which was run on the sand. It may be time to look at running it later in the term. We can't tweak nature. There is nothing wrong with the unique big field concept and it does kindle the public interest with all of those horses stampeding down the track. I hope that they can reschedule it and that it will get the publicity it deserves – and for all the right reasons," he added.
With a national log-leading 40% win strike-rate Gavin Lerena is Joe Punter's newest best friend and has been riding like a demon since he returned to race action in the first week of September, after a dreadful previous season that stretched his resilient mind, body and spirit to the ultimate.
In April he broke his right shoulder blade and collar bone in a nasty tumble from Hakeem in the Listed Derby Trial at Turffontein.
In January he was overcome by bouts of extreme fatigue and booked off for months after being  diagnosed with the Epstein-Barr virus.
In October 2017, he was on the sidelines for three weeks following an eye operation.
The previous season he had sacrificed a lead on the National Jockey Log for a spell in the UK, only to find a trainer that was less than accommodating and soured his experience in the racing rich territory.
We asked what had given rise to his new determination and red-hot strike-rate.
"The time has flown by and I have had my fair share of knocks. Adversity builds character and I have discovered that no hurdles are actually insurmountable. The human spirit is bullet-proof if one is determined enough to box through and come out the other side of negativity. I have three beautiful children, a wonderful wife and the most extraordinary family support and inspiration. I really have no excuses but to do well! I am loving life and enjoying my riding. I don't want to say I am content, as that might imply that I am stagnating. To the contrary, I am always out to learn and improve."
And what of the SA Championship title for a second time?
"If I find myself in a position where I am within striking distance then I will certainly target the title. For now, I just want to keep riding winners."

He laughed when we reminded him of the 2012 SA championship chase that went right down to the wire at Kenilworth on Tuesday 31 July.
Anton Marcus won on Scaky Phane and Pirate Flag to beat him by just a solitary winner. That was despite Gavin breaking his leg four months earlier and being off for six to seven weeks.
"That's a part of the character inventory of the game. I was devastated at the time. But we grow up. Life goes on and you quickly realise it doesn't help being stuck ín self-pity and pondering what-could -have- beens or should-have-beens."
Pressure goes with the territory and has always been a close cousin.
A son of top jockey Tex, Gavin joined the SA Jockey Academy in 2002  – on reflection, a seriously vintage year that included today's big hitters, Randall Simons, Raymond Danielson, S'manga Khumalo, Muzi Yeni and Richard Fourie.
He rode his first winner at Clairwood in 2002 aboard Waves Of Argosy for trainer Jeff Freedman and owners Mr and Mrs Van Der Bank.
His longstanding record, held by the legend Muis Roberts for thirty years, for most winners during an apprenticeship, was recently broken by new star on the block, Lyle Hewitson.
Winners and experience in such diverse destinations as China, Dubai, England, Mauritius, Hong Kong, Macau and Zimbabwe have shaped the young man into one of our best today.
These days he rides freelance, mainly for Geoff Woodruff and Johan Janse van Vuuren.
He has plans to ride in the Cape in the Summer Of Champions Season, but says that he will take each day as it comes.
Mardi Gras – 'Will Be Ready' On Saturday
Gavin said that the 11 draw would now be key to the outcome of original Grand Heritage favourite Mardi Gras' bid to win the Grand Series on Saturday.

"I had a feeling that we were drawn on the wrong side at the Vaal on Saturday, but had a plan to drift myself to the middle of the track and make my run from there. Now at Turffontein, the draw will be critical. I'd like to have been somewhere from gate 1 to 7 but have landed 11.  It won't be a walk in the park – but I have a fit and classy horse under me and we won't go down without a fight."
Gavin was questioned regarding his riding of Mardi Gras when the son of Oratorio ran second to Mr Flood at the Vaal on 4 October. He told the Sporting Post that the kickback on the day in question was reminiscent of Kimberley 'in the old days'. He also pointed out that his mount had galloped some way after a false start and it took him a while to pull him up. He said he was a talented horse who he felt would develop into a top sprinter in time.
He explained to the Board that his instructions were to drop this gelding in and get cover as he has a tendency to over-race when in the open. At the top of the straight, he elected to track Crimson Magic as the kick-back was particularly bad and by slip streaming this horse, it had lessened the impact of the kick-back. Thereafter when he switched his mount out for a run, it hung in from the 300m.
Trainer Johan Janse van Vuuren was also questioned regarding the ride on Mardi Gras. He explained to the Board that his instructions to Jockey Lerena was to drop this gelding out in the early part of the race and allow him to run on strongly from the 600m. He further added that he was satisfied with Jockey Lerena's ride and he has also undertaken to report back to the Stipendiary Board on the well-being of Mardi Gras on return to stables.
‹ Previous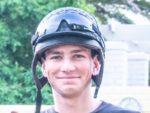 The World's Worst Fisherman…