Luke Ferraris has made a storming start to his career and notched his third winner at Scottsville on Wednesday when he steered the Brave Tin Soldier filly To Woo home for Michael Roberts to win the second race.
The win comes quickly on the heels of his icebreaking double last Tuesday.
The first win of a jockey's career is a big one, but the record books will forever reflect that when the day arrived, Luke Ferraris chalked up not one, but two winners at the Vaal on Tuesday, 24 April 2018.
To sweeten the deal, he bookended the day's meeting, taking home the laurels in races 1 and 9 and to add the finishing flourish, both winners were for his grandfather, the doyen of the Highveld, Mr Ormond Ferraris.
Like all SA Jockey Academy students, Luke is courteous and polite, but unlike most apprentices who are often still starry-eyed at this stage of their career, he seems to have an unusually grounded head on his 16 year old shoulders. He doesn't say a lot, but what he does say is forthright and frank and he seems possessed of a focus and maturity well beyond his 16 years.
Big Day
Having made his race riding debut at Scottsville on 3 December 2017, Luke had 24 rides to his name when he headed to the Vaal on Thursday morning. Was he expecting a big day?
"Before I went to races, had a look at Gallop. I had 4 rides – two for my grandfather and two for Leon Erasmus. The two for Mr Erasmus were short prices – the first one was 6-1 and the other 5-1. I had a bit more expectation for those two than for my grandfathers, but then when I got to races, Calvin Habib came to me and told me about Vivir and gave me a bit of info about her, and the way she cantered down gave me a bit of confidence."
"There was a bit of pressure riding for my granddad, but Vivir gave me such a good feel going to the start and that's when it went through my mind that this is a really nice type. She jumped well, showed early pace and at about the 450m mark, she was travelling with me on the bridle. She just kept on stretching and as soon as I got behind her and set her alight, she kicked and just didn't stop."
"About two strides before the line, I saw Callan Murray to my left on the Gavin van Zyl runner. I know how much my father loves short head seconds, so that was going through my mind, but as I got to the line, I saw that my body was just in line with Callan's horse's head and that's when I knew I'd got it." Asked how it felt to have his first winner on the board he says simply, "My breath just went away. I was over the moon that my first win was for my grandfather. It's one for the story book."
Mr Ferraris was on course to lead his grandson in and David was a few kilometres away at the National Sales.
Luke says there were congratulations in the jockey room afterwards which "was nice. Having got my first win for my grandfather, I think a bit of pressure was off. I was thinking the happiness would last a day, so even if it didn't go to plan in the last, at least I'd have a bit of leverage."
Leon Erasmus gave him two rides in the Apprentice races. "I've ridden for Mr Erasmus before. His horses had form and had chances, but he just wants an honest ride and if you try, he's happy. He's such a nice guy and it's a pleasure to ride for him and I just wanted to go out and try my best."
Both finished very close.  "Tin Man was 4th and in the other appy race, I finished about a neck behind the winner on Stavinsky. Mr Erasmus said he needs a hard ride, so I went out there and just tried my best to ride to instructions. Coming to the 500m, I pulled out and set him alight. He made up a lot of ground – it was a very honest run."
His second win, also courtesy of Ormond, came in the last of the day on Cool Dream. "Granddad had left to go to the sales, but he said get out and sit handy. I know him quite well – the Ferraris' don't really like leaders, they're old school. I was drawn in gate 5 and she pinged the gate. I didn't really want to lead, but we ended up having the run of the rail. I was in the box seat and moving really well and as soon as the false rail came and she saw daylight, she just took off."
It was so close that Luke wasn't certain of the win until he got back to the parade ring. "At the pull up, some of the jocks were congratulating me. I was pretty certain I'd got up, but there was a bit of doubt. Coming back, the grooms came and congratulated me. I asked if we won and they said yes. I was a bit lost for words. It felt like a dream," he says incredulously.
Reaction
Asked what the reaction was after his double, he says, "You have to hand your phone in at races, but when I got it back I had 141 Whatsapp messages – I didn't know where to start."
What does it mean to have ridden his first win – and his first double – for his grandfather? "It hadn't really settled in after races, it still felt surreal. I was just lost for words, actually. It's been a huge childhood dream. Waking up at 4 and going to track with Dad, learning from him, watching him. I know him and my grandfather have got the same great minds and think alike about racing. They hate short head seconds and probably put more pressure on people than they think. I'm just happy that I could do it for him."
In addition to his very proud mom, father and grandfather, Luke says his biggest supporter is his older sister who is currently doing her gap year in Beijing. "She sent me a voice note after I won and she was crying. That made me tear up a bit," he admits.
Why a Jockey?
Growing up with dad and family being into racing, it's hard not to get hooked on it. It's a lot of stuff actually – watching my granddad and my dad and wanting to carry on the legacy. "I started having riding lessons in Hong Kong when I was three or four. Whenever the instructors gave me a break, I'd try and pull my irons up. When I was 5, we went on holiday to Zimbali and I remember galloping up the beach, not one bit of fear. That's kind of when I knew it was what I really wanted to do."
SA Jockey Academy
Luke joined the Jockey Academy in 2017, but life away from home is nothing new, as he had been attending St Andrews in Grahamstown. "Boarding school was a bit difficult for me. I had this dream of becoming a jockey and felt like it was being taken away from me. I was a rugby player and played in the A squad most of the time, but it to got a stage where I had to get bigger and put on weight to carry on, which I was reluctant to."
So just getting into the Academy was a big stepping stone and the first taste of a dream coming true. There were a lot of nerves over the selection and with the whole acceptance process, I was just very eager to know if I'd got in or not. But it all went well and I got in and haven't looked back since."
Why the SA Academy? "I think growing up around the likes of Douglas Whyte, Anthony Delpech and all those top jockeys that come to Hong Kong, it's the best advertising for the Academy. They have these big names out there and in my opinion, it's really the best place to learn.
Luke joined the Academy alongside Yuzae Ramzan, Nathan Klink, Kabelo Matsuyane, Xola Jacobs, Jabu Jacobs, Thabiso Gumede and Donovan Cooper and is under the tutelage of Steven Jupp, Lawrence O'Donoghue and Nicky Roebuck and Robert Moore. "My dad goes way back with Steven Jupp, who rode the Gold Bowl for him, but they've all been really helpful with my riding."
Dispelling the Academy's tough reputation, Luke says he's loved every minute. "It's all I've ever wanted to do and now I'm doing it. As my dad said in one of the articles, I used to take a saddle and ride the couch. It's just something I love and when you're doing something you love, you don't see it as work. It also makes it so much easier waking up at 4am."
The Story So Far
Luke had his first ride under rules at Scottsville on 3 December 2017. "Suiting up for first time was unexplainable really. That was when it hit me – 'you've done it , you're here now'. That was fun."
A fall and broken wrist earlier this year set him back for 6 weeks, but he's bounced back with equanimity. "It was just an annoyance – it was a little chip on one bone and a fracture through the other, but I'd rather take the extra time than come back too early and have problems in the future."
Now in his second year, the focus is on getting race rides and getting winners on the board. Does he have any issues with his weight or height? "It's all good, actually. I am a bit on the tall side, but these days they don't worry about height, it's more about weight and whether you can control that properly. There are a lot of tall jockeys riding around the world." Luke is in control of his weight, saying that the 25-30 horses he rides every morning helps, along with watching his diet.
Supporters
"I've got a 100% strike rate with my grandfather," he quips, "but a big support of mine here is Doug Campbell. Duncan Howells has given me support, Michael Roberts, Louis Goosen – there are a few. I'm only starting out, but it's going well so far."
Asked for the highs and lows of the job, he cites riding work for trainers who aren't forthcoming with rides as 'really annoying', but acknowledges that these are things that improve with time. The best bits? "Riding winners is top of the list!"
In addition to building a reputation locally, like most riders, Luke has set his sights on an international career. "I'd like to travel the world and hopefully end up in Hong Kong. I've grown up there and seen their quality of racing, so that would be the main goal."
We wish him the very best of luck.
‹ Previous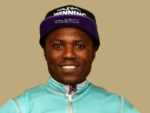 Robert Khathi